Review by Mick Stephen
Background
As regular readers of my SMN contributions know, I tend to pick my subjects with a story behind them. This time however I have no connection to relate, only as I pass through Singapore on a regular basis and am part of the scale modelling community there, I thought it was high time I built something in their guise.
The Northrop RF5S is a dedicated reconnaissance version based on the F5 Freedom Fighter / Tiger II family of supersonic light fighter, initially designed in the late 1950s by Northrop Corporation. Being smaller and simpler than contemporaries, the F-5 cost less to both procure and operate, making it a popular export aircraft. The design team wrapped a small, highly aerodynamic fighter around two compact and high-thrust General Electric J85 engines, focusing on performance and low cost of maintenance. After winning the International Fighter Aircraft competition in 1970, a program aimed at providing effective low-cost fighters to American allies, Northrop introduced the second-generation F-5E Tiger II in 1972. This upgrade included more powerful engines, higher fuel capacity, greater wing area and improved leading edge extensions for a better turn rate, optional air-to-air refuelling, and improved avionics including air-to-air radar.
Primarily used by American allies, the F5 Tiger II remains in US service to support training exercises as the atypical 'Aggressor'. It has served in a wide array of roles, being able to perform both air and ground attack duties; the type was used extensively in Vietnam. A total of 1,400 Tiger IIs were built before production ended in 1987. More than 3,800 F-5 and T-38 aircraft were produced in Hawthorne, California.
Singapore and the F5 family
Singapore is an important operator of the F-5E/F variant, first ordering the aircraft in 1976 during a massive expansion of the city-state's armed forces; delivery of this first batch of 18 F-5Es and three F-5Fs was completed by late February 1979, equipping the newly formed No. 144 Black Kite Squadron at Tengah Air Base. At the end of 1979, an order was placed for six more F-5Es, which were delivered by 1981. In 1982, an order for three more F-5Fs was placed, these were forward delivered in September 1983 to RAF Leuchars in Scotland where they were taken over by pilots of the Republic of Singapore Air Force (RSAF). Another order for six more F-5Es was placed in 1985, these were delivered the same year and would go on to equip the newly formed No. 149 Shikra Squadron at Tengah. The following year, the RSAF placed an order for its final batch of three F-5Fs and five F-5Es, these were delivered in December 1987 and July 1989, respectively. In a bid to modernise their air force, the Royal Jordanian Air Force put up seven F-5Es for sale in 1994, these were later acquired by Singapore.
From 1990 to 1991, using jigs and tooling purchased from Northrop, Singapore Aircraft Industries (SAI, now ST Aerospace) converted eight existing F-5Es into RF-5E Tigereye variants. Subsequently, these were used to re-equip No. 141 Merlin Squadron, which had traded in their older Hawker Hunter FR.74S for the newer Tigereye's in 1992 and was by then based at Paya Lebar Air Base, after 144 Squadron had relocated there in 1986. By June 1993, all three squadrons had been relocated to the base, thus consolidating Singapore's F-5E/F & RF-5E operations at Paya Lebar.
In 1991, SAI was awarded a contract as the prime contractor to modernise all RSAF F-5E/Fs (including the 7 ex-Jordanian F-5Es); Elbit Systems was the sub-contractor responsible for systems integration. Upgrades include a new X band multi-mode radar (the Italian FIAR Grifo-F, with Beyond-visual-range missile and Look-down/shoot-down capabilities), a revamped cockpit with new MIL-STD-1553R databus, GEC/Ferranti 4510 Head-up display/weapons delivery system, two BAE Systems MED-2067 Multi-function displays, Litton LN-93 inertial navigation system (similar to the ST Aerospace A-4SU Super Skyhawk) and Hands On Throttle-And-Stick controls (HOTAS) to reduce pilot workload.
Reportedly, the Elisra SPS2000 radar warning receiver and countermeasure system was also installed. Additionally, the starboard M-39 20mm cannon mounted in the nose was removed to make way for additional avionics (the sole cannon on the two-seaters was removed because of this), and to improve manoeuvrability, upgraded aircraft received larger leading edge root extensions (LERX). The process began in March 1996 and was completed by 2001, receiving the new designation of F-5S/T. In 1998, the eight RF-5Es also received the upgrades (except for the radar) and were re-designated as RF-5S.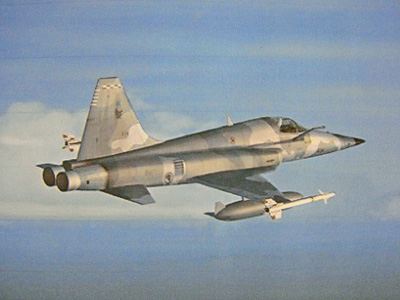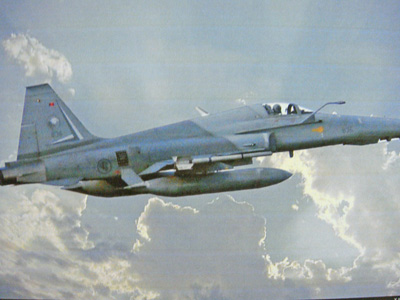 By the end of 2009, the types had accumulated more than 170,000 hours of flight time in Singapore service with only two F-5Es being lost in separate accidents (in 1984 and 1991, respectively). As of today only 141 Squadron are left operating the RF-5S as the other Squadrons have transitioned to the McDonnell Douglas F-15SG Strike Eagle since 2010.
(Source – https://en.wikipedia.org/wiki/Northrop_F-5#Singapore )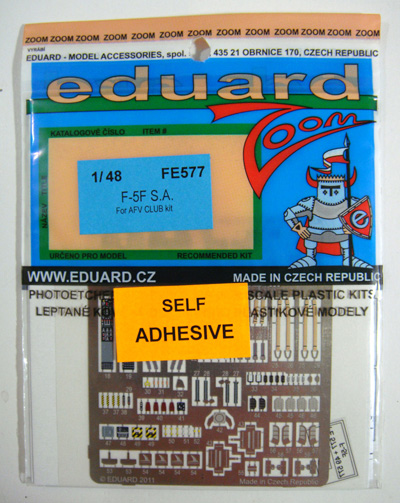 The kit
I have to admit I have never built anything from AFV Club, primarily because the armoured or military vehicle genre is not my thing, so it was with some surprise that when given this kit as a present that I realised AFV Club also make aircraft.
I won't get into a review of the box contents, suffice to say the quality appears excellent and with the imaginative way AFV Club have designed the kit I don't foresee any problems with this build. Of course to enhance the detail I have fallen into my usual trap of not building OOB and dived straight into acquiring the Eduard PE set.
The instructions are A4 booklet style printed in grayscale with the typical exploded view format.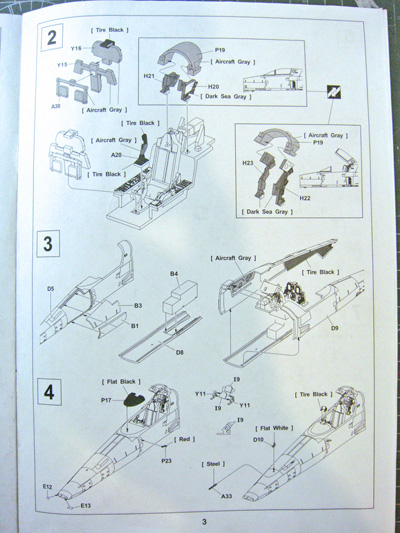 Two interesting camouflage schemes are offered, an earlier 3 tone Asian gray pattern and a more recent 2-tone air superiority gray.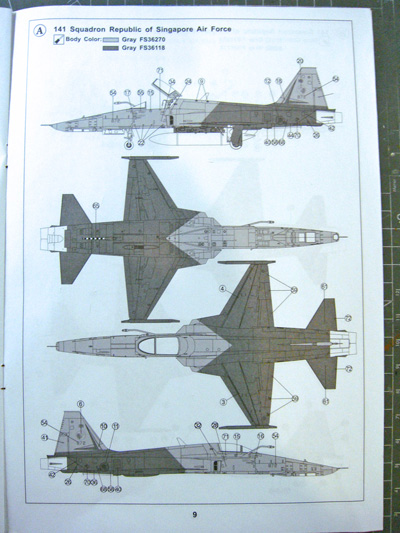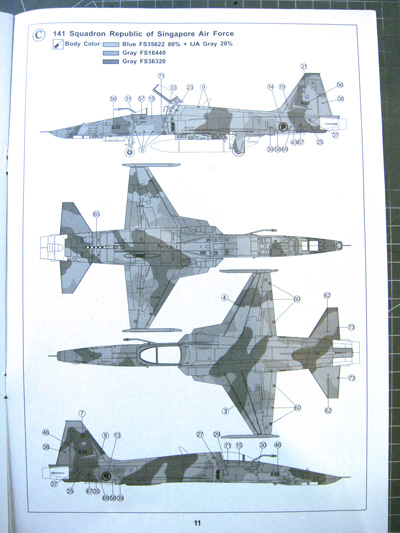 Colour callouts are for FS codes, however a very useful colour chart is supplied, where primarily Gunze Sanyo Mr Hobby & Mr Color ranges are given with references to the other common paint manufacturers where available. Something which Revell could certainly take a page out of this book for…