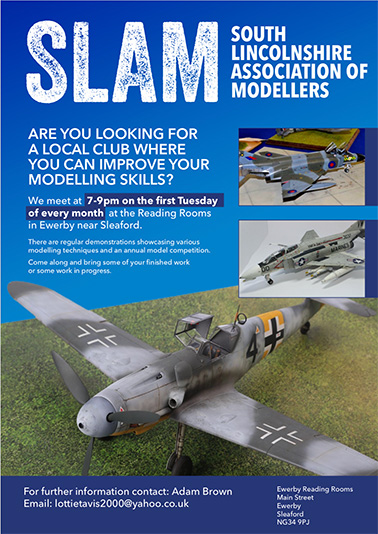 ---
Saturday 12th October 2019 – Indoor Aeroboot/Aerojumble
Newark Air Museum Indoor Aeroboot Aviation & Avionics Sale
The next Newark Air Museum Indoor Aeroboot / Aerojumble Sale at the museum's site in eastern Nottinghamshire takes place on Saturday 12th October 2019. This charity fund raising event has attracted interest from a wide range of sellers and once again is a sell-out event.
The funds that the museum raises from organising the event will be used to support the development of facilities at its Gateway Aviation Site, which is located in eastern Nottinghamshire close to the Lincolnshire border.
Forty eight (48) tables, featuring a host of different sellers, who come from around the UK will be arranged amongst the aircraft in Display Hangar 2 at the museum.
Buyers / visitors who attend this fund raising event will have the opportunity to search through a varied selection of aviation and avionic items: including books, paintings, prints, DVDs, plastic kits, die-cast models, clothing, radio equipment and aircraft parts. Regular updates / seller's information are being posted on the news page of the museum website www.newarkairmuseum.org
Buyers / visitors at this event will be able to access the museum site on Saturday 12th October, 2019 at a special discounted admission price of just £4.50 per person.
The museum opening times will be 09.00 to 17.00 hours; with the sale taking place between 09.00 and 14.00 hours; to get the best bargains we suggest that you get there early.
Further details are available on the Events Page of the museum website www.newarkairmuseum.org or by telephoning 01636 707170.
---
Report on the Airfix Cup Aeronautical Engineering Competition, Singapore 2019
It was overflowing with enthusiasm at the 13th edition of The National Airfix Aeronautical Model Engineering Competition at the Air Force Museum from 20th – 22nd June 2019. The event and prizes were sponsored by Hobby Bounties & Morgan Hobbycraft Center (www.hobbybounties.com) with partner High Planes Models (www.hpmhobbies.com).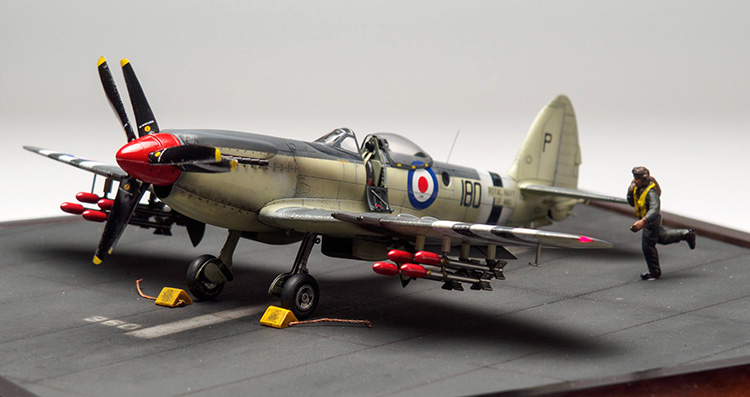 READ THE FULL REPORT
---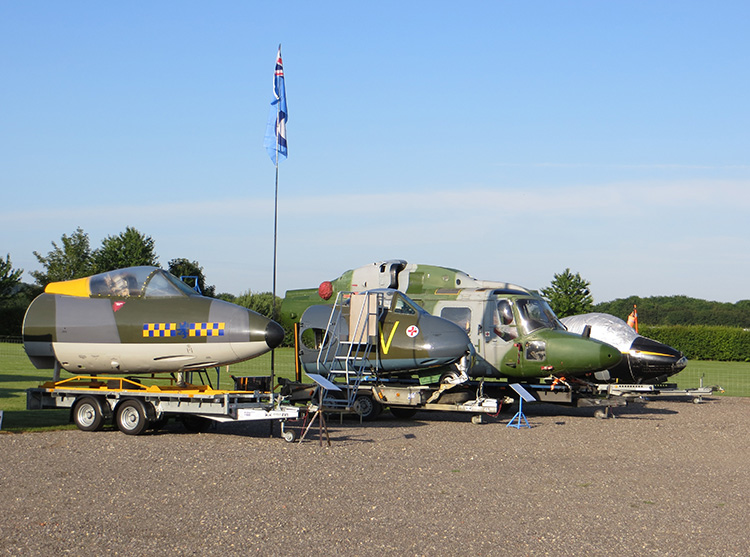 Cockpit-Fest at Newark Air Museum
Cockpit-Fest 2019 proved to be another great event at the Newark Air Museum site in eastern Nottinghamshire. Once again the Cockpit-Fest and Aeroboot display areas were located alongside each other on the Southfield Site, which is now going to be a permanent arrangement. The two day event was well attended and drew a lot of positive feedback from exhibitors and visitors alike.
The museum trustees were particularly thankful to a host of people: all of the Cockpiteers and Exhibitors, their friends and families; the Aeroboot stall holders; the museum staff, aircraft openers and volunteers who helped during the build-up, during and after the event.
Support for this year's event came from the following people and organisations:
Ken Ellis ('Wrecks & Relics – Spirit of Cockpit-Fest' Awards)
The Museum Shop
Jane Knox-Kiepura & Kiepura Aviation
As now seems to be the case with Cockpit-Fest there was a diverse range of cockpits and supporting displays on show and everyone who displayed at the event was a winner and a credit to this wonderfully diverse hobby. Below are this year's official results:
Grand Champion (Visitors Award) – Lynx AH.7 – XZ220, Andy Rawden
Visitors Award Non-Cockpit – Mainly Military Models display
Cockpiteers Cockpit Award – Lynx AH.7 – XZ220, Andy Rawden
Cockpiteers Award Non-Cockpit – Jet Provost and BAC167 Strikemaster cockpit panels display, Alana Cordran
Wrecks & Relics Spirit of Cockpit-Fest Award (Ken Ellis) – Buccaneer S.2B – XW550, The Buccaneer Aviation Group
Wrecks & Relics Spirit of Cockpit-Fest Award (Ken Ellis) – Venom FB.1 – WK393, Tony Collins
Wrecks & Relics Spirit of Cockpit-Fest Award (Ken Ellis) – Wyvern cockpit rig, Rob & Dan Carter
Newark Air Museum Cockpit-Fest Long Service Award (attended all 20 events) – Tony Dyer
Newark Air Museum Cockpit-Fest Long Service Award (attended all 20 events) – Naylan Moore
Cockpit-Fest will be back next year with an International event, on Saturday 20th & Sunday 21st June, 2020
---
Repainting Updates – Newark Air Museum
With the advent of the better weather the pace of work on three aircraft repainting projects has stepped up a gear at the Newark Air Museum site in eastern Nottinghamshire.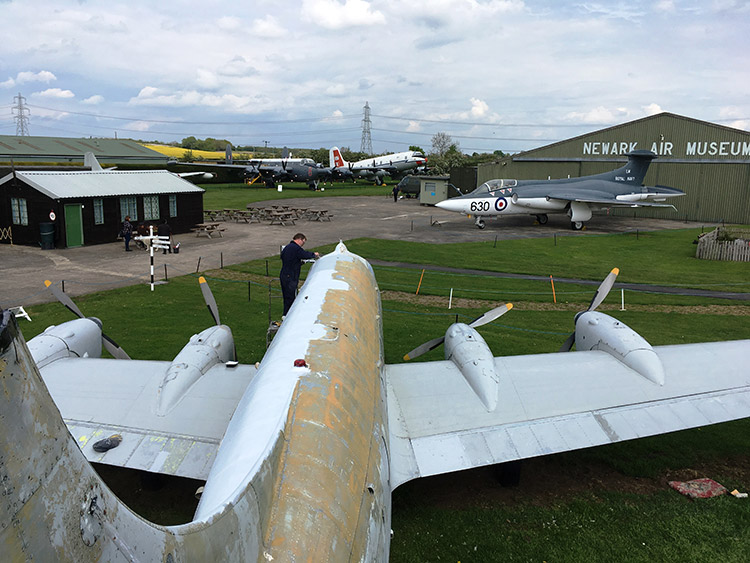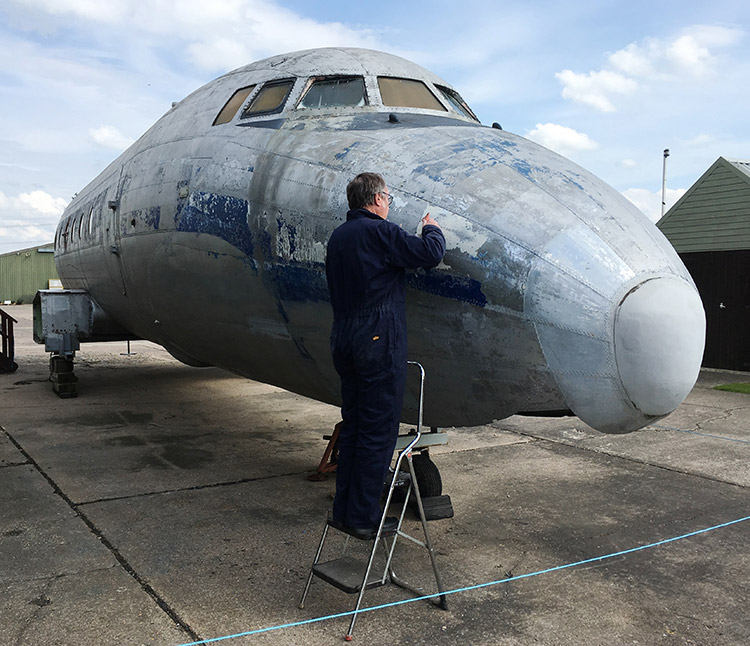 Over the winter period as and when conditions have allowed paint stripping and de-corrosion work on de Havilland Heron 1.B G-ANXB has been progressing on a steady basis. Work has now just started on the application of primer paint to the upper wing surfaces and parts of the fuselage. Heron G-ANXB will eventually be repainted in the BEA Scottish Division markings it wore whilst serving as an air ambulance in the western Isles of Scotland.
Elsewhere on site, new painting teams have now also started work on the Armstrong Whitworth Meteor NF.14 WS739 night fighter aircraft and on the Avro Ashton fuselage from the WB491 flying test-bed aircraft. Both projects will be completed in parallel with various other restoration projects around the museum site.
Following detailed conservation studies on Avro Vulcan B.2 XM594 and some significant internal restoration work in the cockpit and bomb-bay areas of the airframe; planning is now in an advanced stage for some external restoration work on the aircraft. In the coming weeks a scaffolding structure will be erected around the tail fin, which will allow restoration work to be undertaken in a safe manner by another dedicated team of museum volunteers.
---
New exhibit arrives at Newark Air Museum – Westland Lynx HC.28
December 2018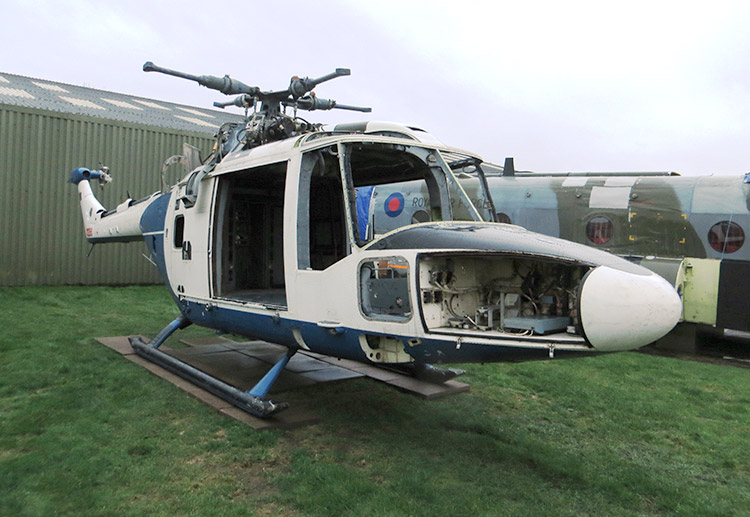 Earlier this year the Newark Air Museum was approached about taking a Lynx helicopter on loan by its owner Andy Rawden. Discussions proceed with this planned arrangement but now in a generous and unanticipated gesture, Andy has decided to donate the airframe to the museum, which is located in eastern Nottinghamshire, close to the county border with Lincolnshire.
The helicopter in question is Westland Lynx HC.28 QP-31, which has been in store at Fleetlands, Hants for a number of years, where it has been used as a training aid. Built back in 1978 with the code number WA033, this Lynx helicopter initially flew in the UK as a trails unit using the registration G-17-21; before being purchased by the Qatar Ministry of Interior Ministry of Defence (MoD) and delivered to the Qartari Police with the serial QP-31.
Hutchinson Engineering Services of Weston, Notts, completed the helicopter's long-move north from its previous south coast location on Tuesday 18th December, 2018, with the offloading being completed in fading wintery light. This latest helicopter arrival at Newark completes the museum's 'hat-trick' of helicopters in 2018; a feat they last achieved in 1980 with the arrival of the Whirlwind HAS.7, XM685; Sycamore 3, WT933 and Skeeter AOP.12, XL764. On that occasion the acquisitions were completed in just over a month.
"We are extremely grateful to Andy Rawden for his generosity in donating this Lynx helicopter to the museum." commented Dave Hibbert, Museum Trustee & Acquisitions Officer. He continued, "We are pleased to have secured such a unique helicopter for the collection. We appreciate that it will be a long-term rebuild project to complete its restoration and initially it will be stored on site."
He concluded, "However this is a challenge that we relish and we are already trying to source missing items. At Andy's request we will aim to display it in its original Qatari Police Force markings."