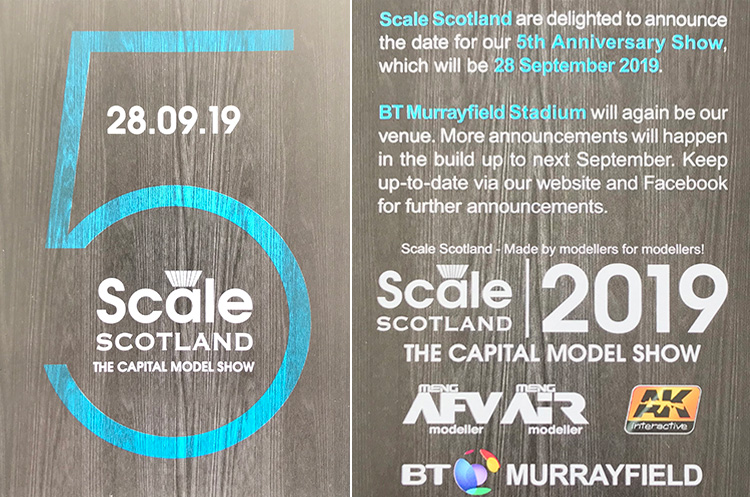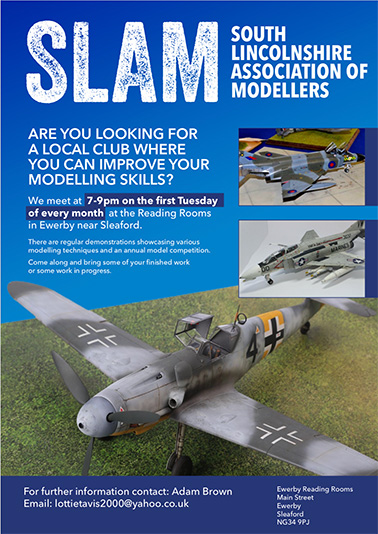 ---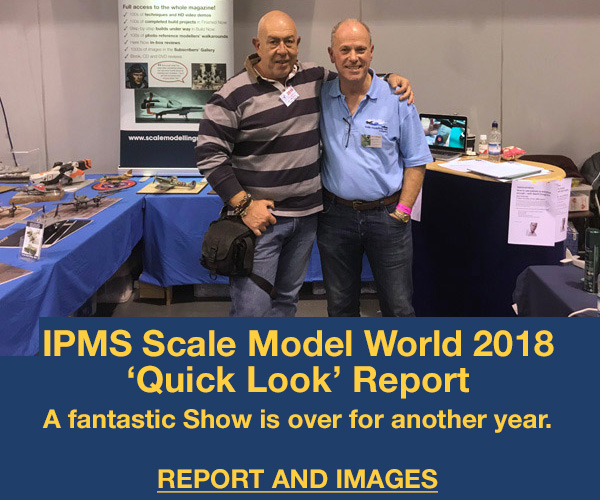 ---
Less than a month until… Cockpit-Fest at Newark Air Museum
Preparations for the 2019 Cockpit-Fest are well underway at Newark Air Museum's site in eastern Nottinghamshire; close to the border with Lincolnshire. Newark Air Museum is a registered charity located on part of the former site of RAF Winthorpe; its two day Cockpit-Fest event attracts exhibitors from across the UK and Europe to sample what one former-aviation magazine editor calls "grass roots aircraft preservation".
This will be the twentieth (20th) time that like-minded enthusiasts have displayed their aircraft cockpit sections at the museum. Cockpit-Fest has become a fixture on the aviation calendar and each year attracts many visiting cockpits and associated displays. Cockpit-Fest allows the owners the chance to display their prized exhibits to their fellow enthusiasts and the general public.
At this year's event a diverse range of aviation will be represented; this includes a range of military jet cockpits including amongst others: Lightning, Harrier, Hunter, Buccaneer and Jet Provost.
For this year's the museum's own volunteers are also gearing up to provide the visitors with the opportunity to look inside some of its aircraft. This includes a rare opportunity to view normally inaccessible aircraft like the ex-Russian MiG fighters and the American T-33 trainer. Recent training sessions have been held on these aircraft, thereby allowing a new cohort of volunteers to be able to open these rare aircraft.
Cockpit-Fest 2019 takes place on Saturday 22nd and Sunday 23rd June; and the event is being staged in a single large area on the museum's Southfield Site, alongside an Aeroboot / Aerojumble aviation and avionics sale. Here enthusiasts and the public can search out those aviation artefacts, books and models.
The event is supported by a range of organisations and individuals; with the visitors being encouraged to have a say in deciding, which is the best cockpit by voting on their favourite display and from these results, prizes are awarded.
Cockpit-Fest also attracts other visiting displays like local history / military vehicle groups; re-enactors; and even more aviation related displays such as clothing and historical artefacts. As an added bonus this year's event has a flypast on both days by aircraft from the Battle of Britain Memorial Flight.
Full details about the events can be found on the Museum Events page of the museum website at www.newarkairmuseum.org
---
Repainting Updates – Newark Air Museum
With the advent of the better weather the pace of work on three aircraft repainting projects has stepped up a gear at the Newark Air Museum site in eastern Nottinghamshire.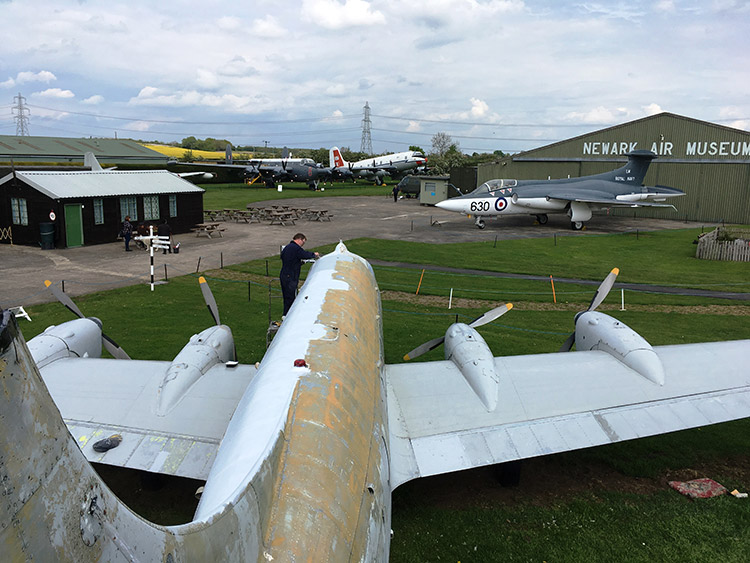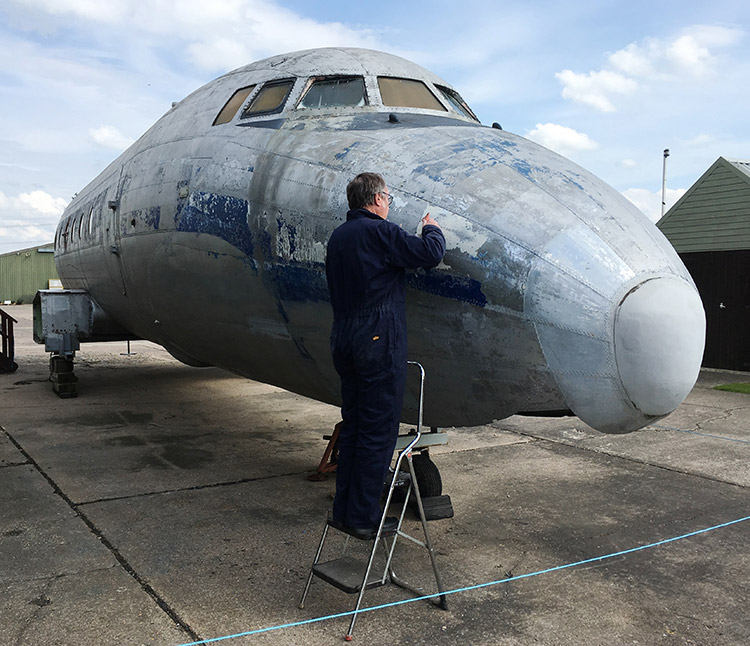 Over the winter period as and when conditions have allowed paint stripping and de-corrosion work on de Havilland Heron 1.B G-ANXB has been progressing on a steady basis. Work has now just started on the application of primer paint to the upper wing surfaces and parts of the fuselage. Heron G-ANXB will eventually be repainted in the BEA Scottish Division markings it wore whilst serving as an air ambulance in the western Isles of Scotland.
Elsewhere on site, new painting teams have now also started work on the Armstrong Whitworth Meteor NF.14 WS739 night fighter aircraft and on the Avro Ashton fuselage from the WB491 flying test-bed aircraft. Both projects will be completed in parallel with various other restoration projects around the museum site.
Following detailed conservation studies on Avro Vulcan B.2 XM594 and some significant internal restoration work in the cockpit and bomb-bay areas of the airframe; planning is now in an advanced stage for some external restoration work on the aircraft. In the coming weeks a scaffolding structure will be erected around the tail fin, which will allow restoration work to be undertaken in a safe manner by another dedicated team of museum volunteers.
---
New exhibit arrives at Newark Air Museum – Westland Lynx HC.28
December 2018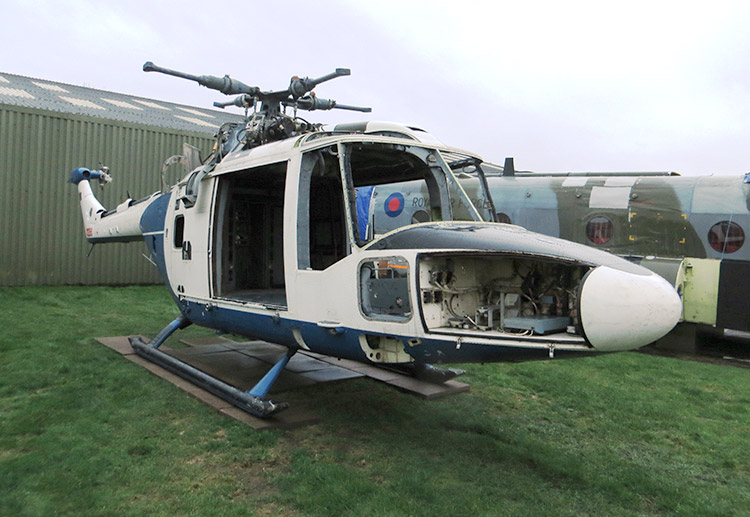 Earlier this year the Newark Air Museum was approached about taking a Lynx helicopter on loan by its owner Andy Rawden. Discussions proceed with this planned arrangement but now in a generous and unanticipated gesture, Andy has decided to donate the airframe to the museum, which is located in eastern Nottinghamshire, close to the county border with Lincolnshire.
The helicopter in question is Westland Lynx HC.28 QP-31, which has been in store at Fleetlands, Hants for a number of years, where it has been used as a training aid. Built back in 1978 with the code number WA033, this Lynx helicopter initially flew in the UK as a trails unit using the registration G-17-21; before being purchased by the Qatar Ministry of Interior Ministry of Defence (MoD) and delivered to the Qartari Police with the serial QP-31.
Hutchinson Engineering Services of Weston, Notts, completed the helicopter's long-move north from its previous south coast location on Tuesday 18th December, 2018, with the offloading being completed in fading wintery light. This latest helicopter arrival at Newark completes the museum's 'hat-trick' of helicopters in 2018; a feat they last achieved in 1980 with the arrival of the Whirlwind HAS.7, XM685; Sycamore 3, WT933 and Skeeter AOP.12, XL764. On that occasion the acquisitions were completed in just over a month.
"We are extremely grateful to Andy Rawden for his generosity in donating this Lynx helicopter to the museum." commented Dave Hibbert, Museum Trustee & Acquisitions Officer. He continued, "We are pleased to have secured such a unique helicopter for the collection. We appreciate that it will be a long-term rebuild project to complete its restoration and initially it will be stored on site."
He concluded, "However this is a challenge that we relish and we are already trying to source missing items. At Andy's request we will aim to display it in its original Qatari Police Force markings."