Scale Modelling Suppliers and Traders
Check out some quality supplier pages…
---
---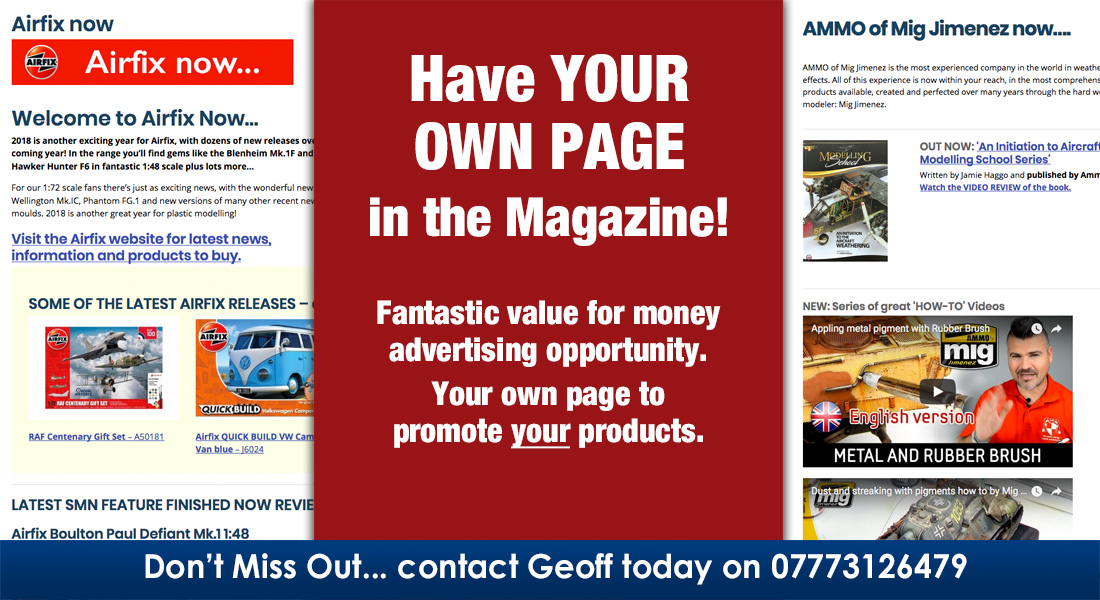 ---
Welcome and thanks for taking the time to visit us
As a Trader, kit manufacturer or other modelling supplier you will want to see the business benefits of sending review samples to us here at SMN and see the significantly better value-for-money advertising opportunities available to you:
Extremely low, fair and reasonable advertising costs! You can have your own page in www.scalemodellingnow.com getting the best from your investment – just click any of the links below to see what your own page could look like; one that you can regularly update and a page open to ALL visitors. You are located on our What's New page – our busiest page in SMN!
All your products you send in will be reviewed in our Here Now section – we prioritise your products if you advertise with us. check out the Sneak Peek area to see a typical recent review.
Faster reviews – much quicker than is possible with a paper-based magazine bound by copy dates and publishing deadlines
Quality Reviewers – your product goes to one of our highly skilled Review Team – so that your products are reviewed objectively and in detail
Here Now and Build Now Reviews – updates are posted regularly and members can see plenty of images and explanation of your product taking shape before it is finished and is available to see and download from the Review and Feature Article Library
If requested, large samples like airbrushes will be returned to you – we will agree any specific arrangements with you
Clarification – we will consult with you and ask for advice and clarification if there is any doubt about how any tool or equipment should be used to avoid inappropriate criticism
Credits – you the Supplier, Manufacturer and Reviewer will all be credited for their contribution.
Any questions especially about advertising rates? Just contact us!
---