OK, so what's the finish going to be?
I have given this a lot of thought and this is what's guided my thinking…
Firstly, I want the finish to be credible (in my eyes) – I've followed the Reds for ever and have a feel for the kind of finishes they end up applying to their aircraft. It can't be too flashy and so I want a contemporary look that's a bit of a mash up of current and new.
Tail – the tail is sprayed red, white and Roundel Blue, although this time the red is over flat white to give it a slightly different tone to the rest of the fuselage, unlike the current aircraft that run the Red Arrows Red over the leading part of the fin. I have masked and sprayed the whole tail to replicate a similar design apart from the above to that used currently (Summer 2021).
I used Hannants Xtracolor Roundel Blue enamel paint for the fin stripes.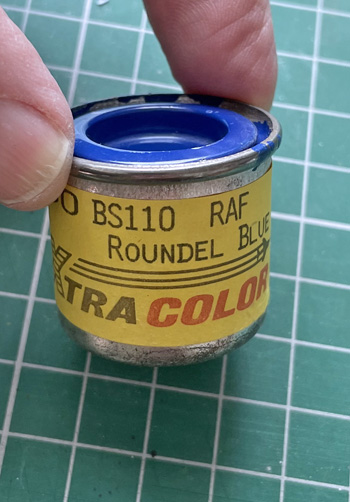 Underside and wings – this is where I really feel we can have some fun! I had this image in my head of the Reds in Diamond Nine formation flying past the crowd showing their undersides and under each aircraft would be a stylised Union flag. So that's what I've gone for here. It took a bit of fiddling about trying to get a large Union flag copied onto a piece of paper (with rough sketch of the flag) and moving this around the aircraft to get a position where I wouldn't have too much complex masking to do on the flaps (that will be dropped) and also make for an exciting scheme. The final position of the flag meant that I could have fun masking and painting the undersides of the tailplanes that probably give the new Hawk T.2 scheme a very different feel, when viewed from beneath.
I want to keep the upper wings clean and just painted red, except the wing tip rails that I have painted red/white/blue for a bit of extra interest. The wing tips have a rounded separate section when not carrying AAMs and the kit includes these which makes masking and spraying much easier.
It'll be interesting to see how it all looks of course on the finished model – we'll see!
Fuselage – this is in the making as I speak and Adam W-B has kindly given me his decal sheet from Revell's earlier Red Arrows Hawk T.Mk.1A kit that has some good markings that I'll incorporate. You can see how I get on next time!