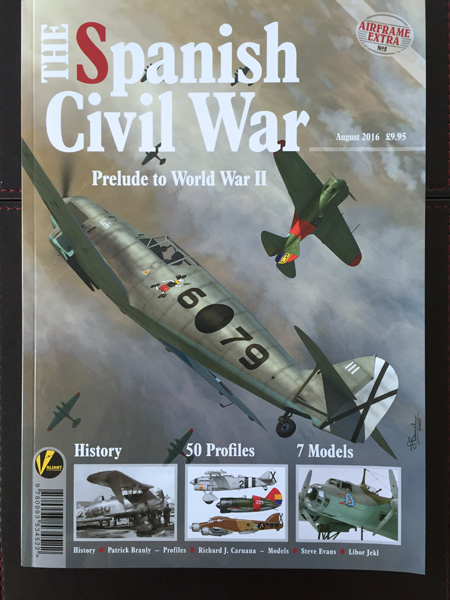 ISBN 978-0-9935345-2-2
Price around £9.95 GBP
Published by: Valiant Wings Publishing
Review by Geoff Coughlin
Our thanks to Mark at Valiant Wings Publishing for supplying our review sample… Get this title here now
This title covers aerial operations by both Republican and Nationalist forces between 17th July 1936 and 1st April 1939.
Historical narrative by Patrick Branly
Numerous period images
Over 50 colour profiles and top-views by Richard J Caruana
Specially commissioned kit builds:
• 1:48th Fonderie Miniature Dewoitine D.510 (Republican) and Roden Heinkel He-51B.1 (Nationalist/Condor Legion) by Steve A. Evans
• 1:72nd Azur Polikarpov I-15 (Republican) and Special Hobby Junkers Ju 87A-1 (Nationalist/Condor Legion), Azur IMAM Ro.37bis and Vultee V-1A by Libor Jekl
• 1:72nd RS Models Dornier Do-17E (Nationalist/Condor Legion) by Steve Evans.
This is another really useful scale modelling resource, not to mention historical narrative covering some of the famous aircraft to have flown in the conflict.

Quality is good in all respects in terms of content and production is excellent. Coverage is sufficient for such a text giving you enough to put the subject aircraft in context without repeating huge volumes of material that can be found elsewhere.
Some excellent kit builds on offer here that are likely to inspire you to go away and get one of your own models out of that growing stash and build it! What are you waiting for?
Good value for money too.
Geoff C.