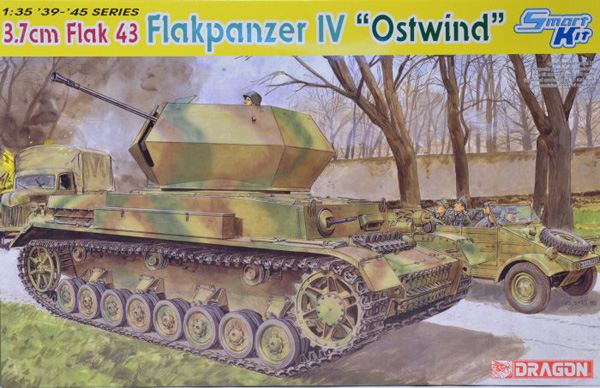 Feature Article by Dai Williams
History
Towards the end of the Second World War the German army began to lose control of the air. Allied aircraft took a heavy toll on German armoured vehicles which had become prime targets of opportunity for the pilots of heavily armed aircraft such as the British Hawker Typhoon and the American P-47 Thunderbolt. To counter this threat a number of vehicles had been developed based on existing half-tracks which were capable of carrying anti-aircraft weapons. However, these had difficulty in keeping up with armoured formations and provided little or no protection for their crews. Several anti-aircraft vehicles were therefore developed based on fully tracked tank chassis.
One of the last and most successful of these vehicles was the Ostwind. This was based on the Pz.Kpfw IV chassis and was equipped with a single 37mm Flak 43 in an open topped turret. Most Ostwinds were converted from Pz.Kpfw IV tanks that had been returned from the front for repair with a few constructed on new chassis. It is thought that not many of these vehicles were built, at most around 40.
Though photographs of the prototype Ostwind exist, only a few pictures of the vehicle in action seem to have survived. Sadly, unlike the similar Wirbelwind, no examples of the Ostwind seem to have survived the war.
A note from Geoff…
Here's a photo of Dai's completed project right up front. As you can see, it turned out very well – nice work Dai! So how did you get there? Read on…