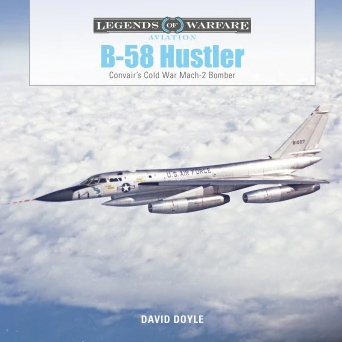 Author: David Doyle
Published: Schiffer Military
ISBN: 9780764361319
Bookshelf Browse with Geoff Coughlin (February 2022)
Get this book now from Schiffer Books
---
Take a browse inside now…
---
Geoff C.
Here's some additional information from the publisher…
The Convair B-58 Hustler, with its distinctive delta wing shape, would become the world's first supersonic bomber, and the first aircraft to fly to Mach 2. With development beginning in 1949, the B-58, which could not carry conventional weapons, would become part of the US nuclear arsenal during the height of the Cold War. Although these bombers were initially considered difficult to operate, in time the hand-chosen crews who flew them came to love and respect the aircraft.
Throughout the 1960s, crews flying the B-58 set numerous speed and distance records. These planes were tremendously expensive to operate, and it was budget issues that forced the early retirement of the bomber. The story of this historic aircraft is told through carefully researched photos, which are reproduced in remarkable clarity. Large, clear photos, coupled with descriptive and informative captions, unlock the secrets of this aircraft.