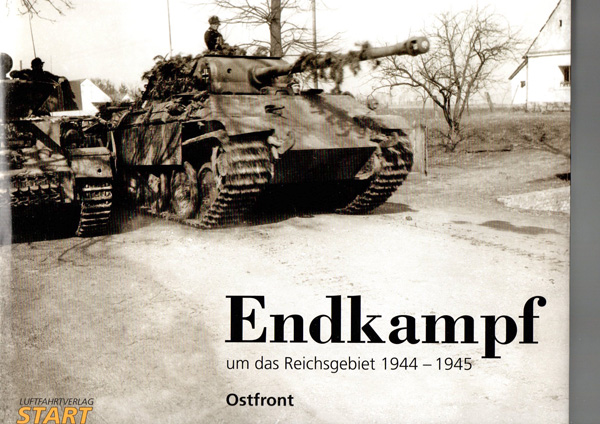 Author: Axel Urbanke
Publisher: Luftfahrtverlag START
ISBN No: 978-3-941437-32-6
Cover Type: Hardback
Text and captions: English & German
Review with Bill Curtis
Introduction
Luftfahrtverlag START is a small publisher from Germany who has produced books under the "In Focus" series about the Luftwaffe and U Boats. The author who is also the owner has shifted subject to cover the battles of the last months on the Eastern Front. Don't be put off by the title being in German as the text and captions are both in German and English.
This volume covers the desperate battle waged by the German soldiers against the advancing Russians as they inexorably pushed the Wehrmacht back across the Reich borders and to battle fought on home soil. The book is written from the perspective of the men on the ground up to battalion level relating various battles such as the defence of Breslau and Konigsberg. One therefore does not get an overview of the general situation but the book covers, in several short chapters, various units and location and major actions on the East Front.
The highlight of this volume for me has to be the pictures, many of which have been sourced from private collections, with a quality that is really very good indeed. The captions and text have been researched with dates and place names for most of the photographs. Included are twenty colour pictures and some maps the related battles. As previously sated the text is in both German and English with this copy being of the reprint which has larger print size than the original.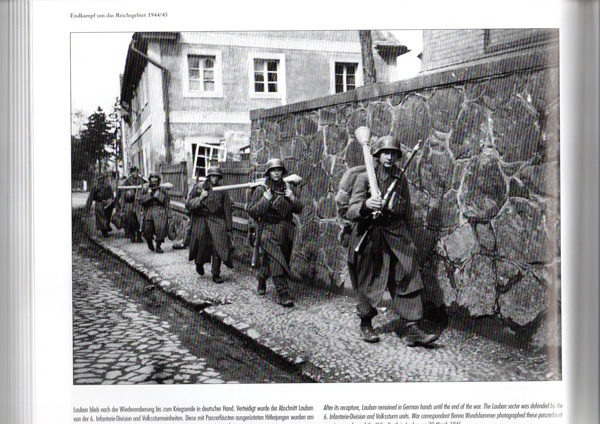 The text is no nonsense without speculation and without drawing opinions making this for me a good easy read. Chapters are in a chronological order but can be read as a stand-alone. This and the excellent pictures must surely give the modeller inspiration for vehicle, figures and the diorama work and will I am sure be a volume I shall use time and again.
Conclusions
One can tell from reading and pouring over the high quality pictures and maps that a great deal of work has gone into producing this excellent book, with a cover price of £54.99 from Bookworld Wholesale (2018) which I thought a reasonable price to pay.
Very highly recommended
Bill C.
Purchased from Bookworld Wholesale.