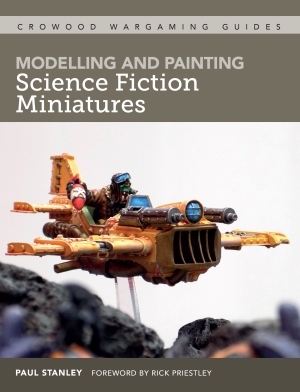 Author: Paul Stanley
Published: The Crowood Press
ISBN: 9781785008269
Bookshelf Browse with Geoff Coughlin (October 2021)
Publication date: 22 March 2021
246 x 189mm
176 pages
386 colour photographs
Paperback £18.99
Get this book now from The Crowood Press
This is an impressive book that has an excellent range of photos and guide notes to help anyone who is interested in building and finishing Sci-Fi and fantasy projects and miniatures. It will also help modellers who enjoy all forms of scale modelling as many of the techniques will work across the genres.
Recommended
Geoff C.
From the publisher…
Foreword by Rick Priestley
Aimed at modellers of all abilities, this lavishly illustrated book presents a step-by-step guide to figure painting and modelling using traditional techniques. From the multipart hard-plastic 28mm miniature to the metal and resin models common in all other scales, this book provides wargamers, collectors and gamers with a wealth of information to achieve the best results.
• Demonstrates a variety of modelling and painting techniques at different scales
• Provides step-by-step guidance on building, converting and painting models
• Covers working in plastic, resin and white metal
• Explains dry brushing techniques, the three-colour method, multilayering and shading with washes
• Considers basing techniques and maintaining the compatibility of miniatures between different gaming systems
A former Creative Director with a Masters in Typographic Design, Paul Stanley has over forty years of experience in wargaming and model making. In the past Paul has not only taken on commissions as a professional miniature painter but has also worked for Games Workshop in a number of their prestigious London stores where he ran the in-store painting and modelling tutorials. He is the founder of and has been the creative driving force behind the Battleforge Miniatures since 2010. This is his second book for Crowood.