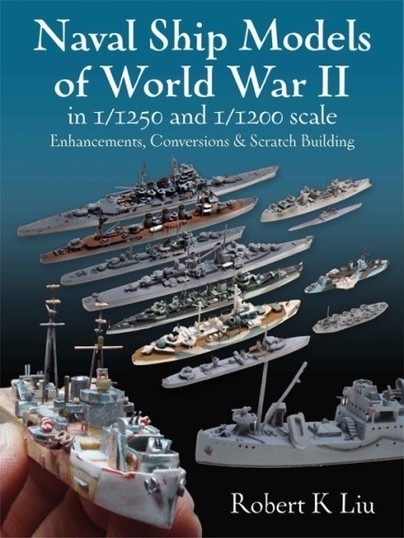 Author: Robert K Liu
Published: Seaforth Publishing / Pen & Sword
ISBN: 9781526793911
Hard back, 160 pages, high quality art paper, full colour
Bookshelf Browse with Geoff Coughlin (September 2021)
Get this book now from Seaforth Publishing
---
Take a browse inside now…
---
Geoff C.
Here's some additional information from the publisher…
The origins of 1/1250 and 1/200 scale models can be traced back to the first years of the twentieth century and their use as identification aids by the military during the First World War. When peace came the manufacturers aimed their increasingly sophisticated products at collectors, and ever since then acquiring, enhancing, modifying or scratch-building miniature ship models has been an avidly pursued hobby around the world.
This new book focusses on models of the ships of the Second World War, probably the most popular subject for miniature model collectors, and the author, a well-known modeller himself, addresses all the practical issues that might confront those many collectors who like to enhance, convert, and modify their models, or even scratch-build models of ships not commercially available.
The book covers both Allied and Axis warships, naval airplanes, merchant conversions and even an Italian armed schooner, and provides historic and technical information on the ships represented as well as practical advice on modelling them. The latter is extensive with twenty-five chapters covering everything from initial production techniques such as spin casting, silicon mould casting, resin casting, die-casting, plastic mould injection, and 3D printing through techniques for enhancing and modifying models to eventually researching and scratch-building an uncommon ship or type. The focus is always on particular vessels and the vast array covered by the author builds into a fascinating panorama of the vessels that fought across the world's oceans in that era.
The combination of intriguing background and historical information, combined with detailed practical information and more than 300 stunning photographs will make this book irresistible to any collector or modeller and, indeed, to anyone with an interest in the navies of the Second World War.