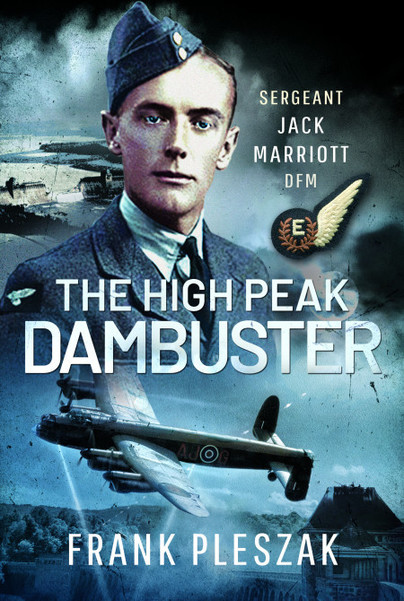 Author: Frank Pleszak
Published: Air World Pen & Sword
ISBN: 9781399097468
Bookshelf Browse with Geoff Coughlin (May 2022)
Get this title here now at Pen & Sword
---
Take a browse inside now
---
Highly recommended!
Geoff C.
Here's some additional information from the publisher…
Operation Chastise, the audacious attack on the dams in the Ruhr valley, is arguably one of the most famous airborne attacks in history. During the night of 16/17 May 1943, 133 men in nineteen specially-adapted Lancasters – the famous Dambusters – set off to attack six dams deep in the heart of Germany. Eight of the bombers, and 56 of the aircrew, did not come home.
Three of the aircrew who took part were from the High Peak region of Derbyshire. Flight Lieutenant Bill Astell, the pilot of ED864 who hailed from Coombs near Chapel-en-le-Frith, was killed after flying into electricity pylons on the way to the dams. The navigator in ED924, Sergeant John Nugent, from Stoney Middleton, survived the Dambusters Raid but was killed later in the war. The third High Peak Dambuster, on whom this biography concentrates, is the little-known Sergeant Jack Marriott from Chinley, the flight engineer on Lancaster ED937 during the attack.
Marriott's Lancaster, Z-Zebra, reached the Möhne Dam, only to discover that it had been breached, some five bouncing bombs already having been released at it. The crew, led by Squadron Leader Henry Maudslay DFC, then flew on to the Eder Dam where their 'bouncing bomb' exploded beneath the Lancaster after hitting the parapet of the structure.
The damaged Lancaster struggled homeward, but was shot down on the Dutch border; Jack, together with his crew, was killed in the crash.
In this biography, Frank Pleszak explores Jack's life, his RAF service prior to joining 617 Squadron, and then the events leading up to and during Operation Chastise itself. But for Jack, one the immortal Dambusters, his story continued on after that historic night – particularly during the filming of the 1955 epic Dam Busters in which his aircraft features.