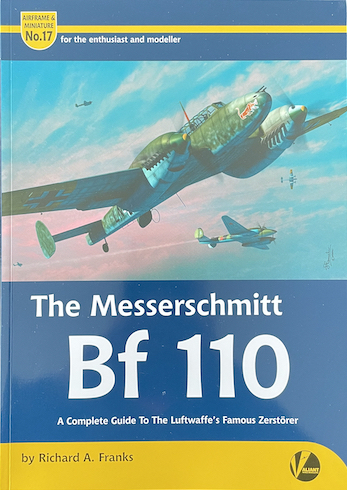 Author: Richard Franks
Published: Valiant Wings Publishing
ISBN: 978-1-912932-20-7
A4 format, 256 pages, fine art paper, a complete one-stop-shop reference book: scale plans, colour profiles, model builds and walkarounds
Bookshelf Browse with Geoff Coughlin (September 2021)
Get this excellent book here now from Valiant Wings Publishing
---
Take a browse inside now
---
Geoff C.
Here's some additional information from the publisher…
The Bf 110 has become very popular aircraft modelling subject in recent years and our latest book will go some way towards unpicking the bewildering choices of variants and schemes that apply to the type.
This seventeenth book in our much-acclaimed series contains 256 pages packed with vital information that no active modeller and Luftwaffe enthusiast should be without.
The Bf 110 contains:
• 60+ pages of technical information
• 60+ pages of walk-around images and technical diagrams
• 15+ pages of camouflage and markings
• 25+ pages of model builds and modelling information
• 200+ photographs including wartime images
• Colour side views and four-views by Richard J. Caruana
• 3D isometric views of all variants by Wojciech Sankowski and Juraj Jankovic
• Specially commissioned extensive full kit builds by Libor Jekl & Steve A. Evans
• Specially commissioned front cover artwork by Jerry Boucher
• A set of 1:48 scale plans.