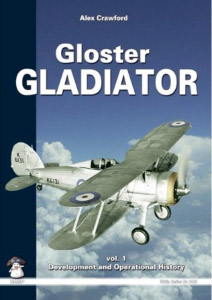 By Alex Crawford
Published: Mushroom Model Publications / Stratus SC Poland
Availability: See www.mmpbooks.biz and www.stratusbooks.biz
ISBN: 978-83-89450-59-3
Our thanks to Mushroom Model Publications / Stratus Books for the review copy
Format: Soft back, 272 pages, an abundance of black and white photographs, English text, 1:48 scale drawings of Gladiator variants and a colour section of side views.
A quite comprehensive tome on the development and operational history of the Gladiator. This book is not aimed specifically at the modeller, although there is a wealth of photographs in black and white which show some of the many schemes carried by the Gladiator. Unfortunately there is nothing to aid the super-detailers all photographs being of complete aircraft.
If you are interested in the history of the Gladiator however, there is much here to inform and educate. In the Operational History section the detail goes down to the level of individual claims by pilots in all squadrons which used the Gladiator. There is a breakdown of production and users, also comprehensive.
The final section is a selection of colour side views, although, disappointingly, only one of these relates to an aircraft in British use.
If you are a fan of the Gladiator then this book is for you.