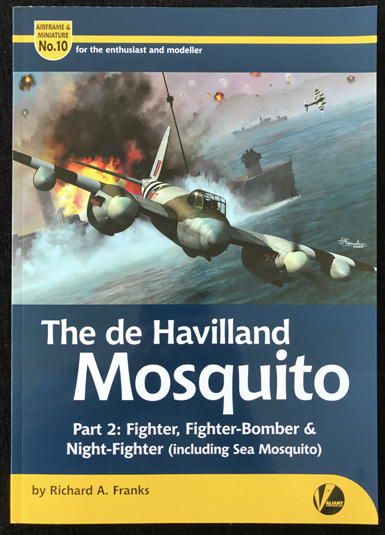 Airframe & Miniature No.10
Author: Richard A. Franks.
ISBN: 978-0-9935345-8-4
Price around: £18.95 GBP; $24.40 USD; €20.79 Euros; $30.77 CDN; $30.82 AUS
Review by Geoff Coughlin (August 2017)
208 pages, high quality art paper, colour profiles and full build articles, black and white period photos, scale drawings for 1:48 scale, line drawings, kit listings, accessory listings – what else does a modeller need?
Our thanks to Valiant Wings Publishing for supplying our review copy. Get this impressive reference book here at Valiant Wings Publishing
You'll notice that we have reviewed several of the other titles in this series over the years and you may get a sense of deja vu? This is the second publication (I think) for the de Havilland Mosquito although now, the variants have been split into Part 1 (already reviewed) and this comprehensive new title covering the Fighter, Fighter-Bomber and Night Fighter, as well as Sea Mosquito.
This is an excellent title and the best thing to do is show it to you! Here's my video review…
Geoff C.