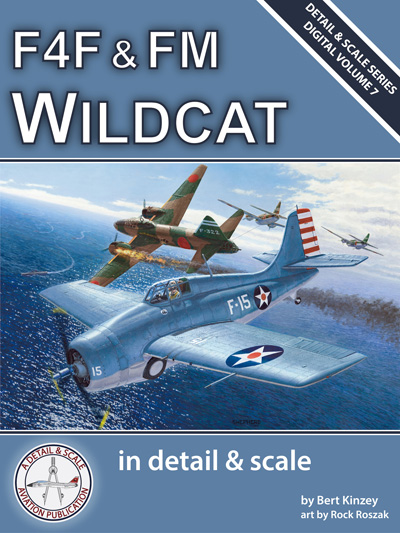 Published: In Detail & Scale
Book for iPad, iBook, Kindle and Mac
Authors: Bert Kinzey and Rock Roszak
Mac/i-Pad download reviewed here – price $9.99USD (price may vary slightly from country to country)
Review by Geoff Coughlin (November 2018)
Our sincere thanks to Bert Kinzey and Rock Roszak at Detail & Scale for supplying our download – you can see a lot more at their website and buy the downloads at the Detail & Scale website.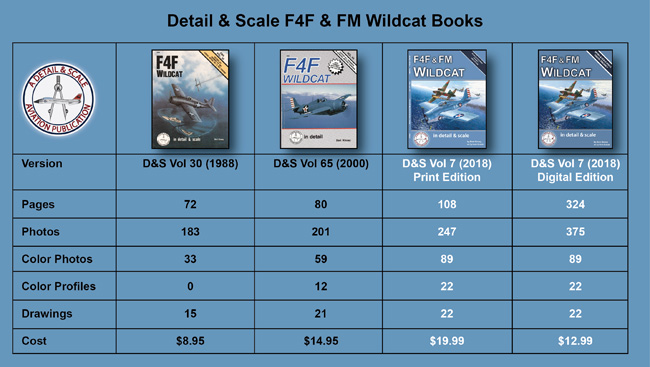 Here's what's in this book – info from Detail & Scale:
Detail & Scale published volumes on the Wildcat in 1988 and again in 2000. This new work combines all of the content of those early works into the most comprehensive book on Grumman's only aircraft to serve on the front lines from the first to the last day of World War II. F4F & FM Wildcat in Detail & Scale includes many new photographs, many of which have never been published, along with over three dozen line drawings, artworks and full color aircraft profiles.
The book begins with a comprehensive developmental and operational history of the Wildcat, and follows that with an all-inclusive chapter on the various U. S. Wildcat variants. Every variant of the Wildcat is covered, including the XF4F-2/-3/-4/-5/-6 and -8 prototypes, the single example of the F4F-3S Wildcatfish floatplane, and the F4F-3/-3A/-4/-7 and FM-1/-2 operational variants. Both the French G-36A and the British Martlets & Wildcats each have their own chapters which provide wide-ranging coverage of these two programs.
A comprehensive chapter on Wildcat Details, long the hallmark of the Detail & Scale brand, follows. This chapter contains nine sections covering the cockpit, windscreen and canopy, engine and cowling, fuselage, landing gear, wings, armament, external stores, and tail details. Complete coverage of almost every square inch of the various variants of the Wildcat is provided through more than 150 high resolution photographs (90 in full color).
The comprehensive details chapter is followed by a colorful look at the paint schemes and markings used by the Wildcat during its operational life. Changing Navy directives for camouflage treatments and markings are provided that chronicle the history of one of the longest operational periods of any WWII combat aircraft.
As with all Detail & Scale books, the final chapter covers the modeling history of the Wildcat, from the early kits that are now only collector's items, to the gamut of kits that have been available for past half century. The most popular scales of 1:144th, 1:72nd, 1:48th, and 1:32nd are treated as separate sections and the available models in each are reviewed.
F4F & FM Wildcat in Detail & Scale is the most comprehensive book on Grumman Wildcat ever produced, and the digital version features more than 320 pages, more than 375 high resolution photographs, 22 full color profiles and 22 drawings.
This new book, and all of our books going forward, is available in both print and digital (iBook and Kindle) formats.
The iTunes link to the book is here: https://itunes.apple.com/us/book/f4f-and-fm-wildcat-in-detail-scale/id1440111709?mt=11
The Amazon link to the Kindle version, which is identical (except for the "How to use this publication on your iPad") is here: https://www.amazon.com/F4F-Wildcat-Detail-Scale-Book-ebook/dp/B07JYQWS79/ref=sr_1_3?s=books&ie=UTF8&qid=1541775250&sr=1-3
This book is available in printed form, too, from Amazon.com and the ordering link for that is here: https://www.amazon.com/dp/1729119751 although I think it's a different link for you in the UK.
OK, so what do we think?
Exceptional! That's what we think – in every respect.
This is the latest in a number of e-books we have reviewed from Detail & Scale and like the others, such as the F-14 Part 1, F-9F Cougar and F-3, they are exceptional for the following reasons:
• Coverage – all aspects of the type are covered making them a one-stop-shop for modelling reference
• Quality of production – excellent quality throughout – full colour and sharp images – many of which are unique
• Profiles, drawings, reference for the real aircraft covering the angles and areas of most interest to scale modellers
• Accessible to more people and page count – you would have to pay so much more for a hard copy book covering the same content and the cost would be prohibitive for most people. So it doesn't matter if you don't have to much to spend on reference, you can get so much more from one outlay – exceptional value for money
• Subject choice – with models of the famous F4F Wildcat available now or in the past, many modellers will have one or more in their stash, making this a great choice
• Readily available when you want it, wherever you want it – a bit like SMN really in this and some other respects. Whatever device you want to download it onto it will be there whenever and wherever you need to see it
• Great modelling coverage with plenty of help and advice about the F4F & FM Wildcat kits that have been and are currently available.
I simply love this series and I just hope that it continues to grow – take a look at the photos here and especially the link above to the Detail & Scale website where you can sample this and all the other titles from this publisher.
Highly recommended
Geoff C.