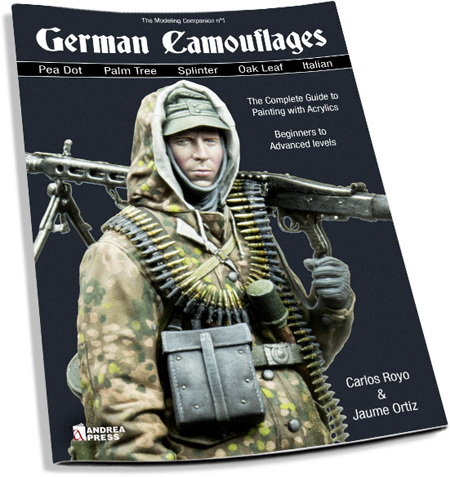 Authors: Carlos Royo & Jaume Ortez
Published: Andrea Press
ISBN: 978-84-96658-62-2
Andrea Press No: AP-0631
Softback
Review by Bill Curtis (March 2018)
Initial assessment
WWII German Camouflage uniforms came in a multiple types depending on the season and this small book deals with Pea pattern, Palm Tree (Autumn), Splinter, Italian, Oak Leaf with extras for painting wood parts on FG42 and gunmetal parts of the mg 42.
With each different scheme are a number of pictures of different camo patterns.
As this book is published by Andrea there is a colour chart associated with each pattern and in the back of the book are two colour charts.
In summary
The book is mainly visual with a brief comment for each picture. Personally I would have liked more explanation to help beginners, although studying the pictures and a bit of thought will overcome this small shortcoming.
I think for the price this is a valued book and will help with the camouflage patterns of the German forces of WWII and will be a good starter on this expansive subject.
Recommended
My Copy was bought from Bookworld Wholesale Ltd.
Bill C.