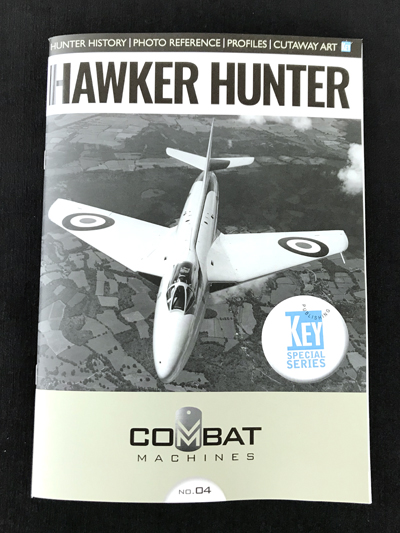 Published: Key Publishing
Price around £7.99 GBP
Review with Geoff Coughlin (November 2018)
Do take a closer look at this publication – better still, take a really good look at the growing series, it's excellent!
---
---
What you have is a good quality publication that's in an 'at-a-glance' format and each publication in the series so far includes some great features for anyone interested in building a scale model of the famous Hawker Hunter fighter in any scale. It's a great, manageable read even if you are just interested in aviation, the aircraft type or that period of history in general.
Having recently completed the excellent Revell 1:72 and 1:32 scale kits I found this publication really helpful with the former and if you are building or plan to build either of the Revell kits or the new Airfix 1:48 Hunter, then this title is very timely. Both the Revell kits (and imminently the Airfix 1:48 model) feature as full build articles in SMN's Aircraft-Finished Now pages.
Here's a brief summary of what's included:
• a summary of the history and development
• high quality colour profiles for multiple aircraft
• line drawing cutaway diagram
• wide selection of period photographs, several in colour where possible
• a number (usually 2) of finished scale model photos of currently available model kits
• a list of the main kits, decals and accessories that are currently available at the time of publishing.
Highly recommended and a steal at the price!
Get this publication direct from Key Publishing. I bought my copy from WH Smith newsagents in the UK,
Geoff C.