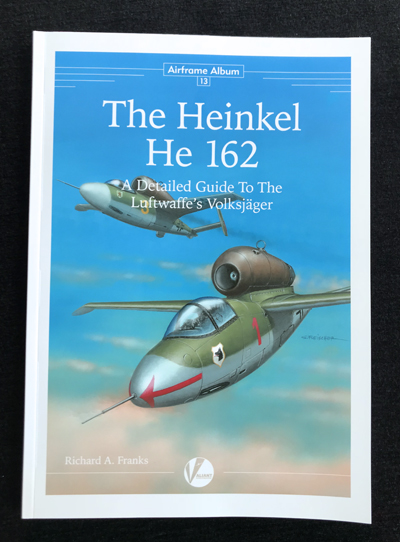 Airframe Album Series No.13
Author: Richard A. Franks
Published: Valiant Wings Publishing
Price around £16.95GBP (September 2018)
ISBN 978-0-9957773-4-7
Review with Geoff Coughlin

Our thanks to Valiant Wings Publishing for sending through our review copy. Get this title here at VWP.
Here's some basic facts about this title from the publisher:
Our thirteenth title in the Airframe Album series is an essential companion for anyone tackling the Revell (1:32nd), Tamiya (1:48th), Dragon and even the Frog kits in 1:72nd scale.
Contents include:
• A wealth of historical photographs and detail images of the world's preserved He 162s
• Period detail images during production and service use
• Isometric views by Wojciech Sankowski of all prototype, production and projected airframes
• Colour profiles and by Richard J. Caruana
• At least 84 pages in total
• Lists of all He 162, accessories and decals produced in all scales
• Kit build of the Tamiya 1:48th He 162A-2 by Steve Evans.
So what do we think?
Do take a look at my video review that follows. As you can see, around 90 pages printed on quality art paper.
Please note I mistakenly say in the video which follows that I have just received from VWP Volume 12 covering the Merlin-engined Spitfires – that of course is in the similar but different Airframe & Miniature Series (a reasonable error I think given the similarities in format and coverage of both series).
The one kit build featured covers only the Tamiya 1:48 scale kit that is very nice and is perfectly executed by Steve Evans. It's a real shame that the excellent Revell 1:32 kit isn't featured as a build, nor one of the various 1:72 offerings released by a number of manufacturers over the years and this leaves this title a little short in my view which is a shame.
Having said that, I still love the title and its coverage making this title one to buy for sure if you are at all interested in the type.
---
VIDEO REVIEW
---
Geoff C.