Author: Richard Franks
Published: Valiant Wings Publishing
Airframe & Miniature Series No.3
ISBN 978-0-9567198-2-9
Price: £17.95 RRP
You can get this superb title here now at www.valiant-wings.co.uk , ADH Publishing and good specialist book and hobby retailers worldwide
Our thanks to Mark at Valiant Wings Publishing for supplying our review sample…
Review by Geoff Coughlin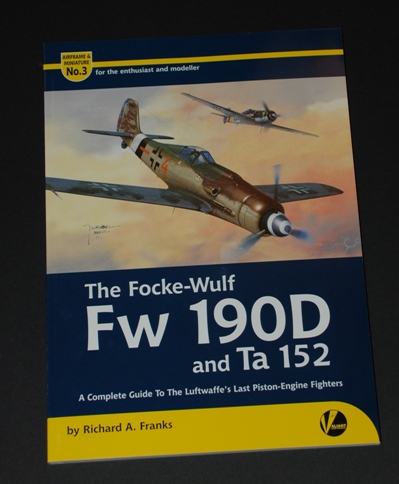 Vital statistics…
160 pages packed with vital information that no active aviation modeller should be without
60+ pages of technical information
20+ pages of walkaround images and technical diagrams
5+ pages of camouflage and markings
20+ pages of model builds and modelling information
200+ photographs including wartime images
Colour side views and four-views by Richard Caruana
3D isometric views of all variants by Jacek Jackiewicz
1:72, 1:48 and 1:32 scale full kit builds
A full set of fold-out 1:48 scale plans
Background info to the series…
This is the third title in the Airframe & Miniature (AirMin) Series from Valiant Wings Publishing; No 1 being the Me 262 and No 2 the Hawker Typhoon. You may have seen that this new title was forthcoming and now it's arrived I can bring you some initial thoughts. The author, Richard Franks will be known to many for his Editorial role with Model Airplane International (MAI), part of the ADH Publishing Empire, plus of course other aviation and modelling titles. Also of course for much of the Modellers' Data File books we continue to see widely at shows and on our shelves.
The late Focke Wulf Fw 190D and Ta 152 are very distinctive in terms of shape – especially the long wing span of the high altitude Ta 152 and history, occupying a unique place in German aircraft evolution.
Modellers are fairly spoiled for choice when it comes to model kits of both types and so this new title will prove popular amongst not only WWII Luftwaffe modellers but also aviation historians and enthusiasts.
Title structure…
The book is divided up into two sections, plus appendices – Airframe chapters cover evolution, testing, production and drawing board projects, camouflage and markings plus colour profiles of the Fw 190 and Ta 152 from Richard Caruana. Miniature chapters cover kit builds of the major Fw 190/Ta 152 kits in 1:72, 1:48 and 1:32nd scales, detailed isometric views of all prototype and production variants for those wishing to build a collection. Also included are detailed walkaround photographs of examples of the aircraft and the coverage here is extensive. The book is topped and tailed by a detailed reference bibliography and comprehensive kit listings. In addition, there are comprehensive listings of all aftermarket items like resin and etched detail sets, plus decal sets that have been produced. The scale plans to 1:48 scale are a bonus for sure, especially if you plan to rivet your model or are looking to upgrade one of the many kits available at the time of writing.
Modelling focus…
As a pure one-stop-shop this title is going to be hard to beat, it really contains all most modellers will need to see in a good model reference title. Many of the period images won't be new to you if you are well into your subject, but some will be, as will the line drawings and profiles. Richard Caruana is a talented artist and his profiles will inspire you and make you want to go and get that Focke Wulf model out of the stash and get building.
I am a big fan of quality reference material as many of you will hopefully appreciate as we recently added our 182nd set of detailed walkaround images to SMN's Photo Reference Library. So too in this book, walkaround coverage is given to both the Focke-Wulf Fw 190D and Ta 152. In some ways this book reminds me of the excellent Aerodetail titles available from Hobbylink Japan, but the scope of this title is far wider and consequently better value for money.
Kit builds…
A decent selection of type kits are built for the book and that is to be applauded – they certainly give you an insight into what building these particular aircraft will bring depending on your choice of scale and kit. I was especially interested in Steve Evan's Fw 190D build in 1:32nd scale featuring 'Red 1' from JV44 and the models have been given more extensive coverage and that's a great improvement on previous releases.
The quality of the builds is high and there are some nice weathering touches like weathering to the wings and airframes of most builds featured.
Overall then…
I would certainly recommend this new title as it has plenty of good reference material, images and profiles – and those scale plans to help us get the best out of our Fw 190D and Ta 152 projects. I wonder what will be next. Keep up the good work team!
Highly recommended
Geoff C.