Review by: James Vaitkevicius (March 2012)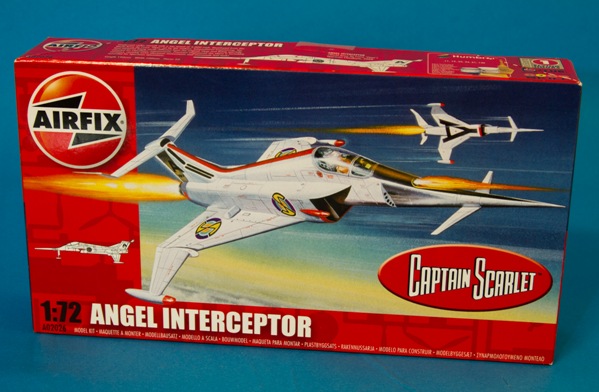 Our thanks to Airfix for supplying our review sample.
Introduction
There are many things that you remember from your childhood. Your first bike, first day at school and even various children's TV programmes.
The likes of Captain Scarlet, Stingray and Thunderbirds were all created by Gerry Anderson, and my favourite was Captain Scarlet. Saying that, I was always amazed by the creativity and ingenuity of the show and especially the aircraft in all the episodes, such as the Thunderbird craft, the Fire Flash.
There is one, however, that always stands out for me and many others: The Angel Interceptor from Captain Scarlet. Its sleek lines and futuristic look captivated my mind at such an early age and, to a certain extent (apart from my memories of Air Fete), sparked my enthusiasm in aviation.
Great Box Art…
Airfix have done it again with their box art.
To be honest, it is not their new CGI created artwork that has graced the boxes of the Valiant, Harrier GR7/9 or Spitfire XII, but still looks great nonetheless, capturing the sense of speed.
What's in the Box?
You are greeted with two grey sprues and one crystal clear sprue with the canopy attached.
It has become the norm with Airfix kits of late to be accurately moulded; there's no flash on the sprue either.
This model however is a re casting of the original 1980 model. Whilst it is not covered in flash, the kit (all 23 parts) consist of raised panel lines and have a few sink marks (on the wings and front intakes).
So if you are buying this kit, be warned: It is not up to the standard of that of the new Airfix kits of late.
Cockpit
A fairly sparse cockpit is included, just one seat and nothing else!
A point to note (rather disappointingly) is the pilot is actually a standard 72nd scale pilot, complete with goggles and parachute, so not the most accurate and certainly not one of the famous "Angels"!
Undercarriage
No real undercarriage to note – this is fixed.
Clear Parts
Nice looking these – very clear, crisp parts, look thin for the scale and very shiny. I'm sure with a coat of Klear will ensure these will look immaculate.
Instructions, Decals and Painting Guide
These are possibly the best part of the kit. The decals have been reprinted by Cartograf and include all stencils and the legendary Spectrum insignia.
Summary
A welcomed kit back in the modeling world; I am intending to make this out of the box, raised panel lines included. Either way, I am looking forward to building this very soon.
I think this one is going to be difficult to build, but I am looking forward to it nevertheless!
| FEATURE | STAR RATING (out of five) |
| --- | --- |
| Quality of moulding | ** |
| Accuracy | N/A |
| Instructions | *** |
| Decals | **** |
| Subject choice | *** |
| Overall | *** |
James V.