Review by Geoff Coughlin (Nov 2012)
Price around £17.99 GBP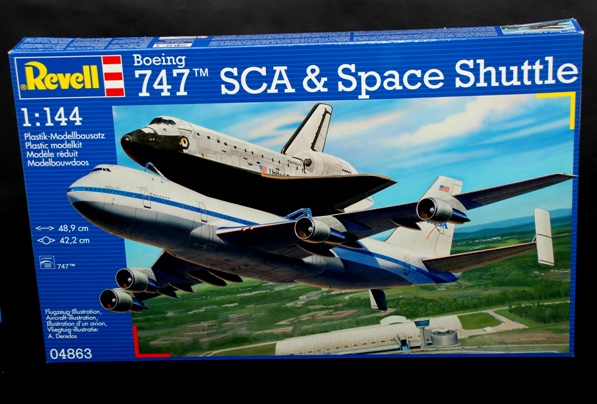 Our thanks to Revell for supplying our review sample. Revell model kits are available from all good toy and model retailers. For further information visit http://www.revell.eu/ or email ukbranch@revell.de
Something to get you in the mood here!…
And some useful Shuttle reference in this one too…
A little bit of background…
SCA? Stands for Shuttle Carrier Aircraft – fair enough really!
The Shuttle Carrier Aircraft (SCA) are two extensively modified Boeing 747 airliners that NASA used to transport Space Shuttle orbiters. One is a 747-100 model, while the other is a short range 747-100SR.
The SCAs were used to ferry Space Shuttles from landing sites back to the Shuttle Landing Facility at the Kennedy Space Center, and to and from other locations too distant for the orbiters to be delivered by ground transport. The orbiters were placed on top of the SCAs by Mate-Demate Devices, large gantry-like structures that hoisted the orbiters off the ground for post-flight servicing then mated them with the SCAs for ferry flights.
In approach and landing test flights conducted in 1977, a test shuttle was released from an SCA during flight and glided to a landing under its own control
The Revell Kit…
Revell are proving prolific these days with plenty of new-tool kits being released like the impressive armour subjects in 1:72 scale but of course many larger aircraft types in 1:32 like  the Westland Sea Lynx, Heinkel He 219 "Uhu" and He-111 to mention just a few. But it's not just these larger scales that are attracting interest, clearly the smaller scale 1:144 is too and we have reviewed other aircraft subjects in this scale before – especially the fighters. So we now have the rather old re-release of the Boeing 747 SCA and Space Shuttle with new decals. This continues the theme with several smaller-scale 'new' kits that are in fact older kits repackaged with new, high quality decals. And if you like NASA, space, airliners and clean military types as modelling projects then you should take a good look at this one, even though it is a re-release of a much older kit.
Box and contents…
The box artwork is usually very good and it's decent enough here showing a Boeing 747 SCA climbing out of Seattle (maybe). Let's go inside…
The white plastic sprues are packaged in the usual poly bag and no damage is apparent. Taking the main components first, they are quite well tooled, feeling quite hard and brittle-like. No distortion was apparent and a dry fit of the fuselage halves promises a decent fit and overall shape looks pretty good. Moving to the wings, they are reasonable in outline shape and the small 'extra' sprue contains the small number of extra variant bumps and lumps. A further sprue attached to the main fuselage tree has the mating gantry.
Detail sprues…
The components feature raised panel lines on the fuselage and this may not impress all of you, and detail as you'd expect with an older moulding is not as fine as, say, the newer kits from this manufacturer. Recessed panel lined are moulded into the wings and tailplane (and Shuttle). The recessed panels are a bit deep to say the least, but maybe not too bad. The type is certainly impressive as you can see from the video at the start of this review, so this project is all going to be about fine preparation and that finished paint job – immaculate!
Needless to say, in this scale no cockpit detail is provided, you simply wouldn't see any of it on the finished model. Decals are provided for the windscreen and fuselage windows, but clear parts too.
Quite a bit of excess flash is formed around most parts that will need to be cleaned up and removed to ensure the best fit possible.
This kit is pretty fairly priced and will make up into an impressive model that has size and in that NASA 747 SCA scheme could look impressive.
Clear parts…
The clear parts look ok, although showing their age with again excess flash to remove.
Space Shuttle…
All the above comments apply to the Space Shuttle it included. Quite a lot of detail is simplified (check out the attached videos) but ok, given the scale.
Instructions and decals…
The Revell instructions follow their usual exploded stages format. Location of parts is clear but colour paint coding is for Revell paints only. However, the colour names are provided and this will help you to match your own choice of paints. This is a basic model and so should present little difficulty in working out where all the parts are located, even for inexperienced modellers.
The decals seem good, very good in fact, being created and designed in Italy. Certainly colour saturation and register is good and all markings are accurate and sharp in their detail. This is probably the best part of the package; good quality decals will make a world of difference to your completed model.
Conclusion…
Basically, if you are into 1.144 scale modelling, then this kit is worth a look. There will never be a huge choice of Boeing 747 or its derivatives like the SCA available at any point so this one looks like it could prove popular. If you're prepared to spend some time being patient with your prep and spray work you can get good results from these older-tooled kits.
Recommended for all scale modellers, whatever your experience.
Geoff C.