Review by: Dave Smith (March 2012)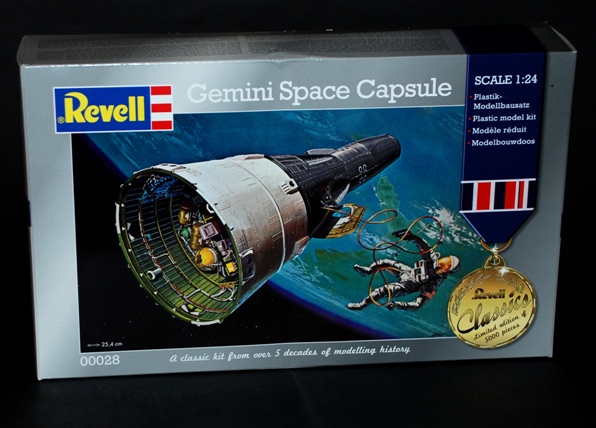 Our thanks to Revell for supplying our review sample.

Background Info
In the race to get a man on the moon announced by President John F. Kennedy, Project Gemini was the second program used to perfect in orbit; the various stages necessary to achieve ultimate mission success with the Apollo program to follow.
Orbital changes, docking manoeuvres, long duration flights, and space walks were all procedures essential to the Apollo mission and project Gemini proved to be a very reliable vehicle with which to perfect them.
Gemini was a two-man spacecraft, whereas the previous Mercury was a one-man vehicle.
The new space suit that the Astronauts used proved not to be very successful, as any strenuous activity overwhelmed the air conditioning unit. This was experienced by Astronaut Gene Cernan when he had great discomfort on a space walk intended to test a manned-manoeuvring unit.
The test had to be cancelled, due to Gene's exhaustion and a misted helmet visor!
A little bit of reference…
The Revell kit… and a bit of nostalgia!
I have to admit to having had a bit of a love for Revell's series of NASA space craft the first time around!
Having been an avid follower of the Apollo missions (Apollo 11 landed on the moon the year I started High school), I looked longingly at the stocks of shiny Revell boxes in my local model shop but frustratingly didn't have the money to get them then.
I have found it very evocative seeing the artwork used on the various items Revell have re-released, especially the 1:24 Gemini.
Having built the soon-to-be-re-released Mercury/Gemini 1:48 combination, in which the level of detail is superb, and which I cannot wait to build again, opening the box of the 'big' Gemini revealed quite a lot of plastic.
Once again, a nice level of detail is evident, even down to the separate visors for the two Astronaut figures which, incidentally, even though only moulded in two halves, look quite nicely detailed.
The sprues are moulded in white, an odd colour choice to me but never mind.
The instructions are copies of the originals issued when first released and are as clear as a bell, so there's no problems here. It took me back to Revell/Monogram of old!
I have never seen this model built anywhere, so I cannot really give an overall impression of the look, but the scale of the kit must give it some 'presence' when built. Apparently (I could be wrong here), the kit is based on a prototype spacecraft, which differed to the actual craft used in the Gemini missions, but I am unsure where the differences in the two would lie here.
One thing I did notice on opening the box was how many parts seem to have detached from the sprues in transit; no problem for an average modeller, but someone new to the hobby may be a little unsure of the location of some of the smaller 'floating' bits.
I was quite surprised how clean the mouldings were given the age of the kit, not too much flash is evident here.
A nice set of decals is added, giving lots of control panel detail, national markings, and stencilling, which, given the fact that the hatches can be opened, is a nice touch and begs a little added 'scratched' detail in the cockpit area.
I would urge anyone who wishes to build the model to take a look at the version built by Pete Malaguti (just put it into a search engine, it should show up), he has used quite a few resin aftermarket items and added lots of scratch-built bits, but that build has spurred me on to do a better build than I would have done otherwise.
To sum up…
A kit from many moons ago (see what I did there?…moons….no?…oh well, please y'self!) that has stood the test of time.
Although we now have 'another manufacturer' producing space items, with newer techniques (and a massive comparative price!), the Revell items, give the modeller a nicely priced, quality kit which will give lots of enjoyment and a good end result.
This is something which may appeal to the newer modeller out there, who wants a taste of when men flew on the top of rockets for the enhancement of knowledge and maybe a little glory along the way.
| FEATURE | STAR RATING (out of five) |
| --- | --- |
| Quality of moulding | *** |
| Accuracy | **** |
| Instructions | **** |
| Decals | **** |
| Subject choice | ***** |
| Overall | **** |
Thank you Revell for giving me a chance to model these fabulous spaceships again.
Dave S.