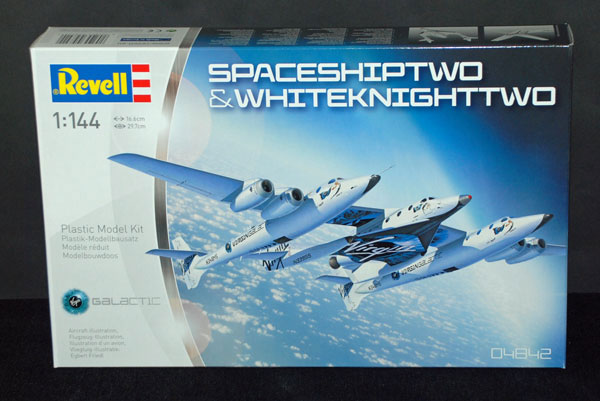 Kit reference: 04842
Price around £17.99 GBP
Review by Geoff Coughlin (December 2014)
Our thanks to Revell for supplying our review sample. Revell model kits are available from all good toy and model stores. For details visit www.revell.de/en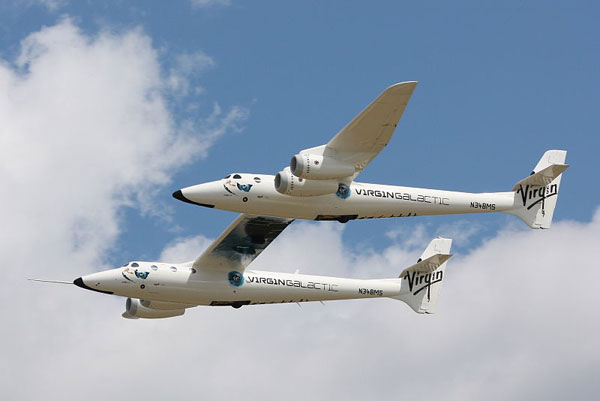 A little bit of background to the subject
Virgin Galactic is a British commercial spaceflight company within the Virgin Group which hopes to develop commercial spacecraft and provide suborbital spaceflights to space tourists, suborbital launches for space science missions, and orbital launches of small satellites. Further in the future, Virgin Galactic plans to provide orbital human spaceflights as well. The company also hopes to develop an orbital launch vehicle. SpaceShipTwo, Virgin Galactic's development spacecraft, is air-launched from beneath a carrier aeroplane known as WhiteKnightTwo.
Virgin Galactic's founder, Richard Branson, had initially suggested that he hoped to see a maiden flight by the end of 2009, but this date has been delayed on a number of occasions, most recently by the October 2014 in-flight loss of a SpaceShipTwo.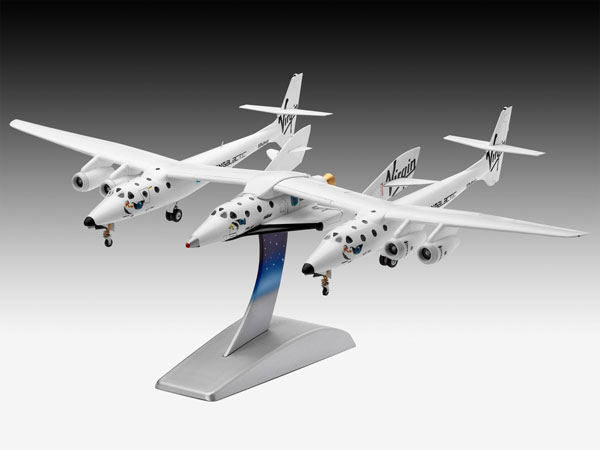 The Revell kit
Here are a few photos of the real model made up by the manufacturer – very graceful combo to look at.

It's a shame that when I first thought I saw what I believed to be the new Revell kit on their stand at the London Toy Fair a couple of years ago it was an awesome-sized kit, probably too big but looking like 1:32 scale. Sadly, I understand that this model didn't belong to Revell and of course the new kit is in fact only 1:144 scale. Having said that, it is much more practical in the smaller scale and makes up into a very sleek model combo featuring both the carrier aeroplane, WhiteKnightTwo and development spaceship, SpaceShipTwo.
The model measures 16.6cm long by 29.7cm wide.

The surfaces are very smooth with detail subtly moulded where appropriate, you can see this on the attached photos. The model also features the four engines for the carrier aeroplane and simple undercarriage legs that look fine in this scale.
The box illustrates a stand that may/should be included, not clear on this but one wasn't included in our box.
Clear parts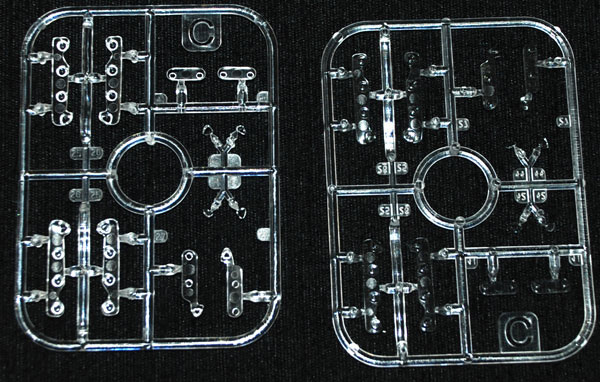 These are very clear and a test-fit shows they fit well inside the fuselage of the carrier aeroplane, WhiteKnightTwo.

Instructions and decals
Simple and straightforward and typical of Revell printed in their usual format – some pics are included here to illustrate the construction sequence.
The decals are stunning with some amazing 'Virgin' artwork for the underside on SpaceShipTwo and elsewhere on your model. The blue tones will look incredible against your gloss white paintwork!
SMN Quick summary Star rating out of 5
| FEATURE | STAR RATING (out of five) |
| --- | --- |
| Quality of moulding | **** |
| Accuracy | **** |
| Level of detail | *** |
| Instructions | *** |
| Decals | ***** |
| Subject choice | **** |
| Overall | **** |