Review by Geoff Coughlin (February 2015)
Price: around £49.99 (GBP)
Kit Ref: 04841 Limited Edition
Our thanks to Revell for supplying our review sample. Revell model kits are available from all good toy and model stores. For details visit www.revell.de/en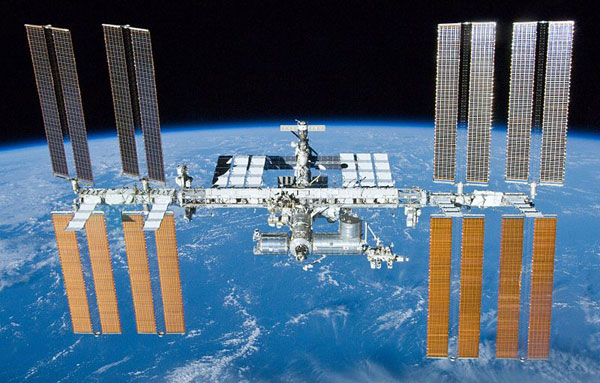 A little bit of background
The International Space Station (ISS) is a space station, or a habitable artificial satellite, in low Earth orbit. It is a modular structure whose first component was launched in 1998. Now the largest artificial body in orbit, it can often be seen with the naked eye from Earth. The ISS consists of pressurised modules, external trusses, solar arrays and other components. ISS components have been launched by American Space Shuttles as well as Russian Proton and Soyuz rockets.
The ISS serves as a microgravity and space environment research laboratory in which crew members conduct experiments in biology, human biology, physics, astronomy, meteorology and other fields. The station is suited for the testing of spacecraft systems and equipment required for missions to the Moon and Mars. The ISS maintains an orbit with an altitude of between 330 and 435 km (205 and 270 mi) by means of re-boost manoeuvres using the engines of the Zvezda module or visiting spacecraft. It completes 15.54 orbits per day.
ISS is the ninth space station to be inhabited by crews, following the Soviet and later Russian Salyut, Almaz, and Mir stations as well as Skylab from the US. The station has been continuously occupied for 14 years and 123 days since the arrival of Expedition 1 on 2 November 2000. This is the longest continuous human presence in space, having surpassed the previous record of 9 years and 357 days held by Mir. The station is serviced by a variety of visiting spacecraft: Soyuz, Progress, the Automated Transfer Vehicle, the H-II Transfer Vehicle, Dragon, and Cygnus. It has been visited by astronauts and cosmonauts from 15 different nations.
After the US Space Shuttle program ended in 2011, Soyuz rockets became the only provider of transport for astronauts at the International Space Station, and Dragon became the only provider of bulk cargo-return-to-Earth services (downmass capability of Soyuz capsules is very limited).
The ISS programme is a joint project among five participating space agencies: NASA, Roscosmos, JAXA, ESA, and CSA. The ownership and use of the space station is established by intergovernmental treaties and agreements. The station is divided into two sections, the Russian Orbital Segment (ROS) and the United States Orbital Segment (USOS), which is shared by many nations. As of January 2014, the American portion of ISS was funded until 2024. Roskosmos has endorsed the continued operation of ISS through 2024, but have proposed using elements of the Russian Orbital Segment to construct a new Russian space station called OPSEK.

The Revell kit
It's good to see this one back having been originally released by Revell some years ago. This is going to be an enormous model and an interesting one to build – really not sure when we may get to it, but we do have someone lined up who is keen to take on that challenge – can't wait!
The moulds look to have stood up quite well and most parts are cleanly moulded with just a little excess flash here and there but this was a decent release when first out and it remains so now. The build doesn't look too daunting having read a couple of build reviews now and that's encouraging.

As you can see from this photo of the manufacturer's model, it makes up into an impressive piece.
Sprues and more sprues…
As you'd expect with a project like this it's mostly lots of solar panels and capsules that all join together in a complex assembly to create the complete ISS.
Probably the best thing to do is show the sprues to you here:
There are some good photos on the internet that will help you finish your model, although I think you have some flexibility when it comes to exact colours to use because of all the reflective qualities of the real material used in the ISS.
Specifically this is what you get:
Aluminium square and round bars to support the structure are included in the kit
Display stand with earth hemisphere
Detailed lattice tower construction
Movable large solar panels
Detailed representation of modules
Experiment platforms
2 Soyuz transport modules
Solar panels with finely detailed features
3 robot arms
3 astronaut figures
Decals with numerous emblems.
Highlights at a glance:
Subject choice – very welcome new boxing with excellent new decals
Sheer parts count
Aluminium support bars to strengthen construction
Decal options – variety of badges and insignia.
Things to watch and take extra care with:
Carefully working out a logical assembly
Follow the instructions but be prepared to depart from them in the interests of sanity and logic
Instructions
These are in classic Revell style with 59 exploded stages.
Decals

Very high quality and a real strength of this Revell packaging.
Conclusion
An impressive package that will give you hours of pleasure without breaking the bank.
Geoff C.
SMN Quick summary Star rating out of 5
| FEATURE | STAR RATING (out of five) |
| --- | --- |
| Quality of moulding | *** |
| Accuracy | **** |
| Level of detail | **** |
| Instructions | *** |
| Decals | **** |
| Subject choice | **** |
| Overall | **** |