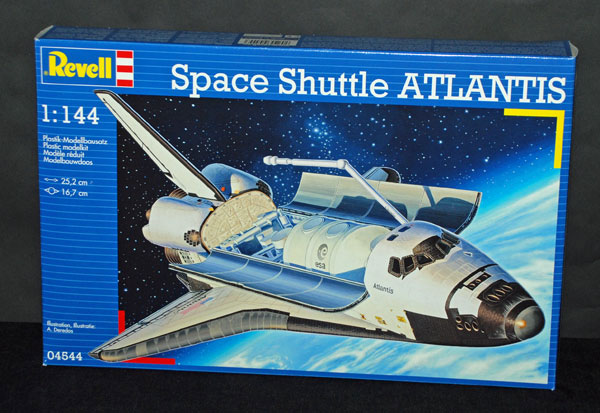 Review by Geoff Coughlin
Price around: €19.99 Euro (approx. £16.00 GBP – April 2014)
Our thanks to Revell for supplying our review sample. Revell model kits are available from all good toy and model retailers. For details visit www.revell.de/en, @RevellGermany or facebook.com/Revell
Something to get you in the mood here!…

A little bit of background
The Space Shuttle was a crewed, partially reusable low Earth orbital spacecraft operated by the U.S. National Aeronautics and Space Administration (NASA). Its official program name was Space Transportation System, taken from a 1969 plan for a system of reusable spacecraft of which it was the only item funded for development. The first of four orbital test flights occurred in 1981, leading to operational flights beginning in 1982. They were used on a total of 135 missions from 1981 to 2011, launched from the Kennedy Space Center (KSC) in Florida. Operational missions launched numerous satellites, interplanetary probes, and the Hubble Space Telescope (HST); conducted science experiments in orbit; and participated in construction and servicing of the International Space Station. The Shuttle fleet had combined mission duration of 1322 days, 19 hours, 21 minutes and 23 seconds.
Shuttle components included the Orbiter Vehicle (OV), a pair of recoverable solid rocket boosters (SRBs), and the expendable external tank (ET) containing liquid hydrogen and liquid oxygen. The Shuttle was launched vertically, like a conventional rocket, with the two SRBs operating in parallel with the OV's three main engines, which were fuelled from the ET. The SRBs were jettisoned before the vehicle reached orbit, and the ET was jettisoned just before orbit insertion, which used the orbiter's two Orbital Manoeuvring System (OMS) engines. At the conclusion of the mission, the orbiter fired its OMS to de-orbit and re-enter the atmosphere. The orbiter glided to a runway landing on Rogers Dry Lake at Edwards Air Force Base in California or at the Shuttle Landing Facility at the KSC. After the landings at Edwards, the orbiter was flown back to KSC on the Shuttle Carrier Aircraft, a specially modified Boeing 747.
The first orbiter, Enterprise, was built purely for Approach and Landing Tests and had no capability to fly into orbit. Four fully operational orbiters were initially built: Columbia, Challenger, Discovery, and Atlantis. Of these, Challenger and Columbia were destroyed in mission accidents in 1986 and 2003 respectively, in which a total of fourteen astronauts were killed. A fifth operational orbiter, Endeavour, was built in 1991 to replace Challenger. The Space Shuttle was retired from service upon the conclusion of Atlantis' final flight on July 21, 2011.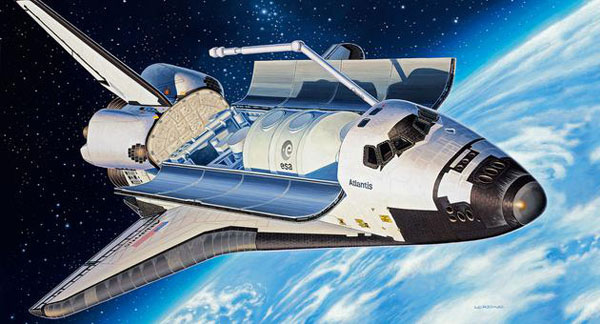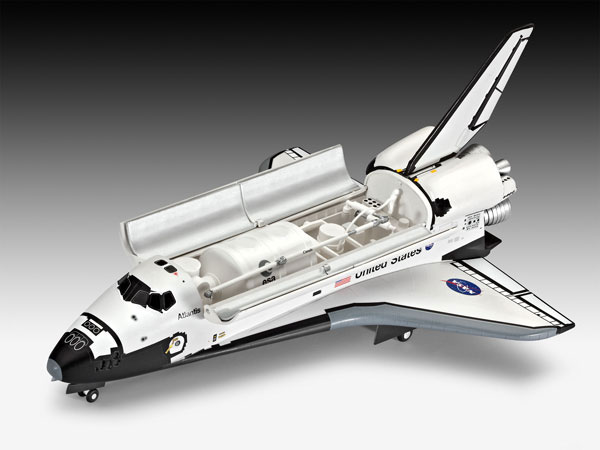 The Revell Kit
It's nice to see this model back again in the smaller scale 1:144, this time with new decals. This continues the theme with several smaller 'new' kits that are in fact older kits repackaged with new, high quality decals. And if you like space craft like the Shuttle then you should take a good look at this one, even though it is a re-release of a much older kit.
Box and contents
The box artwork is usually very good and it's good here showing the Space Shuttle Atlantis going about its work in orbit. Let's go inside…
The white plastic sprues are packaged in the usual poly bag and no damage is apparent. Taking the main components first, they are quite well tooled, feeling quite hard and brittle-like. No distortion was apparent and a dry fit of the fuselage halves promises a decent fit and overall shape looks pretty good. Moving to the wings, they are reasonable in outline shape and there's plenty of internal detail for the equipment bay.
Given the age of the kit these is quite a lot of excess flash plastic that'll need to be removed from the parts and you can probably see this in the photos.

Detail sprues
The components feature raised panel lines and this may not impress all of you, and detail as you'd expect with an older moulding is not as fine as, say, the newer kits from this manufacturer. The Shuttle is an iconic type and is certainly impressive as you can see from the video at the start of this review, so this project is all going to be about fine preparation and that finished paint job – a nice weathering challenge!
Needless to say, in this scale no cockpit detail is provided, you simply wouldn't see any of it on the finished model. Decals are provided for the window spaces but clear parts are included too.
The cargo bay is well detailed and it's worth looking at the photos of the manufacturer's completed model above to see how this can look when added.
Quite a bit of excess flash is formed around most parts that will need to be cleaned up and removed to ensure the best fit possible.
This kit is pretty fairly priced at around 16.00 GBP and will make up into an impressive model that has size (25cm long) and in that NASA scheme could look stunning.
Clear parts
The clear parts look ok, although showing their age with again excess flash to remove.
Instructions and decals
The Revell instructions follow their usual exploded stages format. Location of parts is clear but colour paint coding is for Revell paints only. However, the colour names are provided and this will help you to match your own choice of paints. This is a basic model and so should present little difficulty in working out where all the parts are located, even for inexperienced modellers.
The decals seem good, very good in fact, being newly created in Italy. Certainly colour saturation and register is good and all markings are accurate and sharp in their detail. This is probably the best part of the package; good quality decals will make a world of difference to your completed model.
Conclusion
Basically, if you are into 1.144 scale modelling, then this kit is worth a look. There will never be a huge choice of NASA Space Shuttle models so the return of this one looks like it could prove popular. Using different markings included of the different Shuttle Orbiter craft you can choose the one you want to build. If you're prepared to spend some time being patient with your prep and spray work you can get good results from these older-tooled kits.
Recommended for all scale modellers, whatever your experience.
Geoff C.
SMN Quick summary Star rating out of 5
| FEATURE | STAR RATING (out of five) |
| --- | --- |
| Quality of moulding | ** |
| Accuracy | *** |
| Level of detail | *** |
| Instructions | *** |
| Decals | *** |
| Subject choice | **** |
| Overall | *** |