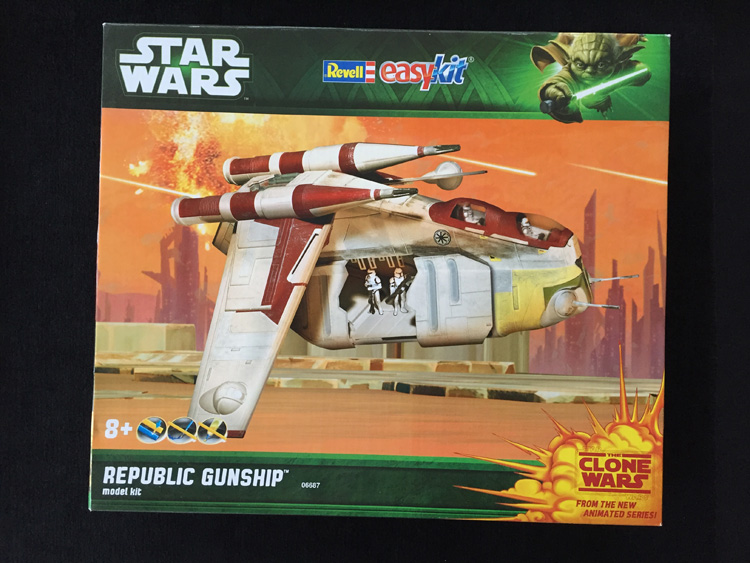 Kit Ref: 06687
Price around: £33.59, €39.99, $42.24US, $56.71AUS
In-box review by Geoff Coughlin (November 2016)
Our thanks to Revell for supplying our review sample. Revell model kits are available from all good toy and model stores. For details visit www.revell.de/en
Background
This tactical but extremely versatile transporter makes the safe, rapid and also near-to-ground transport of clone troops possible. Attackers in pursuit are lured into extremely impassable or rugged terrain, are forced to stay in high air space or to reduce their speed, giving the Gunship a crucial advantage in combat. Within a relatively short space of time, several transporters making repeated sorties can deliver some 2,000 clone soldiers to the battle zone.
However, the versatile, heavily armed gunship is itself a powerful weapon. Lighter and faster than the mobile artillery, the gunship carries an impressive arsenal of weapons for the massive missile launching device above the fuselage, which is used to target far distant objects, both moving and stationary, in order to protect the ground troops. The rotating laser cannons at the nose and tail serve to attack enemy infantry.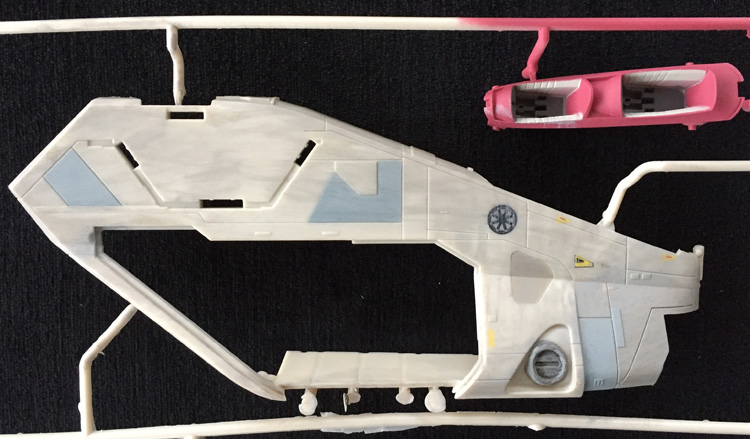 A note from Geoff…
Here are the basic stats for this release:
Length: 242mm
Figures: 6
Parts: 49
A stand painted flat brown to represent the surface of some planet is included.
This kit was released in 2010 and I have to admit we have had it a while waiting for the launch of the Sci-Fi/Space Area in SMN that you can see is now live :) Let the builds begin!!
Closer look at this kit
The model offers a simple breakdown of parts that are well moulded and painted in light grey giving the model a heavy, weighty feel but that doesn't detract from the finesse of the detail that is cleanly moulded and well-defined. The model actually comes with some paint applied as I say and this isn't usually well done but is better on this model. Personally, I would want to get the model together and then clean up any joins etc before applying my one paint finish and that'll be the subject of the build we'll run in SMN – taking an entry-level 'Easy Kit' and making more of it and certainly trying to get the best out of the box contents.
The surfaces are covered in good raised detail that should look good under paint, washes and general weathering. The model is designed, indeed aimed at junior modellers but that shouldn't put anyone off, there's great potential here for creating an excellent model of a Republic Gunship from The Clone Wars.
A gentle dry-fit of parts shows that everything should together well – remember, these are push-fit kits and designed not to come apart again – different to normal kits in this respect.
A nice feature is that the 4 sliding doors fit well and you can add them or not in various configurations to add interest to your model. There's not a lot of detail in the main internal hull and so some research and scratch-building might appeal to some or just close up a pair of the doors after careful painting within?
Other details
You get 6 Clone Troopers – 2 for seated for the cockpit and another 4 for the main hold compartment. These guys are made from soft, flexible rubber that's a bit odd but they seem to painted well enough for most I think. It would have been better for a few more Troopers to be included to allow for greater display opportunities. having said that, it's good that figures are included at all because they definitely help create a sense of scale.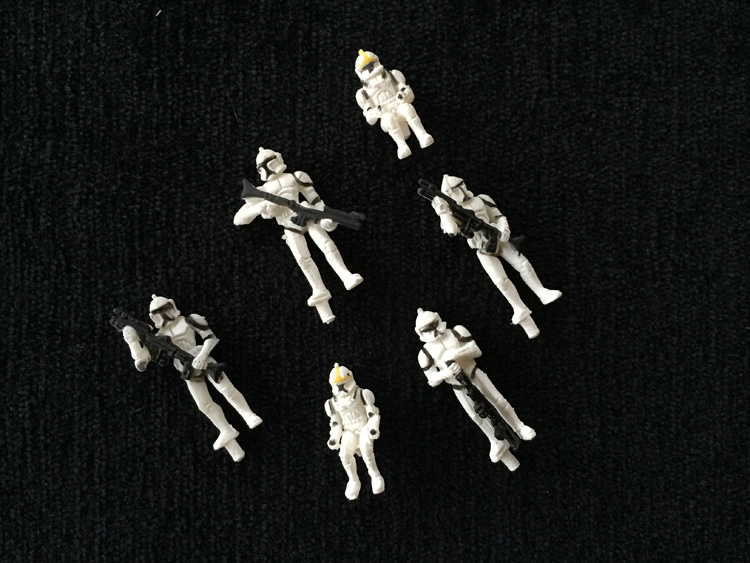 Clear parts
The separate canopy is clear and blemish-free.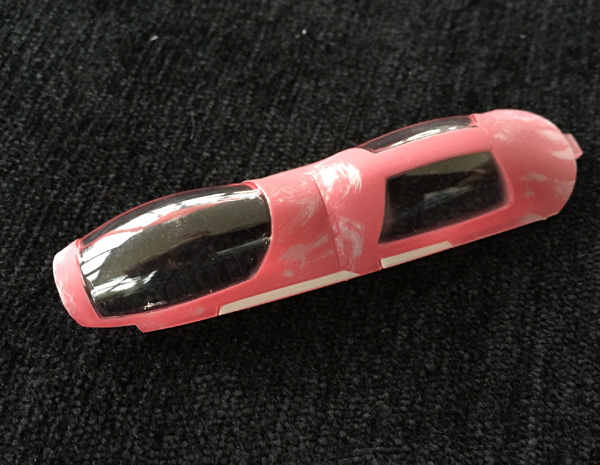 Markings
No decals are included.
Instructions
You get the basic exploded view layout. The box art is pretty good for use as a painting guide and assembly is very straightforward. In terms of painting, just add the colours you like from your preferred range as no painting references are included on the simple instruction sheet and this isn't surprising as the model is supplied pre-painted.
Report summary
I have given this model quite a good rating on the scale. There's no doubt in my mind though that it will come to life if you add personalised painting and some simple LEDs and lighting and these of course, are not included.
Geoff C.
SMN Assessment Summary Star rating out of 5
| FEATURE | STAR RATING (out of five) |
| --- | --- |
| Quality of moulding | **** |
| Level of detail | *** |
| Accuracy | Pass! |
| Instructions | *** |
| Decals | N/A |
| Subject choice | **** |
| Overall | *** |