Availability: Good, mine from White Ensign Models for £35.00
Review by Les Venus
White Ensign Models Etch brass detail Set
Master turned aluminium and Brass Barrels
Trumpeter spares from HMS Hood (8 barrelled Pom Poms
Paints:
WEM (Late War RN Colours)
Tamiya
Alclad Varnish
Mr Color
Equipment:
Albion Alloys Brass Rod and tube
Dremel Grinding Tool
Mission Models Brass Etch Folding Tool
Tamiya Folding Tool
Tamiya Etch Brass scissors
Side Cutters
Other Tools etc:
Mr Cement
Cyano glue
Accelerator
Downey Pastels
Low Odour Thinners
Oil Paint
References…
King George V Class Battleships by Roger Chesneau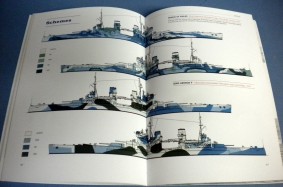 Thanks to Ian Ruscoe and Dave Carter at White Ensign Models
Background…

Now those of you that have read my HMS Hood build will know that my master plan was to build the KGV and place it next to my Hood on a sea base just before deployment to hunt the Bismarck. Good plan that, except the Tamiya KGV is as it was in 1944-1946 and as such the wrong period for my diorama. To do this I needed the HMS Prince of Wales kit and make minor mods to represent the KGV in 1941………….another plan bites the dust! But, not to be deterred I decided to build KGV anyway as it's a beautiful ship with a glorious history as all the references show. The Roger Chesneau book is fabulous and is my primary source of reference and indeed inspiration. So here goes another mammoth ship build which when I have finished will amount to a good 4000 plus words (helpful I hope and well over 100 detail photos of works in progress.