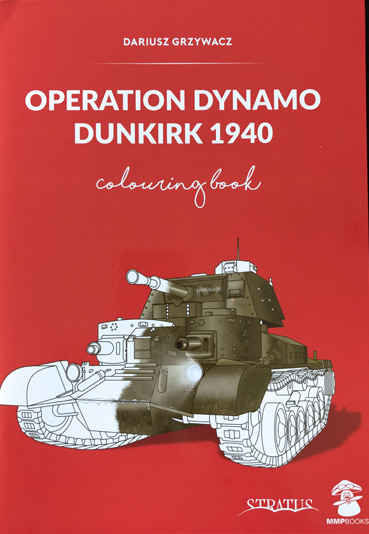 Author: Dariusz Grzywacz
ISBN: 978-83-65281-60-9
Format: A4 32 pages softback, black and white photography and drawings throughout
Price around £3.50 GBP
Review by Geoff Coughlin (August 2017)
Get this book now at MMP/Stratus books – thanks to the publishers for supplying our review sample
And now for something completely different…
Adult colouring book based on the publisher's archive of detailed artwork and technical drawings a fun activity book for military history enthusiasts and scale modellers of all ages.
15 accurate, authentic renderings of the tanks, aircraft, vehicles and weapons used during the evacuation of Dunkirk (Operation Dynamo) in 1940, for you to colour in.
Each illustration is accompanied by captions with technical data:
Universal Carrier
Souma 35
Sd. Kfz 251
Panzer I
Panzer II
Panzer III
British military truck
Hawker Hurricane Mk I
Messerschmitt Bf 109 E
Supermarine Spitfire Mk I
Junkers Ju 87B
Char B1 Bis
Light Tank Mark I
Cruiser Mk I
Evacuating soldiers.
Take a look at my video review…
Geoff C.