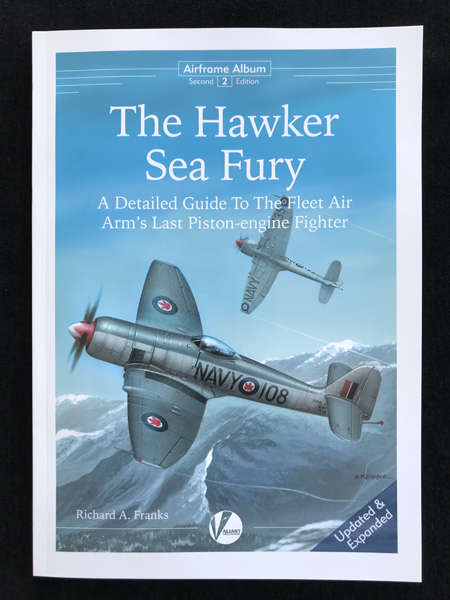 A Detailed Guide To The Fleet Air Arm's Last Piston-engine Fighter
Author: Richard A. Franks
Publisher: Valiant Wings Publishing
ISBN: ISBN 978-0-9957773-3-0
Price around £16.95 GBP
VIDEO REVIEW by Geoff Coughlin (May 2018)
114 Pages high quality glossy art paper; colour and black and white throughout. Colour profiles by Richard J, Caruana.
Get this title now at Valiant Wings Publishing – thanks to the publishers for our review copy.
The Publisher's second title in the Airframe Album series covers the Hawker Sea Fury, and is now revised and updated to include:
• Builds of the AMG 1:48th T.20 and new tool Airfix 1:48th FB Mk 11 kits by Steve Evans
• Updated information on preserved examples
• Updated appendices for kits, accessories and decals
• 116 pages
Plus all the original content of the first edition:
• Period diagrams
• Data from flight manuals and spare parts catalogue
• Walkaround images of preserved examples
• Pictures before and during restoration of the restored TFC and airworthy FAA examples
• Fully detailed 3D isometric views of prototype and production machines by Jacek Jackiewicz
• Colour profiles and concise camouflage detail by Richard Caruana.
Geoff C.