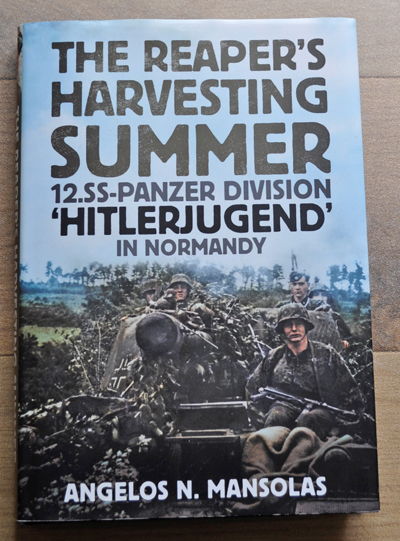 Authors: Angelos N Mansolas
Published: Fronthill Media Ltd
ISBN: 978-1-78155-8171
Get this title here now at Fonthill Media
Hardback
Book review with Bill Curtis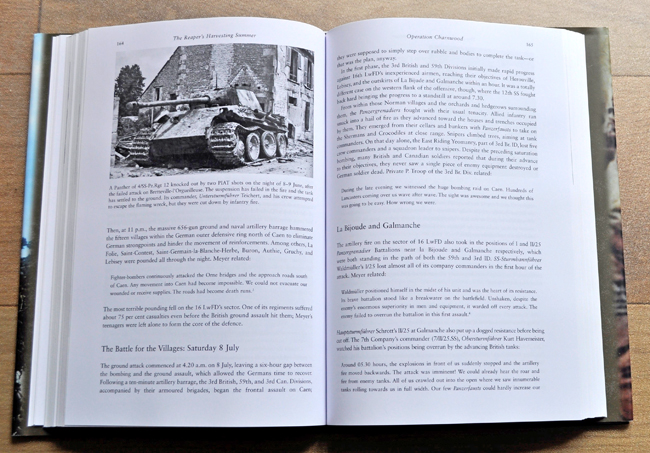 I was sent this book for review and my initial reaction was of a book, which has paper of a good quality as are the pictures which are clear and maps of the various battles. This book comes from Fronthill Media Ltd published in 2021 and details the combat history of the 12 SS Panzer Division from its inception in June 43 to the Normandy campaign which ran from June to early September 1944.
Contents:
Author's notes
1. Ascendance: Formation and Training, June 1943-May 1944;
2. Organisation, Equipment and Tactics;
3. The 'Little Fish' of D-Day: Tuesday, 6 June 1944;
4. Baptism of Fire. The First Battle for Caen, Wednesday, 7 June 1944;
5. Crime in the Abbey;
6. The Battles for the Canadian Salient, 8-10 June 1944;
7. The Renewed British Offensive and the Second Battle for Caen: 11-24 June 1944;
8. Operation 'Epsom' and the Third Battle for Caen: 25-30 June 1944;
9. Operation 'Windsor': Prelude to the Final Assault, 4-5 July 1944;
10. Operation 'Charnwood': 'We Were Meant to Die in Caen', 8-9 July 1944;
11. Rest and Refit: 12-17 July 1944;
12. Operation 'Goodwood': 18-21 July 1944;
13. An Unexpected Threat: The Battle of the Grimbosq Bridgehead, 6-8 August 1944;
14. Operation 'Totalise': 'One Bomber for Each One of Us', 8-11 August 1944;
15. Operation 'Tractable': 14-15 August 1944;
16. Thermopylae of Normandy: The Defence of Falaise, 16-18 August 1944;
17. The Narrow Lanes of Death: The Falaise Pocket, 18-21 August 1944;
18. Demise; Withdrawal Battles across the Franco-Belgian Border and Return to Germany, 21 August-8 September 1944;
19. Reckoning and Trial;
Appendix I 12.SS-Panzer Division 'Hitlerjugend' Order of Battle 6 June 1944′;
Appendix II 3rd Canadian Infantry Division Order of Battle 6 June 1944;
Appendix III 2nd Canadian Armoured Brigade Order of Battle 6 June 1944;
Appendix IV 12.SS-Panzer Division 'Hitlerjugend' High Award Recipients for Actions Committed During the Normandy Campaign;
Appendix V Military Rank Equivalents;
Appendix VI Kampfgruppen (KG) Used by 12.SS-Panzer Division 'Hitlerjugend', June-September 1944;
End notes
Bibliography.
The unit was formed in 1943 with the best of the Hitler Youth, all volunteers with the oldest barely eighteen.
The backbone was supplied by members of the 1st SS Leibstandarte both officers and NCO's all battle hardened veterans such as Fritz Witt the first commander of the Division until killed in Normandy by naval gunfire. The book details the leading characters with a mini bio of each.
The training was orientated towards weapons training, field craft, hand to hand combat and other practical skills to prepare the young soldiers for battle. Great importance was also placed on the good informal relations between all ranks based on mutual respect.
These young men went on to become an elite unit fighting with tenacity and ferocity, defending every metre of ground with dogged determination. They made the allies pay a high price in the battle fought from Caen to Falaise a distance of 25miles.
A quote from SS Oberfuhrer Kurt Meyer;" I know every one of these grenadiers. The oldest is barely eighteen. These boys have not learned how to live but by god they know how to die".
The book gives a full detailed combat history of the division's struggle through Normandy with riveting first-hand accounts of small unit actions based on diaries and first hand accounts.
I found this book easy to read and the layout of the various chapters follows the battles in chronological order and the personal accounts as always brings home the scenes of battle with its descriptions. As previously mentioned the illustrations are of high quality as are the plans all from the author's collection. I think this book will interest both the historian and the model maker interested in the 12 SS Panzer Division Hitlerjugend.
The author is new to me but I think I shall be looking for more volumes as I do like his style of writing.
Highly recommended
Bill C.