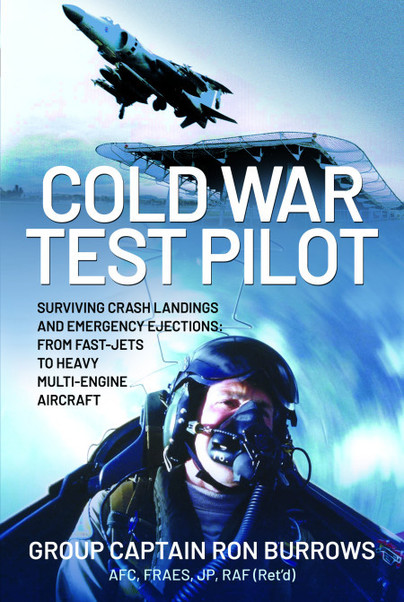 A Memoir by Group Captain Ron Burrows
Author: Group Captain Ron Burrows
ISBN: 9781399090704
Bookshelf Browse with Geoff Coughlin (February 2022)
Get this book now from Pen & Sword
---
Take a browse inside now…
---
Geoff C.
Here's some additional information from the publisher…
The Falkland Islands had been invaded and a Task Force was already steaming south at full speed. On board the carriers were the Harriers that would provide essential aerial cover for the British troops and ships sent to re-capture the islands. They would be entering particularly hostile territory, and the type's capabilities had urgently to be expanded and proved. This was a job that Ron Burrows and the test pilots of his elite Fighter Test Squadron at Boscombe Down were ready to take on.
From the 1960s through to the 1990s, Ron test-flew all of the RAF's fast-jets of the era, in the process of which he survived two crash landings and two emergency ejections, as well as numerous other close shaves. A master of his craft, he rose to become the Aeroplane and Armament Experimental Establishment's chief test pilot – and this is his remarkable story.
With four test flying tours under his belt and close-air-support missions flying Hunters in the Aden Emergency, Ron's experiences extended throughout the critical final decades of the Cold War. Ron was a graduate of the US Navy's test pilot school and in his long career he has flown an unusually broad range of US and UK aircraft from fast-jets to heavy multi-engine aircraft.
With his unrivalled knowledge and expertise, Ron is able to explain the methods, techniques, and demands of his profession, with many examples of what can and often does go wrong in aircraft development and testing. His descriptions of his near misses and catastrophic accidents are written with colour and candour. But he also tries to inform the reader about the skills required to fly and test fast-jets and about the development of cockpit displays and design, highlighting some of the issues and problems encountered in development and in operation. 'If it could go wrong, it will go wrong' could be the subtitle of this frank and witty account which flies along with the speed of one of those fast jets.