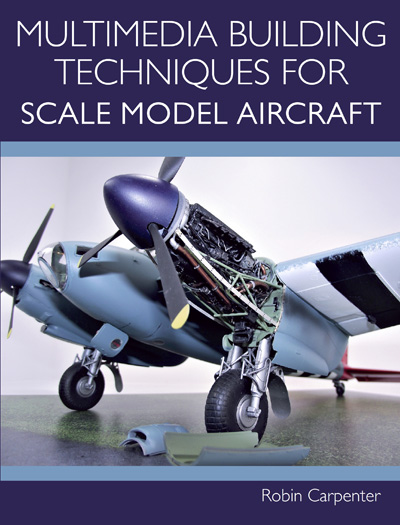 Author: Robin Carpenter
Published: The Crowood Press
ISBN: 9781785007231
Bookshelf Browse with Geoff Coughlin (June 2020)
Paperback (also available as an e-book): 160 pages; 291 colour photographs; 246 X 189mm
Get this title here now at The Crowood Press
I would normally create a video review of the book I am reviewing, only this time we have been sent a digital version, so thanks to Crowood for that.
Here is some basic factual info from the publisher:
This is a practical guide to getting the best from the many resin and etch detailing kits available to enhance scale model aircraft, and is intended to help beginners and experienced model makers alike. Richly illustrated, it uses six model-building examples, from the very basic application of etch to the major conversions including:
• An overview of the tools required
• Guidance on building the basic model kit
• An explanation of different types of multimedia
• The methods for producing etched brass
• How to undertake 3D design and 3D printing
• The steps for successful resin casting.
So what do we think?
This is a comprehensive text and, as you can see above, there are plenty of photographs and illustrations to help the reader's understanding. I particularly liked the informative earlier pages where the processes of photo-etching, resin casting and 3-D printing are de-mystified – very interesting stuff.
Any book or copy that seeks to offer practical advice and 'how-to' is going to be constrained by the media and that's the case here – you can't actually see exactly 'how' the task is being completed as you would be able to in a video. This isn't really a criticism, simply a fact of life.
For sure, this book isn't aimed at inexperienced modellers and the title should be pretty obvious that you need a good basic knowledge and experience in scale modelling to get the best from these pages.
Any title that seeks to offer help and guidance for this great hobby of ours is to be applauded and I recommend this title to all with the necessary experience.
One criticism that I do have is the quality of the photography – many images are quite or very dark, making it difficult to really appreciate the work that's been invested in any given task. On the other hand, as there are so many useful images, the reader should be able to identify what's been done.
Geoff C.