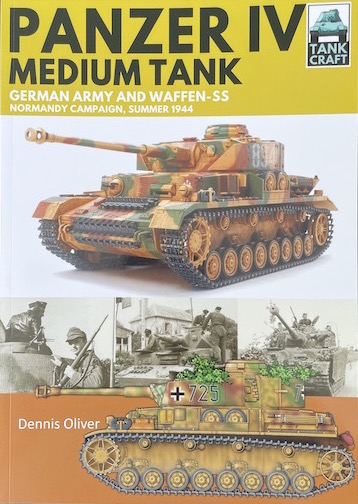 Normandy Campaign, Summer 1944
Author: Dennis Oliver
Published: Pen & Sword
ISBN: 9781399018043
Bookshelf Browse with Geoff Coughlin (May 2022)
Get this title here now at Pen & Sword
---
Take a browse inside now
---
Geoff C.
Here's some additional information from the publisher…
When the Allied armies landed on the Normandy beaches on 6 June 1944 the backbone of the armoured reaction force awaiting them was made up of 758 Pzkpfw IV tanks, a number which represents almost half the fully-tracked vehicles available for the defence of the West. The first models of these tanks had entered service in November 1937 and although replacements had been considered, the original design was continually up-gunned and up-armoured. Perhaps lacking the glamour of the Panther and Tiger, the most recent variant, the Pzkpfw IV ausf H, was at least the equal of the best British and American tanks.
Drawing on official documentation and unit histories Dennis Oliver investigates the formations that operated these deservedly famous vehicles and uses archive photos and extensively researched colour illustrations to examine the markings, camouflage and technical aspects of the Pzkpfw IV tanks that served on the Western Front during the critical summer of 1944. A key section of his book displays available model kits and aftermarket products, complemented by a gallery of beautifully constructed and painted models in various scales. Technical details as well as modifications introduced during production and in the field are also examined, providing everything the modeller needs to recreate an accurate representation of these historic vehicles.