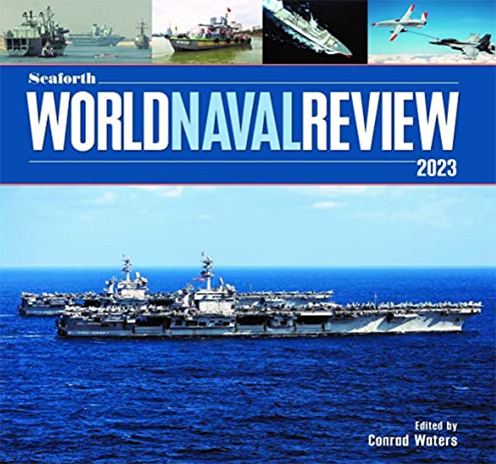 Edited by Conrad Waters
Published: Naval Institute Press / Seaforth Publishing
ISBN: 9781399023078
Bookshelf Browse with Geoff Coughlin (April 2023)
Get this book now at Seaforth Publishing
---
Take a browse inside now…
Geoff C.
Here's some additional information from the publisher
For over a decade this annual has provided an authoritative summary of all that has happened in the naval world in the previous twelve months, combining regional surveys with one-off major articles on noteworthy new ships and other important developments. Besides the latest warship projects, it also looks at wider issues of significance to navies, such as aviation and weaponry, and calls on expertise from around the globe to give a balanced picture of what is going on and to interpret its significance.
As 2022 saw the outbreak of the first major European war since 1945, it is not surprising that the naval aspects of the conflict in Ukraine take centre stage, with an interim assessment of the fighting so far and what can be gleaned of the strategies and tactics of the warring parties. Another newsworthy topic – hypersonic missiles – is the subject of Norman Friedman's expert analysis.
Of the regular features, the 'Significant Ships' cover the US Navy's Nimitz class carriers, now representing fifty years of evolution; and HMNZS Aotearoa, the largest warship built for New Zealand. Of the Fleet Reviews, one looks at the US Navy's adaptation to the return of Great Power competition, not least with China, and the second covers the Vietnam People's Navy, which faces Chinese pressure at close quarters.
Firmly established as the only annual naval overview of its type, World Naval Review is essential reading for anyone – whether enthusiast or professional – interested in contemporary maritime affairs.