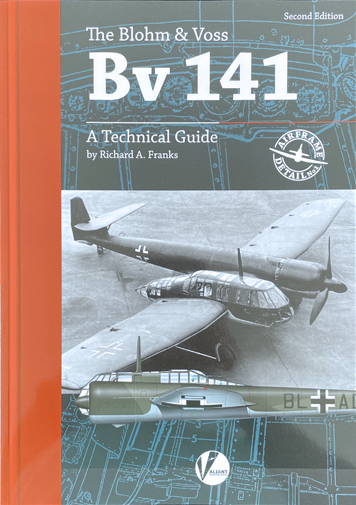 Airframe Detail No.1 Second Edition
Author: Richard A. Franks
ISBN: 978-1-912932-19-1
Bookshelf Browse with Geoff Coughlin (July 2021)
Soft back; A4 format; 64 pages; colour profiles; kit build; multitude of black and white reference photos
Get this title here now at Valiant Wings Publishing
---
Take a browse inside now…
Geoff C.
Here's some additional information from the publisher
The first title in the Airframe Detail series proved popular and sold out quite quickly. Many who missed out first time round have been asking to see it back. The BV 141 is an esoteric Luftwaffe type but nonetheless one of great interest to scale model enthusiasts. Whether you are tackling the recently tooled HobbyBoss 1:48 scale kit or grappling with the old Airfix offering in 1:72 scale our first Airframe Detail title will be essential reading.
Contents include:
• A wealth of historical photographs
• Walkaround detail period pictures
• A mass of period diagrams from original flight manuals
• Detailed study of structure, equipment and armament
• Colour profiles and camouflage and marking detail by Richard J Caruana
• Updated lists of kits, accessories and decals produced in all scales
• 64 pages in A4 format.