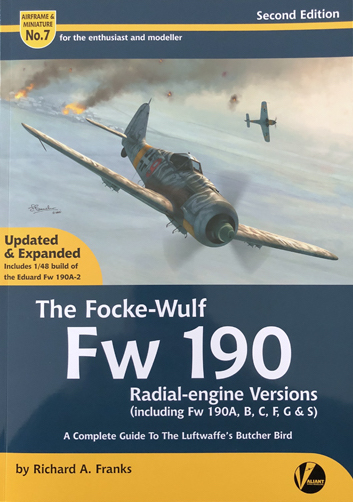 Airframe & Miniature No.7 Second Ed.
Author:Richard A. Franks
Published: Valiant Wings Publishing
ISBN: 978-1-912932-08-5
Price around: £20.95 GBP
Bookshelf Browse with Geoff Coughlin (November 2019)
240 pages, high quality art paper, colour profiles and full build articles, black and white period photos, scale drawings for 1:48 scale, line drawings, kit listings, accessory listings – what else does a modeller need?
Our thanks to Valiant Wings Publishing for supplying our review copy. Get this impressive reference book here at Valiant Wings Publishing
You'll notice that we have reviewed several of the other titles in this series over the years and you may get a sense of deja vu? This is the second edition (updated and expanded) for the famous WWII fighter-bomber, the Focke-Wulf Fw190, radial engine versions. It includes several high quality kit builds.
This is an excellent title and the best thing to do is show it to you!
Highly recommended!
Geoff C.
---
Let's take a look inside
---
Here's a summary from the publisher of what this title contains:
The Focke-Wulf Fw 190 Radial-engine Versions first edition content:
• 60+ pages of technical information
• 50+ pages of walk-around images and technical diagrams
• 10+ pages of camouflage and markings
• 35+ pages of model builds and modelling information
• 200+ photographs including wartime images
• Colour side views and four-views by Richard J. Caruana
• 3D isometric views of all variants by Jacek Jackiewicz
• Specially commissioned extensive 1/72nd, 1/48th and 1/32nd scale full kit builds by Libor Jekl, Steve A. Evans and Daniel Zamarbide Suarez
• Specially commissioned front cover artwork by Jerry Boucher
• A real bonus for the modeller will be 2 sets of fold-out 1:48th scale plans