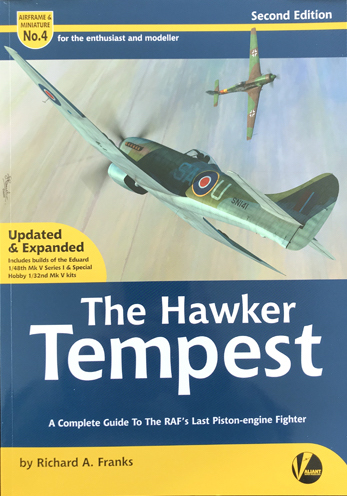 Author: Richard A. Franks.
ISBN: 978-1-912932-01-6
Price around: £18.95 GBP; $25.12 USD; €22.19 Euros; $33.45 CDN; $35.50 AUS
160 pages, high quality art paper, colour profiles and full build articles, black and white period photos, scale drawings for 1:48 scale, line drawings, kit listings, accessory listings – what else does a modeller need?
Review with Geoff Coughlin

Our thanks to Valiant Wings Publishing for supplying our review copy. Get this impressive reference book here at Valiant Wings Publishing
You'll notice that we have reviewed several of the other titles in this series over the years and you may get a sense of deja vu? This is the second and expanded edition for The Hawker Tempest.
Take a look at my short video to see what's on offer…
---
Short Video
---
This is an invaluable one-stop-shop for scale modellers and Valiant Wings Publishing has realised that modellers want exactly this, everything you pretty much need to build a model of the type on offer. The internet will turn up a lot for free but can take hours of looking and invariably has big gaps in what you actually want to know and that can be frustrating. SMN has been founded on similar principles of providing what you need all in one place – modelling should be fun and enjoyable and that's where I hope we can help.
You can see here a quick list of what's included:
• Extra kit builds – Eduard 1:48th Mk V Series I by Steve A. Evans & Special Hobby 1:32nd Mk V by John Wilkes. These have been specially commissioned for the book
• New kit reviews
• A new stencil diagram
• An extra 16 pages of content in total
• Specially commissioned new front cover artwork by Jerry Boucher.
and…
• 40+ pages of technical information
• 30+ pages of walkaround images and technical diagrams
• 5+ pages of camouflage and markings
• 25+ pages of model builds and modelling information
• 200+ photographs including wartime images
• Colour side views and four-views by Richard Caruana
• 3D isometric views of all variants by Jacek Jackiewicz
• Extensive 1:48 and 1:72 scale kit builds
• A full set of fold-out 1:48 scale plans.
The builds by the these well known modellers are impressive and show what can be achieved using a number of the kits and accessories available.
The walk around section offers plenty of insight into the Hawker Tempest with good access to the real surviving aircraft and put with line drawings and the excellent colour profiles this book is a 'must purchase' for anyone interested in modelling this famous aircraft from the Hawker stable.
Highly recommended.
Geoff C.
Here are a few more images showing the great content on offer.