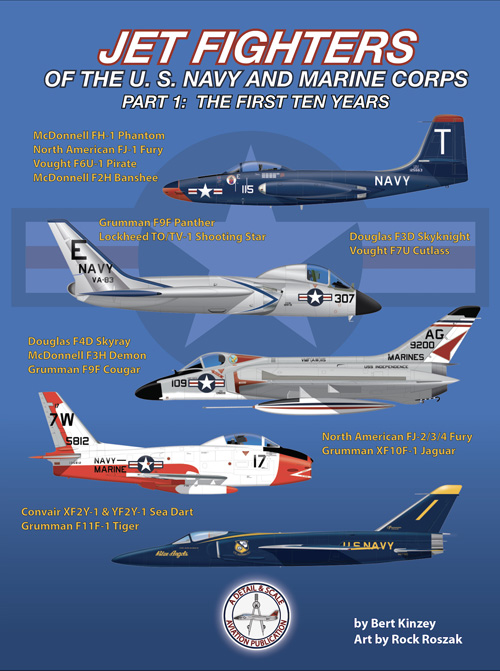 Publishers: In Detail & Scale
Author: Bert Kinzey
Art: Rock Roszak
Book for iPad, iBook, Kindle, Mac and print
Mac/i-Pad download reviewed here – price $12.99USD (price may vary slightly from country to country)
Review by Geoff Coughlin (October 2019)
Our sincere thanks to Bert Kinzey and Rock Roszak at Detail & Scale for supplying our download – you can see a lot more at their website and buy the downloads at the Detail & Scale website.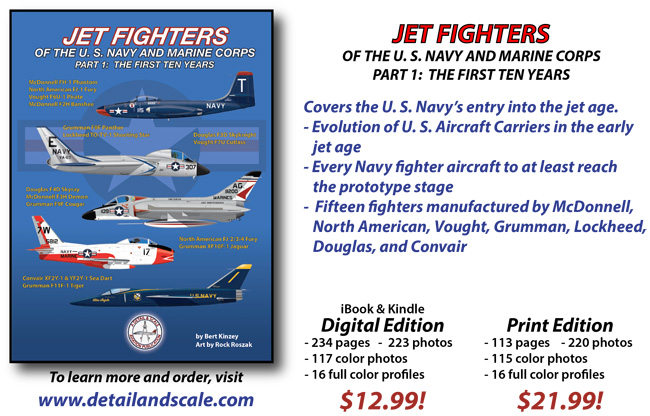 About the book
Jet Fighters of the U. S. Navy and Marine Corps is a two-book series that describes the entire history of American Naval jet fighters, from the very beginning when many thought that the onset of military jets would mean the end of naval carrier-based aviation, to today when the fifth-generation stealth jet F-35B/C Lightning II has begun its service with both the Navy and Marine Corps. Both volumes will cover every jet fighter that has ever been produced for the Navy and the Marine Corps, and not only those that were used operationally, but even the aircraft that only made it to the flying prototype stage are included. Also covered by the books is the history of how American aircraft carriers evolved from the ESSEX class ships that won World War II with propeller-driven aircraft to the mighty super-carriers of today.
In this first book, Jet Fighters of the U. S. Navy and Marine Corps, Part 1: The First Ten Years, author Bert Kinzey describes the first and second generation jet fighters that came on the scene at the end of or shortly after World War II. These jet fighters made their first flights between 1945 and 1954, and the book covers fifteen aircraft arranged according to the chronological order of the date of their first flight.
OK, so what do we think?
Exceptional! That's what we think – in every respect.
This is the latest e-book we have reviewed from Detail & Scale and like their books before such as: F-14 Part 1, F-9F Cougar and F-3 Demon they are exceptional for the following reasons:
Coverage – all aspects of the type are covered making them a one-stop-shop for modelling reference
Quality of production – excellent quality throughout – full colour and sharp images – many of which are unique
Profiles, drawings, reference for the real aircraft covering the angles and areas of most interest to scale modellers
Accessible to more people and page count – you would have to pay so much more for a hard copy book covering the same content and the cost would be prohibitive for most people. So it doesn't matter if you don't have to much to spend on reference, you can get so much more from one outlay – exceptional value for money
Subject choice – with several models of the famous types featured available now or in the past, many modellers will have one or more in their stash, making this a great choice
Readily available when you want it, wherever you want it – a bit like SMN really in this and some other respects. Whatever device you want to download it onto it will be there whenever and wherever you need to see it
Great modelling coverage with plenty of help and advice about the kits that have been and are currently available.
I simply love this series and I just hope that it continues to grow – take a look at the photos here and especially the link above to the Detail & Scale website where you can sample this and all the other titles from this publisher.
Highly recommended
Geoff C.