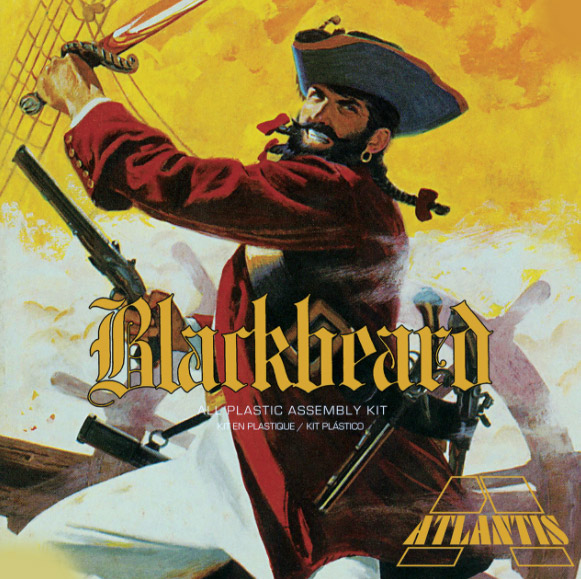 Short Feature Article with Jonathan Hartman
Author credit: My thanks to Daniel Murtagh for his help with some of the finished model photos…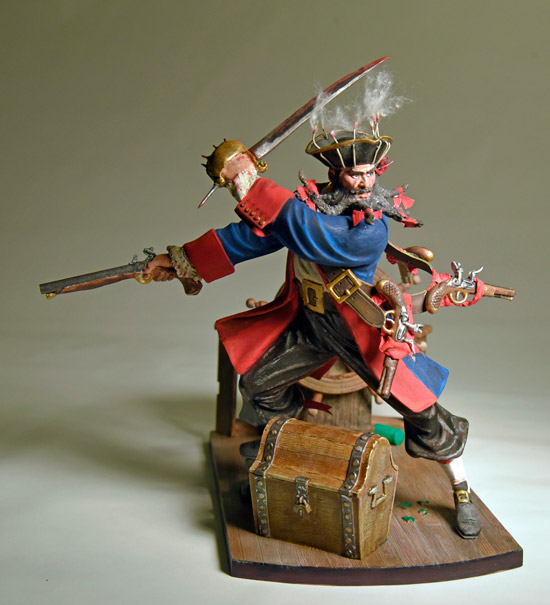 My name is Jonathan and My Dear Wife-the-Goth fantasises about Being Kidnapped and Ravish'd By Pirates.'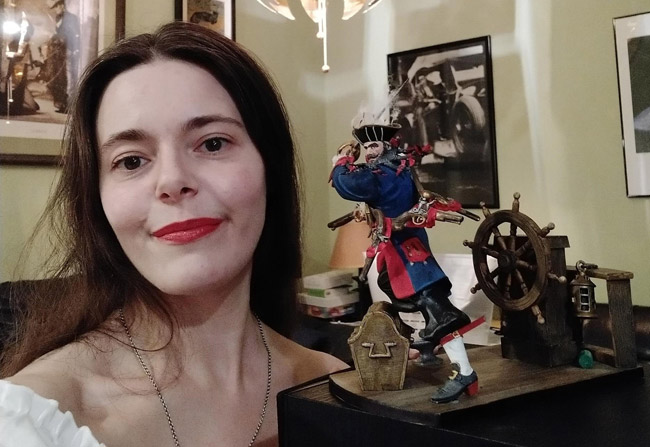 'Hello, Jonathan.'
Apparently V.'s "Ever-Sensitive to Women's Needs Sea-Wolves" are seven (no more and no less) tall, muscular, virile male models who all shower, shave, and have exactly the correct amount of chest hair. They sport non-irritating designer stubble, use a particularly masculine-scented French cologne, brush their perfect teeth as regularly as they change their meticulously self-ironed, flowing lace-cuffed shirts and would never even think of leaving the toilet seat up.
Not only that, but I've also been reliably informed that their neat-as-a-pin, pastel-painted frigate with royal purple satin sails has a jacuzzi on the nicely tiled afterdeck, right next to the heated fluffy towel rail and adjacent fat Persian kitten hutch with its integral 'Anti-Weight-Gain Chocolates Locker' so Madam can relax in happily satiated exhaustion…er… 'afterwards'.
And 'afterwards', of course, is when all the pirates gather 'round, sitting quietly, attentive and sympathetic to V.'s every utterance, never once interrupting except to nod in agreement along with contributing the occasional comforting murmur and a foot rub or two. Not a single one would be such a boorish insensitive beast as to offer practical advice to help her resolve any of the horrible, lengthily-described problems she's having with girlfriends and her mother.
Sigh. Anyway, as Piraholics can only cure themselves, I decided (as always) not to argue and instead bought a model Blackbeard to build for her. A 2012 Atlantis re-release of the 1965 Aurora kit, this 1:10 scale corsair brandishing cutlass and pistol aboard the deck of his flagship, the Queen Anne's Revenge stands a nicely workable 8" or so tall. And Imperial measures are all you're going to get. If God had wanted us to think in metric, He'd have sent ten apostles.
Since this was not a difficult build, I'll confine myself to the painting and detailing. I purposely kept things a bit ragged around the edges as this was after all a pirate ship rather than a Royal Navy craft.