Review by Julian Seddon (Jan 2013)
This has just been released and is currently available from WEM for £83.39 GBP – What an upgrade this is!
You may have read my build of the Warspite at the beginning of which I reviewed the Pontos upgrade for the Academy 1:350 kit. This sets a new standard for an upgrade. Altogether there are:
4 bags of brass
1 bag of resin
6 sheets of brass
See you in 2014 !!
Let us start with the brass…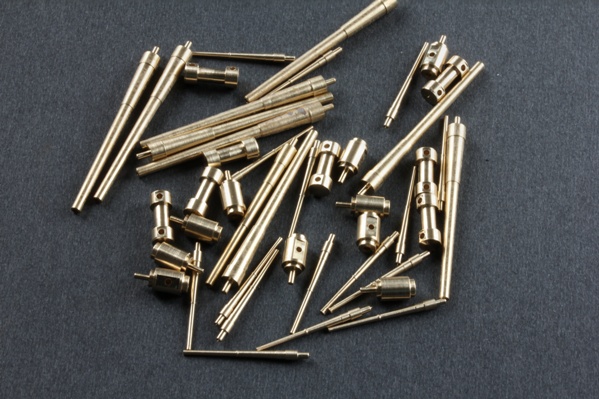 A bag of barrels and they can all be elevated thanks to a drum that retains them in the turrets. I guess that there must be some built in resistance otherwise they would flop to the lowest position! We shall see. It is a very tidy idea and as the KGV does not have blast bags, perfectly appropriate. These are for the 14 guns and the 5.25s.
Click on the pictures below to enlarge or reduce the images:
Next are the masts and yardarms and some pieces for the radars I guess. Plenty of bits though and nicely machined. More barrels, this time pom poms, oerlikons and oerlikon mounts. Compared with the Warspite there is a dearth of oerlikons, thank goodness a very substantial part of the build time was spent on them. To the eye these barrels look more in scale (meaning smaller!) than the Warspite. Booms, bollards and ventilators. This time Pontos have made their own bollards out of brass, this will give a crispness to them once painted; definitely asking for rope to be wound round them. There is more brass and less resin with this set. The oerlikon tubs are scale thickness and with the brass door added look convincing. Lots of ventilation ducts (at the top of photo) and some pom pom platforms.
Wooden decking…
I think that Pontos have had this on the market for a while now it is in two parts with a stiff acetate backing to protect the adhesive.
More brass!
5 sheets of brass cover almost everything to enhance the Tamiya model. At least I think it is for the Tamiya one, it is not mentioned in the blurb. Some of the points of improvement (perceived only) are:
The UP launchers, there is quite a bit of bending to do on these have a look at part 441
There is a deck part 72, which is correct in not being wood. Unfortunately this was mildly distorted in the post, but with a bit of heat it should be sorted.
I like the parts for dressing up the turrets and radar houses, makes them look busier.
The cranes look easier to bend and they are dressed a bit more completely
The oerlikon brass looks a bit more scale but I am but that may just be my wish.
There is a bit more detail to the pompoms – mind you there was already plenty there before.
This time there is a degaussing cable strip, in sections with the wires exposed along the line.
KGV obviously had a lot more impressive collection of ships boats these appear to be more comprehensively detailed than those of the Warspite. This time oars are supplied.
There are a number of items that I have not yet identified some of which will surely add to the general busyness of the ship.
Click on the pictures below to enlarge:
The instructions…
One of the major criticisms of the Warspite update (not only mine) was that it was far too small and very difficult to follow. Not in this case. They are now presented in 6 separate sheets nearly A3 size with dozens of photos showing the finished part. The step by step assembly photos are now around three times the size. Parts they are conceived to be tricky are also illustrated in their finished form, excellent.
Overall well done Pontos!
SMN Quick summary rating out of 5
| FEATURE | STAR RATING (out of five) |
| --- | --- |
| Quality of moulding | **** |
| Accuracy | **** |
| Instructions | ***** |
| Decals | N/A |
| Subject choice | **** |
| Overall | **** |
This, hopefully, will be a pleasurable challenge.
Julian S.