Author: Pawel Matysiak
Cover: Softback
ISBN: 978-83-61220-87-9
Review by: Andy Brown (Mar 2012)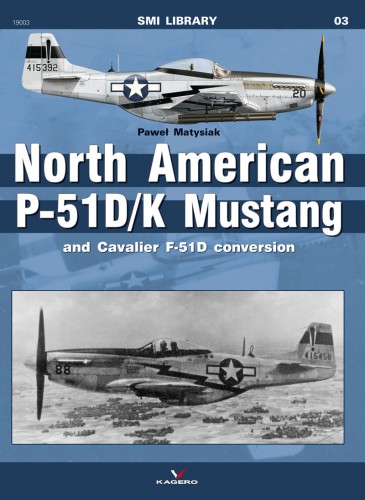 Initial Assessment
This is a soft back book in the magazine format typical of Kagero publications, measuring 205 x 275mm and is 5mm thick.
The book is printed on good quality matt paper and consists of 65 pages of text and photos, with 11 pages of colour profiles at the end.
The book is a photo reference document presenting 123 images (12 in colour) of the North American and Cavalier P/F-51D Mustangs, with the aim stated in the opening paragraph: "…..to present one of the most famous as well as one of the best aircrafts of World War II."
As aims go it is a very loose one, but nevertheless it broadly succeeds by offering the reader a compendium of largely black and white images of the Mustang at various points through its service life, from WWII to Korea and 1950s/60s Latin America.
As a historical scrapbook it is very interesting because many of the photos offered to the reader are unusual portraits that appear to have been taken by the pilots and ground crews operating the aircraft at the time.
The images are not the best quality, but do give a very real sense of the environments in which the type was operated and will provide plenty of inspiration for the diorama builders amongst you.
However, the mediocre quality of the images means that there is little to offer by way of detail reference material and those of you expecting historic 'Haynes Manual' should be wary.
The 11 pages of colour plates that conclude the book are everything we have come to expect from Kagero and show a handful of aircraft in impeccably rendered detail with significant nose art drawn separately in exploded views.
To lift the otherwise mediocre content of this book to a level worthy of Kagero's previous publications, the colour plates are accompanied by an exquisite Cartograf decal sheet that provides the marking, in all three scales, to produce a model of any one of the aircraft so beautifully illustrated at the rear of the book.
Conclusions
All-in-all, this is a book of two distinct and very different parts; the first and most substantial portion is interesting if a little uninspiring and the second part is both interesting, inspiring and worth every bit of the cover price of £12-15 that it can currently be purchased for.
Recommended (now that you know what to expect).