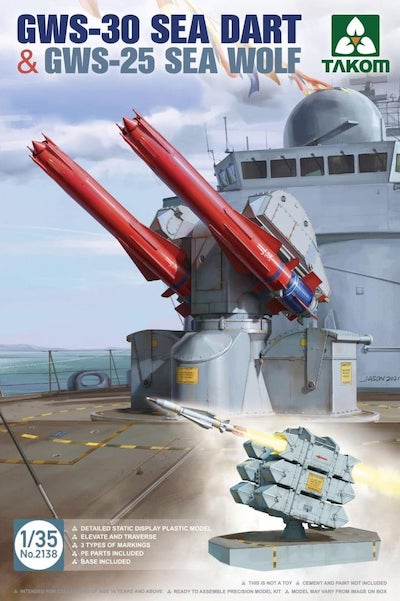 Full Review with Dave Coward
Here's a picture of the finished systems so you can see how they turned out…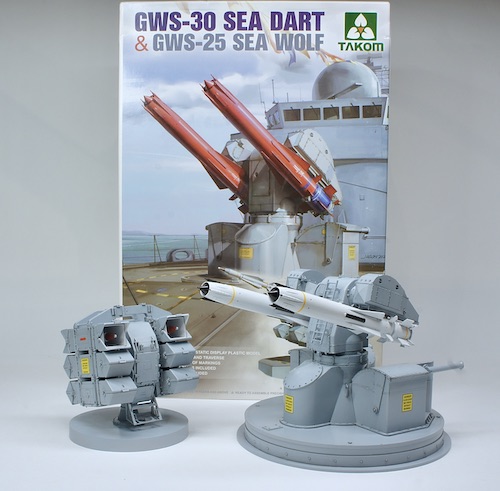 Background
GWS-30 Sea Dart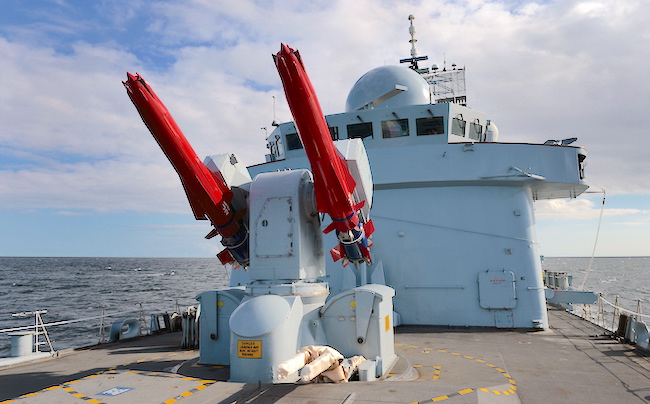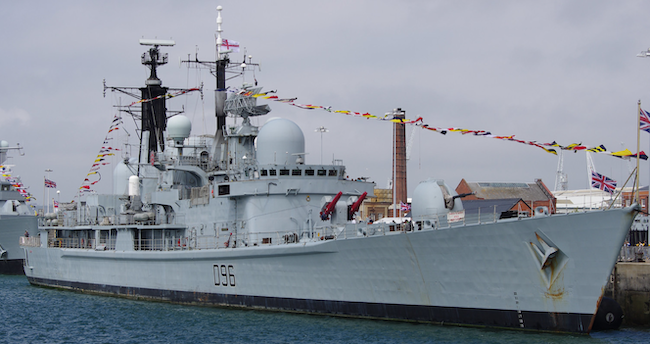 Sea Dart, or GWS.30 was a Royal Navy surface-to-air missile system designed in the 1960s and entering service in 1973. It was fitted to the Type 42 destroyers (United Kingdom and Argentina), Type 82 destroyer and Invincible-class aircraft carriers of the Royal Navy. Originally developed by Hawker Siddeley, the missile was built by British Aerospace after 1977. It was withdrawn from service in 2012.
The system had nine confirmed successful engagements in combat, including six aircraft, a helicopter and two anti-ship missiles. An additional helicopter was shot down in a 'friendly fire' incident during the Falklands War.
GSW-25 Sea Wolf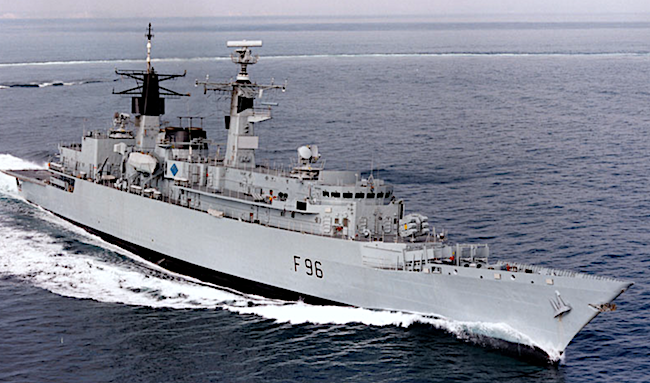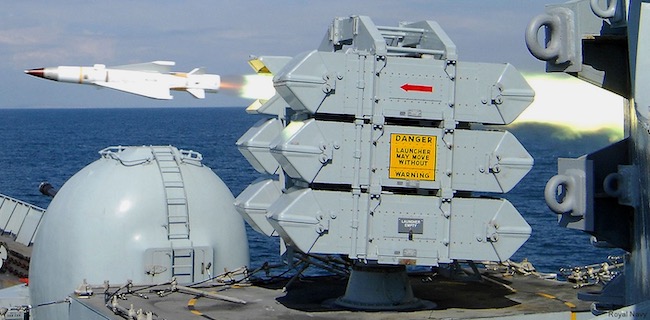 Sea Wolf is a naval surface-to-air missile system designed and built by BAC, later to become British Aerospace (BAe) Dynamics, and now MBDA. It is an automated point-defence weapon system designed as a short-range defence against both sea-skimming and high angle anti-ship missiles and aircraft. The Royal Navy has fielded two versions, the GWS-25 Conventionally Launched Sea Wolf (CLSW) and the GWS-26 Vertically Launched Sea Wolf (VLSW) forms. It entered service with the Royal Navy in 1979 and was used during the Falklands War and is being replaced by Sea Ceptor.
Service during the Falklands War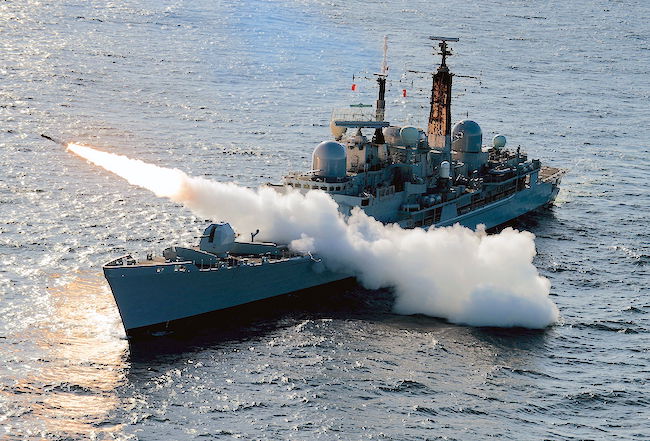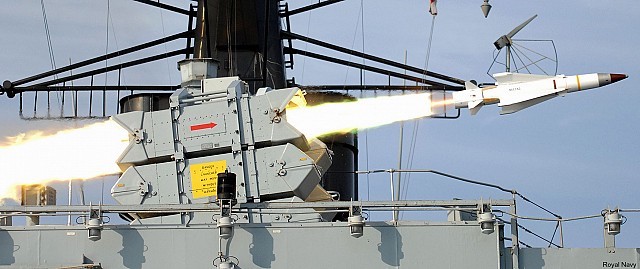 The first deployment, in the GWS-25 form, was on the Type 22 frigate (2 systems) and later on modified Leander class frigates (1 system) in six-round, manually-loaded trainable launchers. It entered service with the Royal Navy in 1979 and was used during the Falklands War.
During the Falklands War, Sea Wolf was the Royal Navy's only modern point-defence weapon. It equipped the Type 22 frigates HMS Brilliant, HMS Broadsword and the Batch 3A Leander class frigate HMS Andromeda in six-round, manually-loaded trainable launchers.
In an attempt to overcome the fleet's overall air defence deficiency following the loss of HMS Sheffield, a new tactic was devised, which saw each of the two Type 22 frigates paired with each of the two remaining Type 42 (area air defence) destroyers. The pairing was unofficially termed "Type 64", the sum of both classes numbers. The two pairs were deployed some distance from the main fleet, covering likely attack routes, in an attempt to draw attacking aircraft into a "missile trap", the intention being that, if the Type 42 was unable to engage targets at longer ranges with its Sea Dart missiles, the Type 22 would use its short-range Sea Wolf missiles to defend both ships.
On 12 May 1982, Brilliant and HMS Glasgow were operating in combination and were attacked by two flights of four Argentine Douglas A-4 Skyhawk aircraft. Brilliant shot down two of these and caused a third to crash trying to avoid the missile. The second wave of aircraft attacked during a failure of the missile system and the Type 42 Glasgow sustained damage.
On 25 May 1982, HMS Coventry and Broadsword also operating in a 22/42 combination to the north-west of Falkland Sound came under attack by two waves of two A-4 Skyhawks. Broadsword attempted to target the first pair with Sea Wolf but the tracking system locked down and could not be reset before the aircraft released their bombs. Broadsword was hit by one bomb, which bounced up through the deck and destroyed her Westland Lynx helicopter. The second pair of Skyhawks headed for Coventry 90 seconds later at a 20-degree angle to her port bow. On Broadsword the Sea Wolf system had been reset and acquired the attacking aircraft but Coventry's evasive manoeuvring took her through the line of fire and the lock was lost. Coventry was struck by three bombs and sank shortly after.
Sea Wolf suffered from problems with hardware failure causing launches to fail, broken locks from the extreme sea conditions and the Argentines' low-altitude hit-and-run tactics with multiple, crossing targets which it was not designed to intercept.
Sea Wolf accounted for three confirmed "kills" and two further possibles from eight launches.