SMN Modelling in a Day – 27 May 2018 : What did everyone think?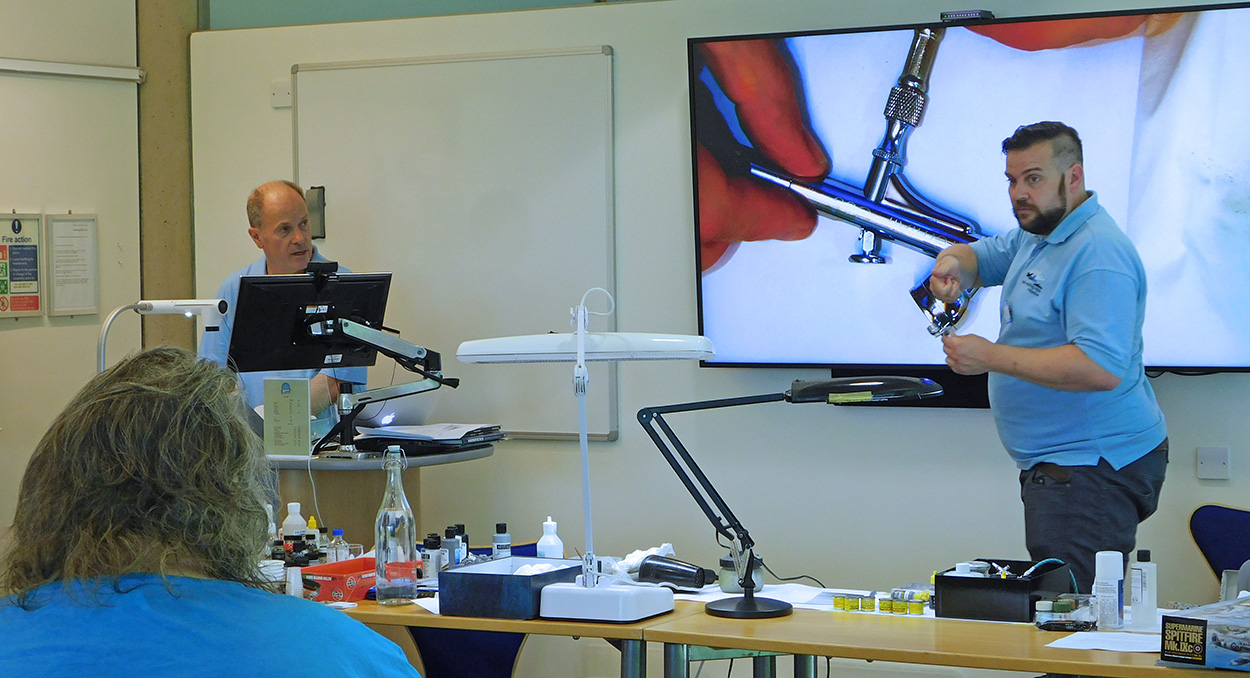 The 2018 Modelling in a Day Workshops featured 4 great NEW workshops covering airbrushing, aircraft & armour weathering and a special maritime workshop. Full information on the workshops.
---
"I enjoyed the interaction with the tutors and other participants. I expected it to be good but the enthusiasm and knowledge of the tutors was even better than anticipated – thanks for an excellent day."
---
"Hi Geoff, just a big thank you to you, Sara, Adam and everyone for an absolutely cracking weekend…as ever an excellent workshop with lots of really useful info and brilliant instruction….I'll definitely be signing up for the next one." (HK)
"Hi Geoff, Thanks a lot for the day, brilliant. I am sure you will be tired and inundated with emails and compliments, but I learnt a lot, still need to practice my mottling but you taught me enough to hone my method. I never knew to apply Maskol with a sponge. As I say, great day…" (BO)
---
Take a look at the Image Gallery below and read some of the excellent feedback from participants on the day.
"I just wanted to say how much I enjoyed today's event. It was obvious from everyone's comments in our class that we were all so impressed with Aurelio, not only his modelling skills but such an approachable guy and great tutor. We were enthralled. His airbrushing skills left me slightly humbled. He is a great ambassador for his company and country.

The day was perfectly paced at an ideal venue and I would not change anything. I have had so much inspiration today.

It was a pleasure to meet you, your wife and daughter and I will be happy to recommend the classes to others." (RG)
"Hi Geoff, This was an excellent day that exceeded my expectations! I had been scared of finishing models because of my lack of airbrushing skills.

The totally relaxed atmosphere was really enjoyable and helped demystify the whole area of airbrushing – there was a great feeling of friendship.

The venue was great as well as help for my mobility problems." (MM)

---

"Hi Geoff, Thanks again for a very valuable session… I am also paying more attention to finding things to contribute to the magazine!" (PM)
Geoff, thanks for the day the Anything Airbrush workshop was excellent – there were lots of 'myth-busters'!
I particularly liked that everyone was involved in providing hints and tips.
What I do realise is that I need to use your website resources more! There is a lot that I missed out on." (NK)
---
Geoff, I came to the Everything Airbrush and it was excellent – exceeded all my expectations. The workshops get better all the time – excellent!
I most enjoyed the demonstrations, tips and chance to practice, all in a very friendly atmosphere.
Excellent location and hotel." (NK)
Geoff, I went to Aurelio's Aircraft Masterclass and thought it was excellent – he is a fabulous instructor!
I really enjoyed meeting fellow modellers and learned a lot." (AN)
---
Hi Geoff, I attended your Anything Airbrush workshop and it was excellent – it exceeded my expectations. It's a great location too and the day was well delivered and had great speakers :).

It was also nice to meet some nice folks with real life user opinions on products – it met all my expectations." (AN)
"…an absolutely splendid workshop session on basic airbrushing. Despite the time that I have been modelling, I never felt really comfortable using an airbrush. Oh no! Hand brushing for me, especially with oils. I have, of course, spent a fair time airbrushing but was never really confident enough to try all the different techniques. In my time I have been guilty of blaming my tools and have bought several different airbrushes in the hope that I could find that 'magic' brush that would do just what I wanted. I can see now how wrong I was. You and Adam have metaphorically kicked me into gear and supplied a valuable insight into the way I should be maintaining my airbrushes but, most of all, how to make the best use of them and practice, practice, practice! Thanks again for removing that mental block." (MM)
"Hi Geoff, I came to your and Adam's Anything Airbrush workshop and thought it was excellent – loads of information and inspiration. I learned that all skills can be used in any area of modelling.

I most enjoyed the relaxed interchange of ideas and I wished there had been more time to cover even more, although there are only so many hours on the day!

The venue is wonderful – overall…a very enjoyable day." (AN)