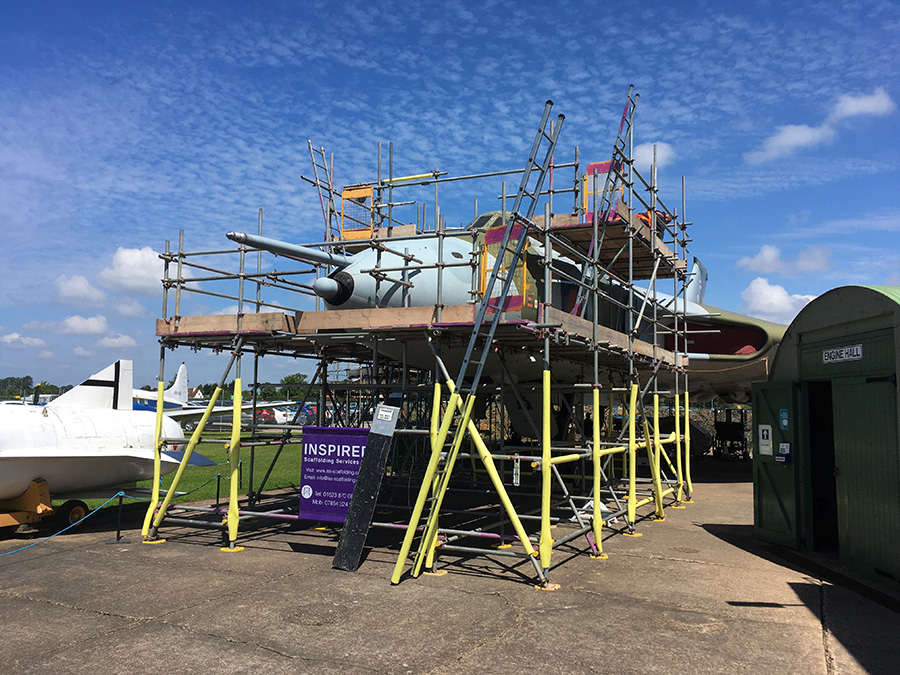 June 2022
Now that a bespoke scaffolding system has been installed around Avro Vulcan XM594 at Newark Air Museum, teams of museum volunteers are now able to work on this huge restoration and repainting project in safe conditions.
Thanks to the expert assistance from Inspired Scaffolding Services from Bilsthorpe near Newark, the scaffolding system became operational just before the recent Platinum Jubilee Holiday Weekend.
The extensive scaffolding work platform has been erected alongside key areas of the aircraft structure, which includes the wing and nose section of the aircraft. This allows museum staff and volunteers to access the aircraft in a safe and secure manner and is anticipated to be in position for around ten (10) weeks this summer.
In addition to the repainting of the upper wing of the Vulcan, the platform has simplified the accessibility for the museum's restoration teams to work on the elevons and to remove the jet pipe exhaust sections for repair.
For most of the work period the aircraft's cockpit will remain as part of the museum's open cockpit offer. The modest contributions for accessing this iconic aircraft (when possible) will contribute towards the ongoing fund raising campaign to cover the scaffolding hire costs and the cost of the weekly safety inspections.
This fund raising campaign can be accessed via the following Just Giving page:
https://www.justgiving.com/campaign/Vulcan-XM594-Repaint-2022
(Photo Credits – Howard Heeley, Down To Earth Promotions)