Short Feature Article by Lou Carabott
A note from Geoff
It's great to have the opportunity to bring you another of Lou C's mini feature articles, this time for his excellent build of the Academy 1:350 German Kriegsmarine Pocket Battleship, Admiral Graf Spee.
As with just about all projects that Lou undertakes there is a lot of scratch-building using plasticard, plastic pipework, photo etch (PE) as well as some accessory sets. When you put that attention to detail with some great seascapes and settings we are in for a treat. Thanks again Lou for your impressive contribution and for sharing it with all of us.
The format this time will involve few words but plenty of photos so that you can see what Lou has done at each stage of his build.
You can see all of Lou's completed builds in SMN from his SMN profile page.
Here are three photos of Lou's completed build…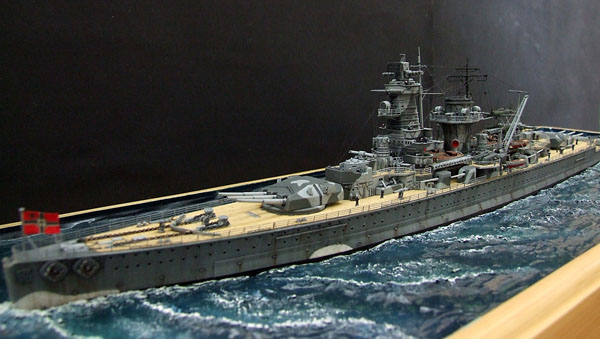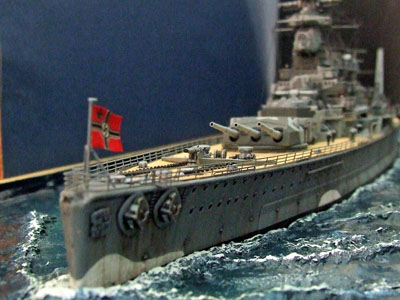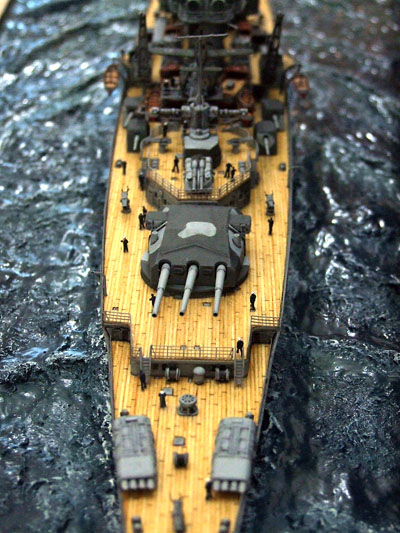 A little bit of background to The Admiral Graf Spee
Admiral Graf Spee was a Deutschland-class heavy cruiser (originally termed Panzerschiff or armoured ship, sometimes referred to as "pocket battleship") which served with the Kriegsmarine of Nazi Germany during World War II. The vessel was named after Admiral Maximilian von Spee, commander of the East Asia Squadron that fought the battles of Coronel and Falkland Islands in World War I. She was laid down at the Reichsmarinewerft shipyard in Wilhelmshaven in October 1932 and completed by January 1936.
The ship was nominally under the 10,000 long tons (10,000 t) limitation on warship size imposed by the Treaty of Versailles, though with a full load displacement of 16,020 long tons (16,280 t), she significantly exceeded it. Armed with six 28 cm (11 in) guns in two triple gun turrets, Admiral Graf Spee and her sisters were designed to outgun any cruiser fast enough to catch them. Their top speed of 28 kn (52 km/h; 32 mph) left only a handful of ships in the Anglo-French navies able to catch them and powerful enough to sink them.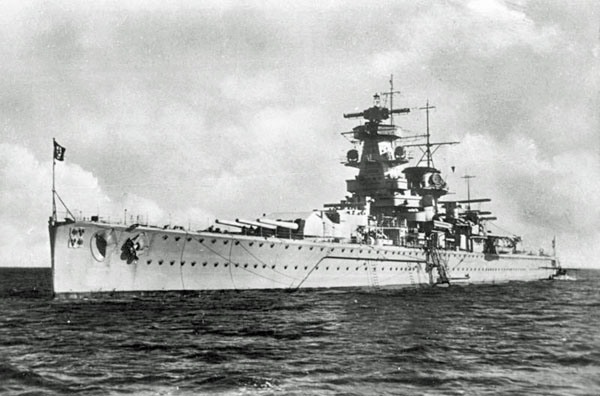 The ship conducted five non-intervention patrols during the Spanish Civil War in 1936–1938, and participated in the Coronation Review for King George VI in May 1937. Admiral Graf Spee was deployed to the South Atlantic in the weeks before the outbreak of World War II, to be positioned in merchant sea lanes once war was declared. Between September and December 1939, the ship sank nine ships totalling 50,089 gross register tons (GRT), before being confronted by three British cruisers at the Battle of the River Plate on 13 December. Admiral Graf Spee inflicted heavy damage on the British ships, but she too was damaged, and was forced to put into port at Montevideo. Convinced by false reports of superior British naval forces approaching his ship, Hans Langsdorff, the commander of the ship, ordered the vessel to be scuttled. The ship was partially broken up in situ, though part of the ship remains visible above the surface of the water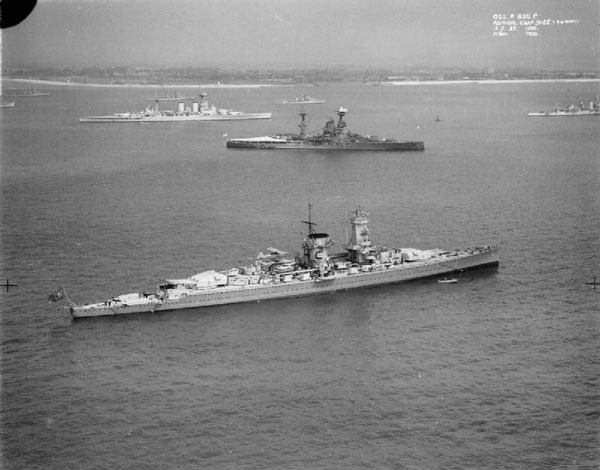 Admiral Graf Spee – data
Admiral Graf Spee was 186 meters (610 ft) long overall and had a beam of 21.65 m (71.0 ft) and a maximum draft of 7.34 m (24.1 ft). The ship had a design displacement of 14,890 t (14,650 long tons; 16,410 short tons) and a full load displacement of 16,020 long tons (16,280 t), though the ship was officially stated to be within the 10,000 long tons (10,000 t) limit of the Treaty of Versailles.[3] Admiral Graf Spee was powered by four sets of MAN 9-cylinder double-acting two-stroke diesel engines. The ship's top speed was 29.5 knots (54.6 km/h; 33.9 mph), at 54,000 shaft horsepower (40,000 kW). At a cruising speed of 20 kn (37 km/h; 23 mph), the ship had a range of 8,900 nautical miles (16,500 km; 10,200 mi). As designed, her standard complement consisted of 33 officers and 586 enlisted men, though after 1935 this was significantly increased to 30 officers and 921–1,040 sailors.
Admiral Graf Spee's primary armament was six 28 cm (11.0 in) SK C/28 guns mounted in two triple gun turrets, one forward and one aft of the superstructure. The ship carried a secondary battery of eight 15 cm (5.9 in) SK C/28 guns in single turrets grouped amidships. Her anti-aircraft battery originally consisted of three 8.8 cm (3.5 in) L/45 guns, though in 1935 these were replaced with six 8.8 cm L/78 guns. In 1938, the 8.8 cm guns were removed, and six 10.5 cm (4.1 in) L/65 guns, four 3.7 cm (1.5 in) guns, and ten 2 cm (0.79 in) guns were installed in their place.[2] The ship also carried a pair of quadruple 53.3 cm (21.0 in) deck-mounted torpedo launchers placed on her stern. The ship was equipped with two Arado Ar 196 seaplanes and one catapult. Admiral Graf Spee 's armoured belt was 60 to 80 mm (2.4 to 3.1 in) thick; her upper deck was 17 mm (0.67 in) thick while the main armored deck was 17 to 45 mm (0.67 to 1.77 in) thick. The main battery turrets had 140 mm (5.5 in) thick faces and 80 mm thick sides. Radar consisted of a FMG G(gO) "Seetakt" set, Admiral Graf Spee was the first German warship to be equipped with radar equipment.
Onto the build – over to you Louis
This is my 1:350th scale model Of the Admiral Graf Spee. The kit came from Academy and apart from the basic kit I did use some aftermarket products which include the very well detailed Eduard Photoetch set. Some of the build photos show this on my model during construction.
In addition, I used the BNA wooden deck which was extremely accurate and brass turned barrels – these make a world of difference to the completed model, especially in 1:350 scale.
I wanted to depict the model on its way to Montevideo which really has a very attractive camo scheme. Changes and alterations had to be made to depict the model during that time.
In the next part I will show you the construction and finishing – as I say, this is only a 'mini feature article' so not too many words but plenty of photos – hope you enjoy it.