Welcome to the Subscribers' Figures Gallery.
Each submission has a 'gallery' of thumbnails which you can click on to see an enlarged image and read the short text describing the model – enjoy!
Figures Gallery 1

Lt Cmdr Wanklyn VC of HMS/M Upholder by Ian Ruscoe
My Figures by Michael Butler
Here is a selection of stunning pieces by Michael Butler – the depth of talent here is truly awe-inspiring! What I love about this collection is the variety of pieces that Michael has tackled – just look at the expressions, emption and sheer storytelling ability that has been brought out in his application of skill.
You can find more from Michael at "The MedRom Forum"
Thanks Michael for sharing your incredible talents here at SMN. Geoff

Piper Kenneth McKay by Ray Farrugia
Here is a fantastically painted piece from Ray Farrugia. His figure is 75mm in scale. Really inspiring work… Thanks Ray!
Geoff C.
Quanah Parker - Comanche by Carlos Asensio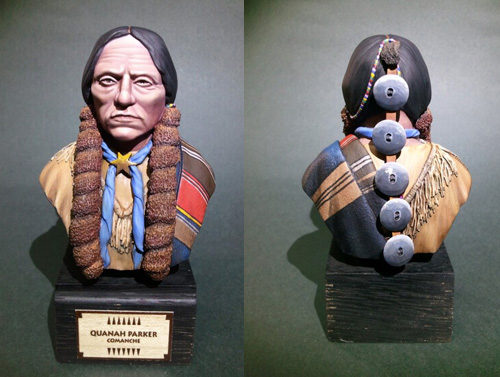 RAF Tornado Crew by Ian Ruscoe
Here is my RAF Tornado crew 1991 – 120mm scale figures from David J. Parkins. Hope you like them?
Taddeus Kosciuszko 1794 by Wojtek Bulhak
Here you can see the box art pictures of new Adalbertus 54mm figure #54005. It is sculpted by Grzegorz Kupiec, painted by myself Wojtek Bulhak. Glad you like it.
Check out our website
Adalbertus Miniatures
…
Wojtek B.
Teutonic Standard-Bearer by Neil Pepper
Teutonic Standard-Bearer (1410) – Standard of town Brunsberg
The Few, Summer 1940 by Billy Campbell
Life Miniatures – The Few, scale 1:10. He is painted mainly in oils over Alclad primer with acrylics only being used on the oxygen hose. Printers inks and oils used for metals.
Hope you like it!
Billy C.
The Retreat Russia 1812 by Dave Barrette
Now this piece, is one of my Favourites, it's made my Andrea Miniatures of Spain and is a 90mm white metal piece. The base is the main focus of this piece. It was the first time I'd made a tree from twisting wire together, then coating it with Polyfiller. Well I tried it, what a mess I got myself in, there was Polyfiller all over the workshop tabletop, floor and me, I threw it an a bucket!
I'd been bought a pack of Humbrol Airclay for my birthday a few weeks before, and it got slung on the side, not sure what to use it but I used that… well this turned out to be a better option; once I'd cleaned off the Polyfiller I set about adding the Airclay to the tree. I started with the bottom and worked my way up the trunk, this had to be done in stages as it was starting to bulge at the bottom; I scored the bark on the clay and left it to dry. As I got to the finer branches I swapped and used Milliput, this sticking better to the twisted wire. I remembered an article in a Hobby catalogue about how to make wagon wheels, for these ceramic carthorses and set about making the wheel. I wanted the wheel to be damaged, as a good one would not be left leaning against a tree. I set about cutting all of the fellows, these are the individual parts of the rim of the wheel, made out of balsa, cut and shaped. I drew a wheel on a piece of card which was to scale and followed the curve required, these were glued and pinned together and left to dry over night. Next morning I started to make the spokes, these had to be cut and shaped all the same except the ones that were to be damaged; achieved by using a modelling drill set on a very slow speed, and using sand paper. The metal edging to the wheel is made of a thin strip of lead foil and it was pinned in to place with N gauge track pins.
Snow? A friend of mine who is a stone mason, was needing some promotional photos doing of his work, so I went and did them for him, and he was engraving a marble headstone in one picture, and the dust was in an extraction bag it was perfect for the snow it has a certain sparkle to it, it's perfect for the snow so I came home with a box of marble dust! The ground work is also Airclay.
Dave B.
The Storyteller... by Ian Ruscoe
This is The Storyteller series77 figure of US Navy pilot re-enacting the Day's work, Pacific WW2.
True from Disposable Me by Ian Ruscoe
US Navy F-14 Tomcat Pilot by Ian Ruscoe
This is the Verlinden 120mm scale US Navy Pilot figure I converted by altering the arm to hold the helmet and painted him in the squadron markings of VF-14 "Top Hatters"
US Navy SEAL Iraq 2005 by Ian Ruscoe
Yeoman of the Guard by Jim Balsom
I had been given a CD of 'The Yeomen of the Guard' and I thought how colourful they looked in their uniform. Unfortunately I was unable to find details for this, so I was a bit stuck. At the time I was assisting at the "Stump", and I mentioned my dilemma to one of the staff. He was unable to assist at the time but a few days later he came to me and pointed out one of the visitors, whom he knew quite well. "You see that bloke there, well he is a Tower Warder, have a word with him". I did and the upshot of it was he got quite interested and said he'd see what he could do.
A few days later I got a letter with several photos of him getting dressed for duty.
My prayers were answered. As they were taken from many angles, I was able to see what the uniform really consisted of and was able to sort out a plan of campaign.
Once again it was an amalgam of kits and bits. The legs are from the Airfix Halberdier, the rest mainly from (l believe) the rifleman, his head suitably modded to take the hat made from two discs of plastic card, plastic putty etc. The skirts of his tunic were a joy to make, they were from the lead around the neck of a wine bottle (let's make another, HIC!)
Various other bits (decorations etc.) were made from odd scraps of card, putty, sticky paper and so on. The stand was from prunings in the garden!