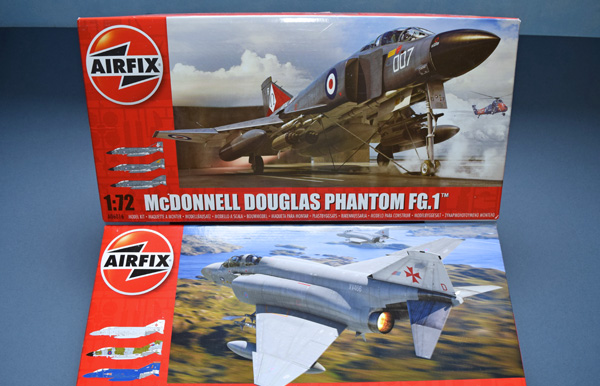 Feature Article with Robin Cain
Way back in 1979, having completed my apprentice training at RAF Halton, my first posting was to RAF Coningsby in Lincolnshire. Based there were the Phantoms of No's 29(F) & 228 OCU/64(R) squadrons. I was posted to the Aircraft Servicing Flight where scheduled maintenance of both unit's aircraft were carried out.
The Phantom fleet was undergoing several changes at the time, the most visual being the change from low level camouflage to air defence greys. The fin top RWR modification was still in progress and, after the Falklands invasion, chaff & flare systems were fitted. Less obvious, was the replacement of the Sparrow missile with Skyflash.
While talking to a friend who also worked on Phantoms, an idea formed around building a display with 2 models of the aircraft depicting these changes. Airfix had just released their all new 1:72 FG1 kit at this time, so I picked one up and was impressed with the basic kit. I could see that some improvements would be needed, but it was an excellent starting point. I suspected that Airfix would release an FGR-2 version and sure enough, a year later I ordered 2 FGR-2 kits from Hannants. I had another couple of projects on the bench at the time, so having completed them, I am finally ready to start.
The Plan
The plan is to build the 2 Airfix FGR-2 kits with the radar components from the FG1 kit. One model will represent an aircraft belonging to No. 228 OCU in grey/green camouflage without fin top RWR and with the following features:
Wings folded
Flaps fully down
Radome open & radar pulled forward
Speedbrakes open
Refuelling probe out
Arrester hook down
Ram Air Turbine open
Drag chute door open
Crew access steps extended.
The aircraft will be configured as it would have been immediately after entering ASF for maintenance prior to jacking up. External fuel tanks, a couple of ballast Sparrow missiles & Sidewinder training rounds will be fitted. Ground electrical power & hydraulic connections will also be added.
The second model will represent an aircraft having returned back to 29 Sqn after maintenance, prepared for flight. It will be finished in the air defence grey scheme with fin top RWR, Skyflash & Sidewinder missiles, wing tanks, SUU-23/A gun pod & chaff/flare pods fitted.
Both kits have been well reviewed here in SMN & in the wider modelling press & the issues with the kits are well known, surface detail is a bit heavy in places, there are no bleed holes depicted on the intake ramps, grilles missing from the intakes and rear fuselage & narrow RWR fairing. These issues will be addressed during the build.
I can spend hours adding small details & love scratchbuilding. Although some aftermarket parts will be used in the build, these will be kept to areas which are not practical or too time consuming to scratchbuild. Having worked on the real thing, I am aiming to try to recreate the 'feel' of the full size aircraft as far as possible.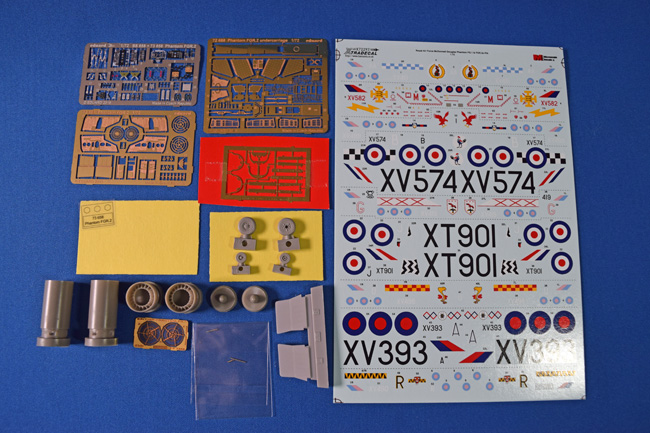 Aftermarket parts
Eduard 73658 FGR-2 PE
Eduard 72686 FGR-2 undercarriage PE
Eduard CX538 FGR-2 masks
Airwaves AC72-23 canopy PE
Quickboost QB 72 631 resin intake ramps
Eduard Brassin 672 174 Wheels
Aires 7358 resin exhaust nozzles
Master 72035 brass pitot heads
Xtradecal X72293 Phantom pt.4
Additional details will be scratchbuilt.