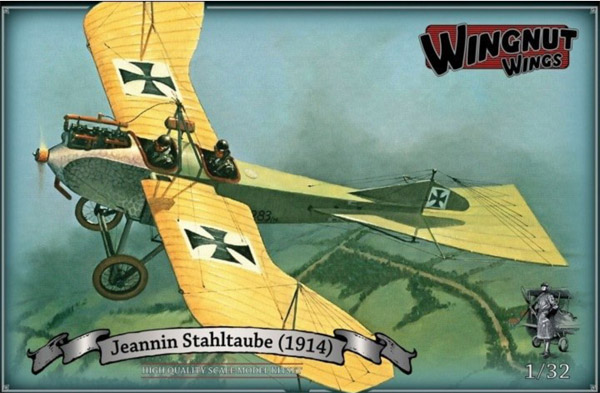 Full Review with Dave Coward
A quick note from Geoff C…
Hot off the press I have received Dave's completed build pics and wow! Great job Dave – I thought that you'd like to see a couple here up front!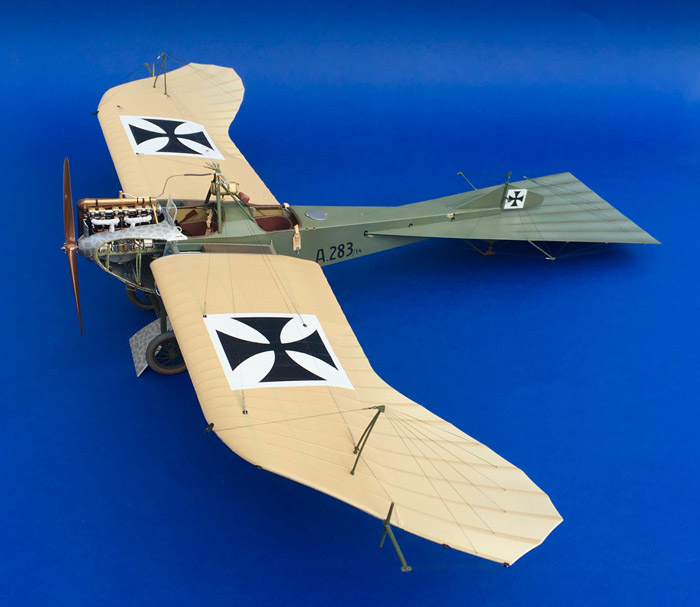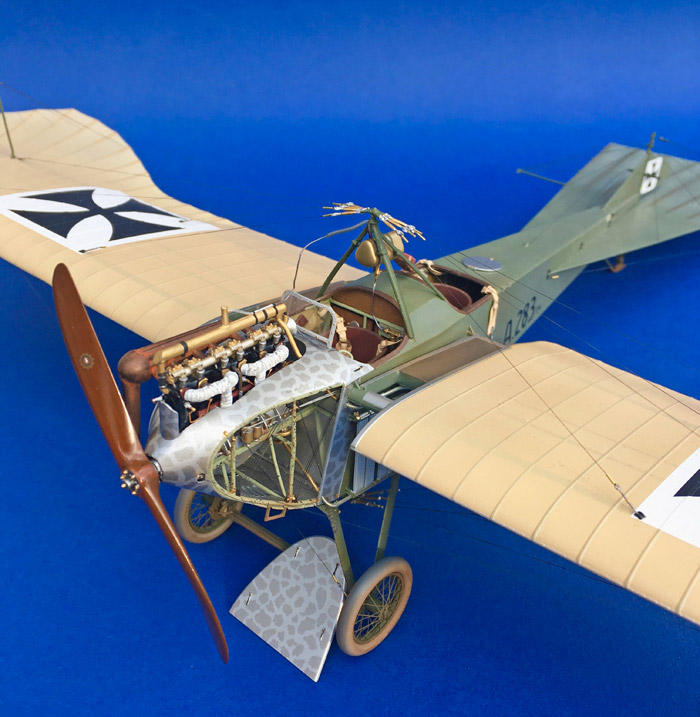 Background
Sometimes you just see a model that instantly appeals to you and the "Taube" was one of those for me. It's strange bird-like character was just something so different from anything I'd seen before and it depicted an aircraft from the very early days of manned powered flight which was quite a rarity in the model world.
The model itself was in theory a quite straightforward build with a not overly excessive parts count but what would take time was the various techniques that would be required to finish it to a good standard.
There is:
a lot of rigging, both internally and externally
wooden areas needed replicating
a translucent effect was required for the wings
some very delicate PE is included for the wire wheels
and various painting techniques would be required to give the block colour some life. All in all, this would be quite a build so let's get on with it and see how it turns out.
Below are some details from Wingnut Wings on the kit and the actual aircraft:
Released on 23 October 2017 – 43cm x 30cm – High quality Cartograf decals with markings for 5 aircraft – 165 high quality injection moulded plastic parts including very fine 0.3 to 0.5mm thick wing warping control surface areas – Optional propellers, exhaust manifolds, engines, header tanks, gravity fuel tanks, wire wheels in injection moulded plastic or photo-etched metal, 20kg Carbonit bombs and Luger pistol armament – Highly detailed 100hp Daimler-Mercedes D.1 and 120hp Argus As.II engines – 21 photo-etched metal detail parts including optional wire spoke wheels – Fine in scale rib baton detail – Full rigging diagrams.
The delicate bird-like Taube came to epitomize early German aircraft design. Wealthy Austrian industrialist Igo Etrich based his successful Taube design on the stable gliding characteristics of the Zanonia (now Alsomitra) Macrocarpa seed as described by Professor Friedrich Ahlborn in his aeronautical research paper published in Germany in 1897. Igo began work in 1900 and was joined by his engineer, Franz Wels in 1903 initially developing models and then manned gliders before moving on to motorized versions. Their Etrich 1 Sperling (Sparrow) briefly took to the air in 1909 and was followed in April 1910 by the larger, more powerful, remarkably stable and comparatively safe Etrich II Taube (Dove). Fellow Austrian, Edmund Rumpler was impressed enough by the Etrich II that he obtained a 5-year exclusive license to build the Taube in Germany. Following further successful demonstrations of a 50hp Etrich Taube in October 1910 the Prussian military placed an order with Rumpler for 5 aircraft. Because the underlying aerodynamic principals of the Taube had been published by Ahlborn in 1897, Etrich was aware that it would be difficult to obtain a patent for his design in Germany and this was confirmed when the patent office rejected his application in September 1911. This essentially made Erich's design public domain in Germany so that almost anyone with an engine, enough fabric, wire and a few sticks of wood could legally build and sell their own copy of his Taube. Observing the dizzying array of copycat Taubes being churned out by dozens of his competitors, Rumpler simply refused to pay Etrich any license fees, continued to build the Etrich II marketed as the "Rumpler Taube" and became the largest supplier of Taubes to the German military. Etrich sued Rumpler in 1912 and numerous court cases continued between the two until 1930.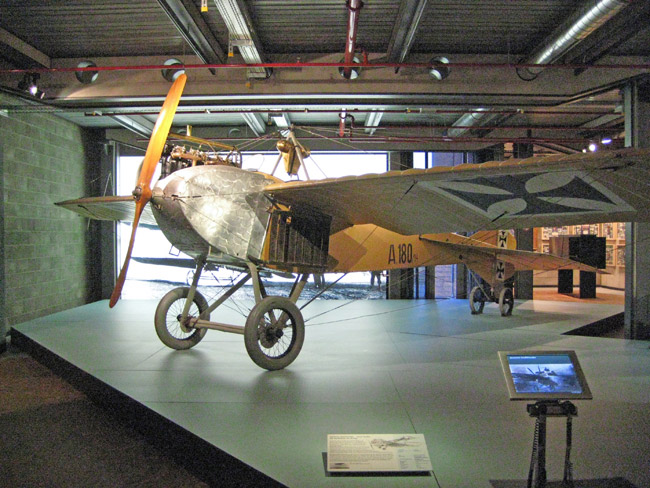 Photos (above and below): Jeannin Stahltaube, year of manufacture 1914, Emil Jeannin Flugzeugbau GmbH, Johannisthal (courtesy: Aconcagua)
Ironically, it was "Frenchman" Emil Jeannin (born in Alsace which had only just been ceded to Germany after the war of 1870-71) who was responsible for one of the next most numerous Taube designs to equip the German military, the Jeannin Stahltaube 1914 "Military Type". Jeannin Taubes of 1912-1913 featured a steel tube framed fuselage and tailplane as opposed to the wood used by most other manufacturers, earning the name Stahltaube (Steel Dove). The "warping elevator" area of the tailplane was ribbed with flexible bamboo as were the "warping aileron" portions of the spruce & ash wings. The fuselage, wings and tailplane were covered with linen. The engine cowlings were sheet aluminium while the cabane and undercarriage struts were constructed from steel tube. These early Jeannin designs were distinguished by a propeller guard which curved from the bottom cabane section up to the nose, support girders under the wings, 100hp Argus 4 cylinder or 120hp Argus As. II 6-cylinder engines, a radiator mounted under the fuselage and vertically sprung undercarriage struts. The propeller guard and support girders were removed for the 1914 Military Type which also introduced a conventional "V" strut undercarriage, Hazet radiators on each side of the fuselage and were powered by 6-cylinder 100hp Daimler-Mercedes D.1 & 120hp Argus As. II engines. There was a single seat Jeannin Stahltaube as well as a kleine (small) version with a shortened fuselage and tailplane. Relatively conventional ailerons have been noted on a kleine version as has a Scheitelkühler (Brow Radiator) mounted above the engine. Emil Jeannin was imprisoned shortly after war was declared but production of his Stahltaube was continued for the German Army.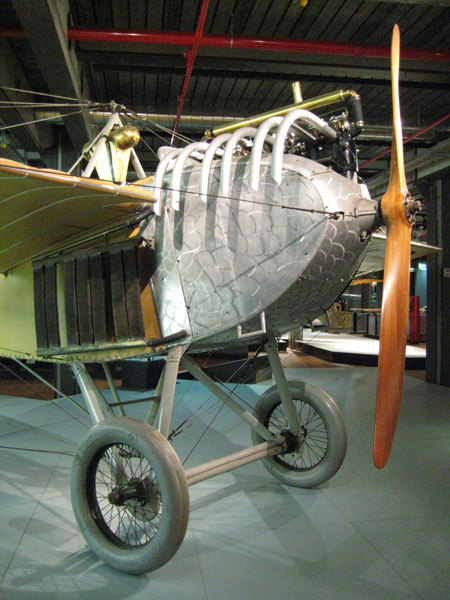 Unarmed A type monoplanes such as the Taube designs were utilized for reconnaissance but shortly after hostilities began airmen started carrying small bombs and personal firearms. The wider availability of more suitable B type biplane designs later in 1914 and more powerful, armed, C types in 1915 meant that no Jeannin Taubes remained in front line service after the middle of 1915, with surviving aircraft relegated to training units.
References used:
• Instruction Manual
• Wingnuts wings Website
Aftermarket Extras:
• HGW Fabric Seatbelts
• Uschi Van Der Rosten Lycra Thread
• Albion Alloys Tubing
• Taurus Spark Plugs 3204