Special Feature Article by Mark Howard
Here's a quick look at my finished build – hope you like it!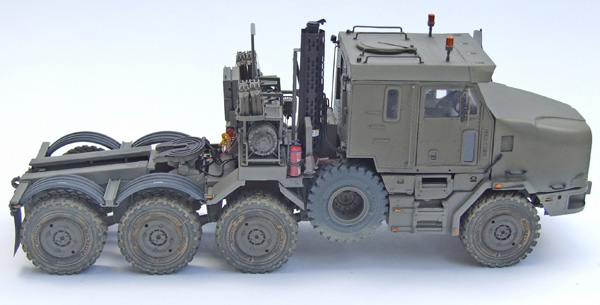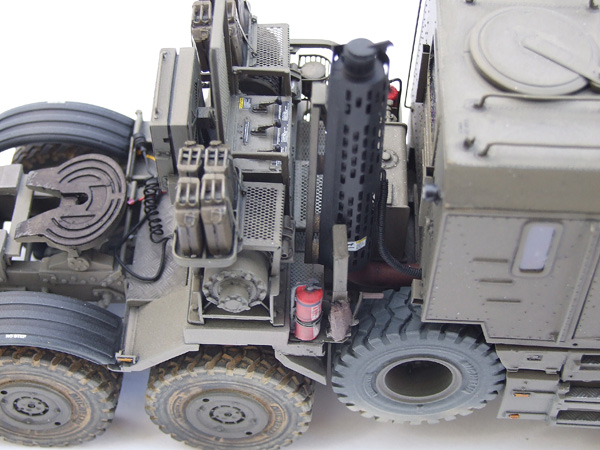 A REAL 'MONSTER TRUCK'!
In the late 1990's, the British Army began to look for a replacement for its ageing Scammel Commander fleet. By this time, the once famous British lorry industry, which had built such classic vehicles as the Scammel Pioneer and Mighty Antar, had disappeared. As a result, the Army had to look overseas, and their gaze quickly fell upon the American Oshkosh 1070, which had recently entered service with the US army. In 2001 a £290 million contract was signed for the supply of 92 vehicles with a full life service package.
These vehicles are extensively modified versions of the American 1070, with a bigger, 700hp engine and conforming to the latest European emission and safety standards. The vehicles are actually leased from the Fasttrax Corporation, who carry out the modifications and organise the supply of the King GTS100 trailer. The official title of the vehicle is Oshkosh 1070F Heavy Equipment Transport, or HET.
When carrying a fully loaded Challenger 2, the total vehicle weight is 118 tons, which can be pulled at speeds of up to 80kph.
Miniature monsters
When you consider how important tank transporters are to any nation that operates heavy tracked vehicles, they have been very poorly represented in the world of 1:35th modelling. However, one resin manufacturer has built up quite a reputation for its transporters over the last decade or so. Currently, Accurate Armour (AA) of Glasgow produce a WW2 Scammel pioneer, two versions of Scammel commander, a Faun Elefant, American Oshkosh 1070, five versions of Mighty Antar and, of course, the 1070F HET.
All of these kits are large, complex and expensive. As a result, AA offer most of them in two forms, as a complete vehicle, or the trailer and tractor unit separately. Owing to restricted display space (and finance!), I chose kit K154T, which is just the tractor unit.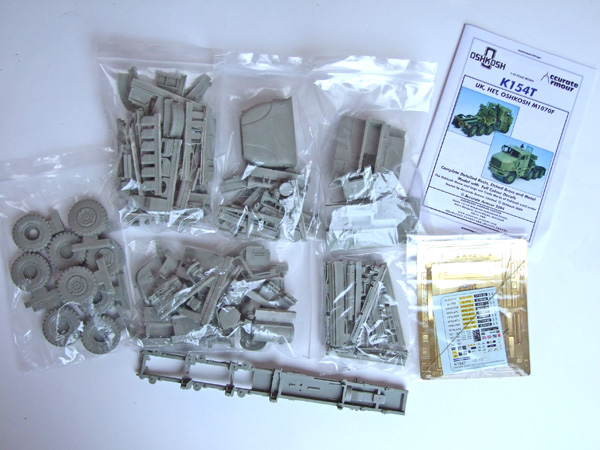 When I opened the box, I was impressed by the sheer amount of resin enclosed. The kit contains over 200 parts cast in AA's trademark pale grey resin. In addition there are two large etched frets, several sizes of wire and solder, clear plastic for glazing and a decal sheet. Casting quality is excellent, with no air bubbles and just a few small areas of mould slippage. The most remarkable part is the chassis. This is a single casting, a full 10 ½ inches (260mm) long, perfectly square and straight. My example had some casting marks on the inner face of the chassis rear. I dealt with this by simply re-skinning the affected areas with very thin plasticard.