Special feature article by Simon Hill
Building "Field of Armor's" 1:6th mighty Tiger 1 and Normandy's legacy….
101st SS Heavy Panzer Battalion (in German; Schwere SS-Panzer-Abteilung 101, Normandy 1944, Wittmann's Tiger 1, Panzerkampfwagen VI Ausführung E SS-Hauptsturmfuhrer Michael Wittmann – '007'
A note from Geoff…
By any standards this build by Simon must be of interest, I mean really, it's not every day you come across a fellow modeller that has bought and set about detailing a 1:6 scale Tiger I tank is it? As soon as I saw the great work Simon had put in and the results he has achieved I asked him if we could share the whole project with all of you, so a big thank you Simon for that.
I had originally thought that the whole project was scratchbuilt, but even more usefully what Simon has used is the Field of Armor base kit and developed it from that, after a lot of research and support from others along the way – this is his story…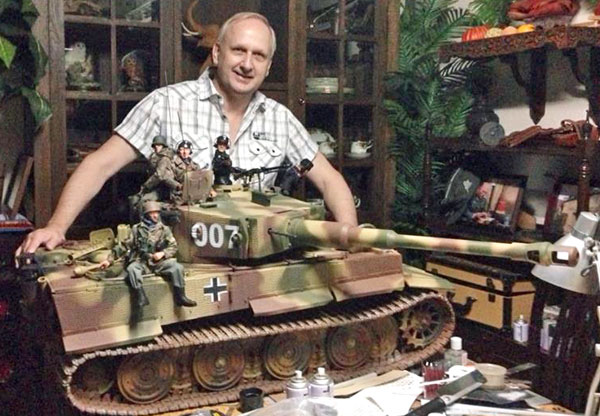 Tiger 1 – Genesis:
Henschel & Sohn began development of the vehicle that eventually became the Tiger I in January 1937 when the Waffenamt requested Henschel to develop a Durchbruchwagen ('DW' – breakthrough vehicle) in the 30 tonne range. Originating in 1942. Henschel & Sohn's classic Tiger was named after the legendary Cat after Ferdinand Porsche dubbed it, but the numeral '1' in fact, came later after the commencement of production of the Tiger II, – or "King Tiger" as it became known as. Bulky in looks and no beauty on the battlefield, the squared profile of the Tiger and its "Fruit Can" like turret were both easily recognizable and feared. Weighing it at 56.9 tonnes (62.7 short tons) it was a heavyweight of tanks at the time, but far from cumbersome, featuring a hydraulic powered steering system which enabled the tank to turn and maneuver quickly, while easing the workload on the driver and being very advanced for the time. But advanced engineering brought it problems and many criticize Germany's key tanks for being overly-engineered, a facet borne out by the number of breakdowns and mechanical problems experienced while on the front line and in heavy terrain.
The Tiger 1 was a large tank and basic dimensions were: – Length: 6.316 m (20 ft 8.7 in) 8.45 m (27 ft 9 in) (gun forward) Width: 3.70 m (12 ft 2 in) Height: 3.0 m (9 ft 10 in) Crew: 5 Armour: 25–120 mm (0.98–4.7 in) Perhaps the most feared assets of the Tiger 1 and II was its gun, derived from the potent German "88" dual purpose flak gun. The 88 mm KwK 36 L/56 gun was the variant chosen for the Tiger and was, along with the Tiger II's 88 mm KwK 43 L/71, one of the most effective and feared tank guns of World War II. Main armament: 1× 8.8 cm KwK 36 L/56 92 rounds (106 and 120 rounds for some modifications) The Tiger's Secondary armament consisted of 2 x 7.92 mm Maschinengewehr 34 4,800 rounds and her Power plant was a 12 cylinder Maybach HL230 P45 (V-12 petrol) 700 PS (690.4 hp, 514.8 kW) Power/weight: 12.3 PS/tonne. Suspension was of the torsion bar type and operational range was in the region of 110–195 km (68–121 mi) Speed: 38 km/h (24 mph) In fact, the Tiger 1 tank per say, was merely the mechanical chassis on which the gun was positioned & maneuvered to/from the battlefront as with most tanks of the time. Tiger (1) production ran from 1942-1944 producing some 1,354 Tiger 1 hulls of which today, only six [complete] survive.
Finding a model subject in 1:6th Scale…
I could not say I am specifically an Armoured Vehicle modeler or enthusiast, but always shared more than a passing interest in them nonetheless, mainly the highly engineered tanks Germany produced between 1939-1943, notably the mighty Tiger 1. After some deliberation, I found a website that produced 1:6th scale model tanks at affordable prices called "Field of Armor" (US), as I didn't want an entirely Radio controlled model, but was thinking more of a static display model that was in 1:6th Scale, yet affordable.
After scanning FOA's Website, (http://www.fieldofarmortanks.com/) I selected the Tiger 1 tank kit at their then price of US$699 making my order to my home address in Bangkok, Thailand. About 10 days later, the huge box arrived at my door courtesy of DHL, and I began sorting and going through the components almost immediately if not to just make some room and discard the huge box. I had not dealt with any 1:6th kit producers to that point except a company that build metal hulls for full radio control, but their Panther tank started at something around £7,000 sterling, or £4,500 for the basic hull as s static display. On finding Field of Armor, I found finally, an affordable Tiger 1 kit with FOA but not R/C, – but which would give me great scope to upgrade myself. As a fairly accomplished scratch-builder of varying subjects, the FOA Tiger was perfect in that respect but I found a plethora of websites that produced 1:6th Tiger 1 upgrades and parts, but elected only to buy FOA's and would scratch build the rest myself.